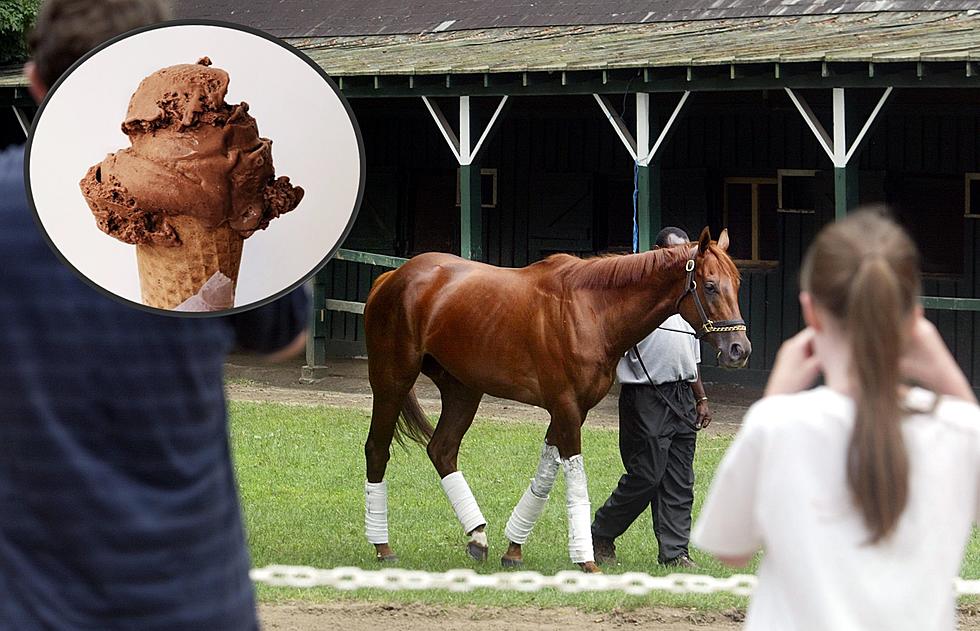 Classic Stewart's Ice Cream Flavor to Return for Upstate NY Horse Racing Icon
Getty Images / Unsplash
In honor of the passing of a New York horse-racing legend, Stewart's Shops locations across Saratoga County are bringing back an ice cream flavor that was first hit ice cream counters 20 years ago. We have the latest updates on when you can get your own scoop, and why it means so much to the Capital Region.
---
Saratoga County 'Stewart's Shops' Locations Set to Return "Funny Cide Pride" Flavor
A story from ABC News 10 in Albany shared the news that select Stewart's Shops locations in Saratoga County would be bringing back the ice cream flavor "Funny Cide Pride" for a limited time. The company decided to bring back the 20-year old flavor to honor Funny Cide, a legendary horse which passed away back in July.
Check out the announcement from Sackatoga Stable, the stable for which Funny Cide used to run years ago:
Funny Cide will always be synonymous with horse-racing in New York, and specifically, horse-racing in Saratoga. He was foaled on April 20, 2000 in Saratoga, and was purchased at auction for $75,000 by Barclay Tagg and Sackatoga Stable in 2022. Funny Cide won numerous races at Belmont Park, Aqueduct and Saratoga Race Course, but he's most well-known for a near-miss on the Triple Crown circuit.
Funny Cide won The Kentucky Derby and The Preakness Stakes in 2003, but would end up finishing third in The Belmont Stakes that year, finishing third behind two horses that had not competed in the Preakness. As noted by News 10, Funny Cide became just the 30th horse in history to win the first two legs of The Triple Crown.
He was a legend for all 23 years of his life, right up until he passed away on July 16 of this year, which happened due to complications with colic. Now, horse-racing fans have another great opportunity to honor his legacy, courtesy of our friends at Stewart's Shops.
See the Capital Region's 5 Biggest Ice Cream Cones [RANKED]
It is pretty much a fact that every stand has GREAT ice cream. But which stands serve up the biggest cones? Ya know, the ones where it is a race to eat 'em before they melt on a hot summer day? We asked our listeners who serves up the biggest scoops and soft serve - and there are the homes of the 5 biggest Captial Region Ice Cream cones!
All 33 Members of the Baseball Hall of Fame Who Were Born in New York
No state is represented more often in the National Baseball Hall of Fame than New York, and these are the 33 members who were born in the Empire State.