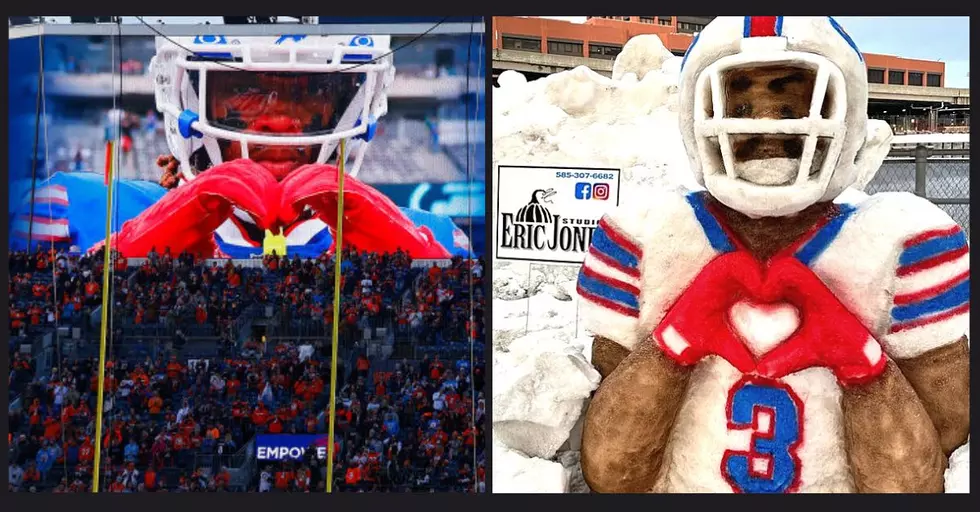 Cool Snow Sculpture Welcomes Buffalo Bill Damar Hamlin Back Home
Credit - Getty Images/Eric Jones Studios via Instagram
A Western New York sculptor has created a beautiful tribute to welcome home Buffalo Bill Safety Damar Hamlin, and it's all done in snow and ice.
Eric Jones of West Clarksville, New York created the Hamlin snow and ice sculpture that is on display at Buffalo Canalside.
Showing Love
The Hamlin sculpture features the same heart he's often seen giving friends, family, teammates, and fans across the country.
The Bills safety was recently released from the hospital and even visited his teammates at the Bills facility in Orchard Park less than two weeks after collapsing on the field in Cincinnati.
Ice Rink Shavings
Jones sculpted the beautiful tribute using ice shavings from the nearby skating rink since all the snow Buffalo received during the Christmas holiday had since melted.
Photographer John Kucko captured a picture of the sculpture and Jones together.
The guy is extremely talented at sculpting various forms of art.
Bills Snow Sculptures
This isn't the first time Jones has honored the Bills in snow. He has created several spectacular sculptures that were just as amazing as Buffalo's season.
In 2022 it was an 8-foot by 12-foot monument to the team, and their quarterback Josh Allen.
2021 Bills Snow Sculpture
In 2021, Jones built an 8-foot Josh Allen in his yard before the AFC Championship game.
Playoff Helmet
When the team made the playoffs for the first time in decades, Jones built a giant Buffalo Bills helmet.
Allen & Diggs Dedication
After the heartbreaking loss to the Kansas City Chief, Jones celebrated the Bills season with an amazing dedication to Stephon Diggs/Josh Allen.
Check out Eric's intricate work at Giveacaricature.com, or at Eric Jones Studios on his Instagram.
You can also check out the photos of his snow carvings along with a few amazing pumpkin carvings you have to see to believe below.
WNY Artists Creates Stunning Snow & Pumpkin Carvings
Eric Jones, a sculptor and avid Bufflao Bills fan, has been creating stunning snow and ice sculptures for years.
Mother Nature Buries Northern Oneida County in First Big Snowstorm of Season
The first massive snowstorm of the season was a doozy, at least for some. The Utica area only saw a few inches of lake effect snow but Northern Oneida County had more, a lot more.
9 Places to Go Snow Tubing in New York