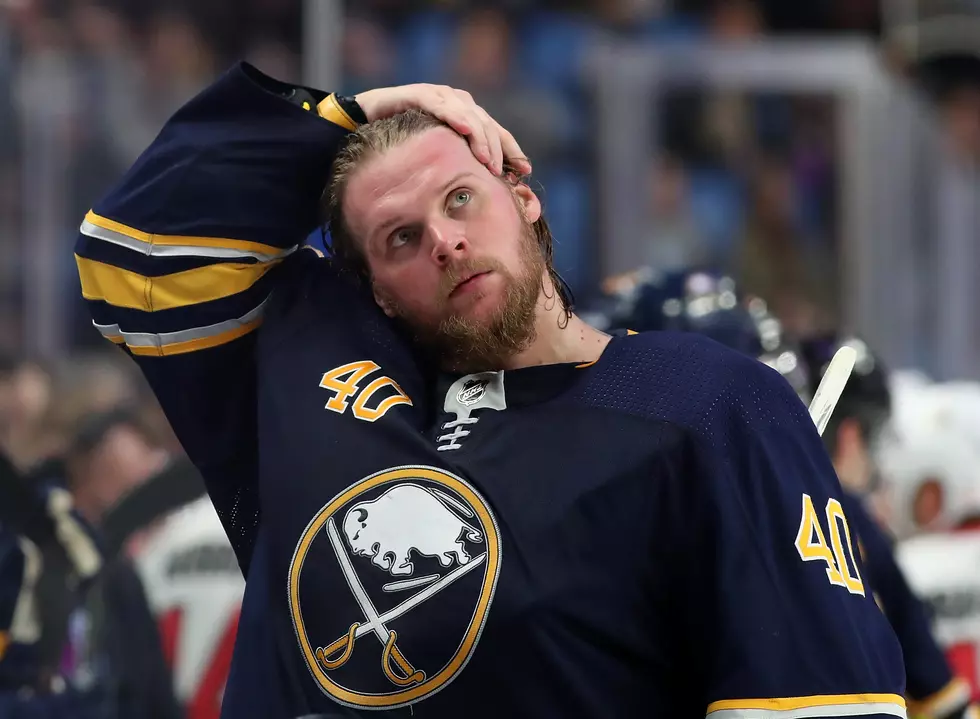 Ex-Buffalo Sabres' Goalie Reveals Shocking Bankruptcy with $50 Million in Debts
Getty Images
The life and career of Robin Lehner has seen its fair share of ups-and-downs.
A second-round pick of the Ottawa Senators in 2009, Lehner showed great promise upon entering the NHL at age 19. His progress slowed a bit, which led to a trade to the Buffalo Sabres, and a tenure that changed his life forever. Lehner dealt with substance and mental health issues during his time in Upstate New York, but after leaving the team and seeking help for both issues, he was able to revitalize his career further south in New York, with the Islanders.
After successful stints with New York, Chicago and Vegas, his life has taken another turn. This time, it involves him, his wife, and millions of dollars that are left to be paid to those who are owed.
---
Robin Lehner, Wife File for Bankruptcy with Millions in Debts Owed
A story from ESPN and other outlets detailed recent financial troubles being faced by former Buffalo Sabres' and New York Islanders' goaltender, Robin Lehner, and his wife, Donya.
It's not from gambling, and it's not from expensive real estate, as one might have imagined based on past examples in sports. It's from snakes.
That's a bizarre sentence to read without context, so allow me to provide some. It's more than just snakes that led to this point, but it does relate to a collection of rare, exotic snakes that Lehner purchased back in 2017.
Lehner bought the reptiles from Ben Renick, a world-renowned reptile breeder, for $1.2 million. A payment plan was set-up for Lehner, but in 2018, Renick was murdered by his wife, Lynlee, after which Lehner stopped making payments.
He was sued in 2018, then countersued soon after, and the battle continued through 2019, when it was finally settled. Lehner was accused by the company of "stealing" snakes from Renick's collection, and it's said that he still keeps these snakes at his reptile farm in Plato, Missouri.
From what I can piece together, failed payments and the subsequent legal battle with Renick Reptiles seemed to begin a snowball effect in Robin Lehner's life. Fast forward to 2023, and Lehner and his wife owe up to $50 million in debts to dozens of creditors.
The number of people and companies who are owed money, according to reports, is close to 50, including one creditor who sued last June over the failure to repay a business loan they provided to Lehner and his father Michael
Lehner was sued for nearly $4 million just months before he and his wife ultimately chose to file for bankruptcy. They estimated their assets to be worth approximately $10 million, but that won't cover the close-to-$50 million left to be paid.
Look, this entire story is confusing, and the origins date back more than half a decade. Details are still emerging, and we will continue to update you as more information becomes available. What I can tell you, however, is that this is an extremely sad turn of events for a professional athlete, and a person, who was in the process of beating his addiction and confronting his mental health issues, and seemed to be improving.
It's so important to surround yourself with good people, especially if you are fortunate enough to make the kind of money that a professional athlete can make. I hope, for Robin Lehner's sake, he's able to do that moving forward.
25 Years, 25 Pro Athletes Elected to the Hall of Fame with NY Ties
From members of New York sports teams, to residents of the Capital Region and beyond, to some of the best sports stories from the Empire State, here are 25 Hall of Fame nominees from the past 25 years, all with ties to New York state.
Ten Capital Region Hockey Players that Made it to the NHL
The Capital Region has a rich history of hockey players turning professional, and with the 2021-22 NHL season now underway, here are ten players from the region with NHL ties.