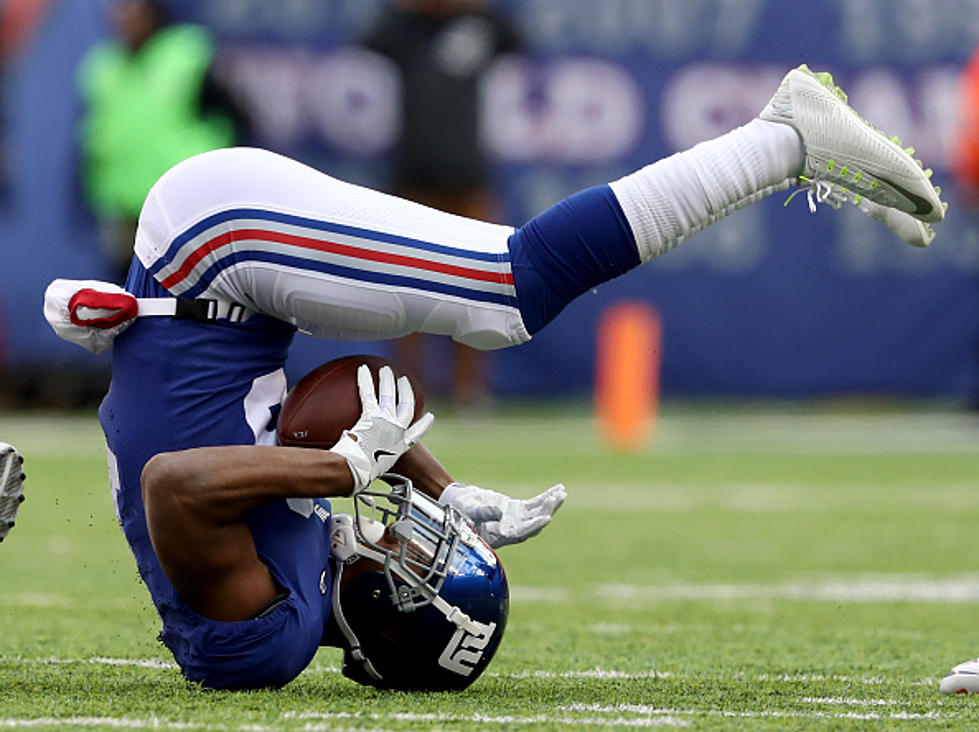 Ex-New York Giant Beats Murder Rap; Wants Return To NFL
Getty Images
Former New York Giants wide-receiver, Travis Rudolph was found not guilty on Wednesday on charges stemming from an April of 2021 shooting that left one man dead.
Andrew Cane of nypost.com reported that Rudolph was cleared of one charge of first-degree murder and three charges of attempted murder.
"I got my freedom back," Rudolph told WPTV in Florida after the trial, "and I can get back to my life." Following Wednesday's verdict, Travis Rudolph's agent, Zac Hiller of LAA Sports & Entertainment, told ESPN that his client was excited to get back to football.
The incident in question happened on April 7, 2021. According to nypost.com, an altercation involving Rudolph followed a dispute with his alleged girlfriend, Dominique Jones. The report said soon after the altercation, Rudolph was confronted at his house by four unarmed men. After, what was reported to be a physical altercation outside of Rudolph's house, the former Giant returned with a shotgun firing 39 shots in the direction of the four men's vehicle. Sebastien Jean-Jacques was killed and another man was injured.
According to nypost.com, a spokesperson for the Palm Beach County State Attorney's office, Marc Freeman commented after the trial, "Although we may disagree with the jury's verdict, it is their job to determine from the facts whether a defendant is guilty or not guilty. We respect the jury's decision." Prior to the trial a judge denied Rudolph's request to dismiss the case based on Florida's "stand your ground" law. The law allows the use of deadly force if a person reasonably believes it is necessary to protect against imminent death or great bodily harm.
50 Iconic New York State Attractions
How many of these 50 iconic New York State attractions have you visited? Upstate, Downstate, Capital Region, Adirondacks, Catskills, Western New York, Central New York and everywhere in between.
$5.2 Mil Sprawling Upstate NY Lakefront Estate & Stone Mansion For Sale
This sprawling property is located in Bemis Point, NY, and sits on the Chautauqua Lake. It includes a three-bedroom carriage home, two charming cottages, an apartment building, and a gorgeous stone mansion. The entire property is meticulously landscaped with stone walkways, patios, and topiaries plus a stone fountain feature. The mansion has beautiful millwork throughout. A vast foyer allows for special occasions. There is a formal living room and dining room with woodwork on the walls, floors, and ceilings. The kitchen has a butler's pantry along with quartz countertops. There is a solarium with tons of sunlight. There are five bedrooms, three full bathrooms, and the main bedroom offers lakefront views. The mansion itself is 6,508 square feet.
Ten Celebrities Who Were Spotted Wearing New York Mets' Colors
From Kevin James to Jerry Seinfeld and beyond, a number of famous celebrities have been spotted around Citi Field sporting New York Mets' colors.