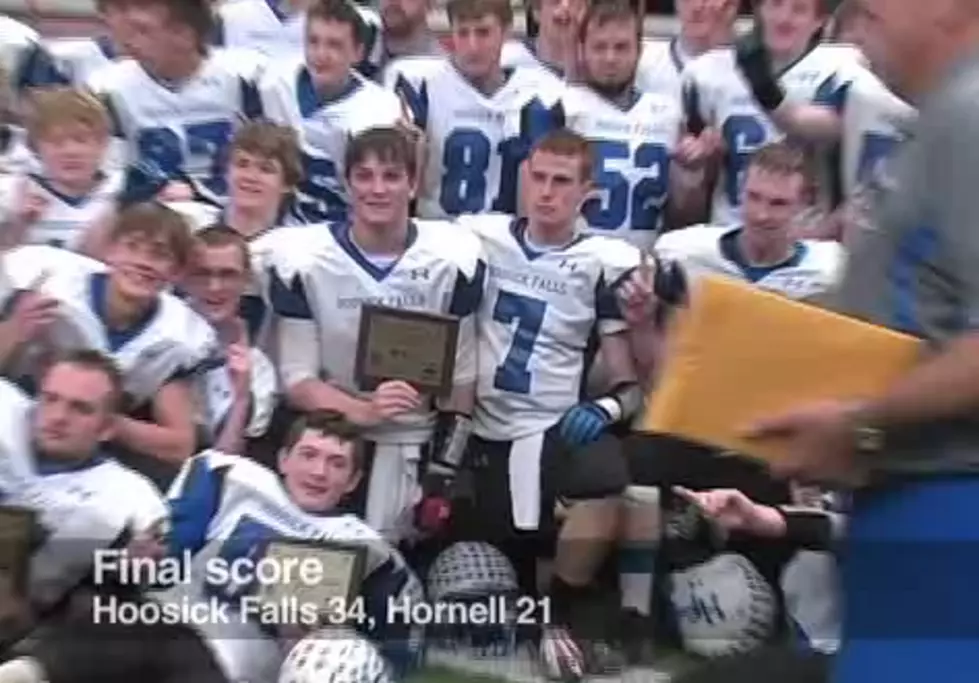 Hoosick Falls Panthers Win NY High School State Championship [VIDEO]
TU Video Screenshot
The Hoosick Falls Panthers have taken home their first ever state title for football when the Panthers beat Hornell at the Carrier Dome in Syracuse in the Class C finals with a score of 34 to 21. 
The Panthers victory ended one of the longest high school winning streaks in New York State  history when they defeated the top ranked Hornell Blue Raiders. Hornell had won 51 consecutive games with their last loss in 2008 to Geneva. The record for high school wins is held by Massena with 55 consecutive wins that ended in 1957.
Senior QB Billy Pine along with senior running back Brad Burns rushed over 300 years combined to lead the Panthers (13-0)  to their first state championship. Pine threw two touchdown passes.
An improv celebratory parade led by local fire departments greeted the team as they arrived back in Hoosick Falls to streets lined with fans applauding  and cheering the team's victory.
Hoosick Falls is calling themselves 'title town' and rightfully so - last week the girls soccer team won the state championship.