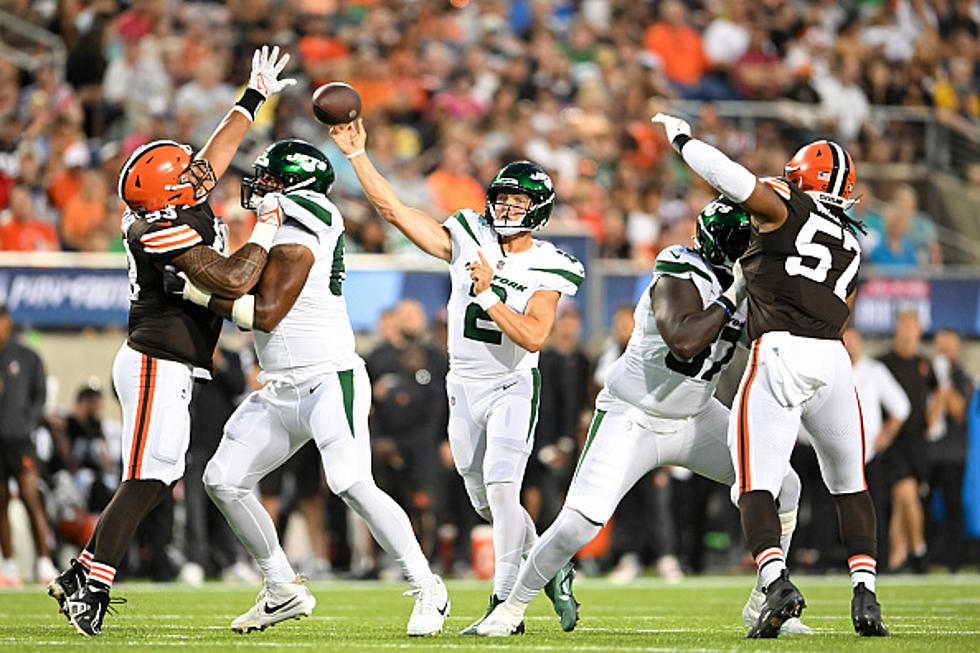 New York Jets' Season Remains Just One Play From A Nightmare
Getty Images
Some optimistic New York Jets fans are making their flight arrangements for Las Vegas in early February, in anticipation of Gang Green breaking that 54 year Super Bowl draught. Others, like me, will be extremely happy with a return to the playoffs for the Jets. However, breaking that 13 year post-season draught may not be as easy as everyone thinks, if just "one" thing happens...
Jets fans got a glimpse of that "one" thing on Thursday, when they kicked off the NFL's preseason in the NFL Hall of Fame game. New York's new shining star, Aaron Rodgers did not suit up. So, the starting quarterback was Zach Wilson, the architect of last season's meltdown disaster.
For all of the moves the Jets have made this off-season, with names like Teddy Bridgewater, Carson Wentz and Nick Foles still on the free agent market, Zach Wilson will be the starting quarterback, if 39-year old Aaron Rodgers gets hurt. That is not welcoming news for Jets fans.
General manager Joe Douglas is risking his own job security by pushing his first-round draft-pick-bust on Saleh and the coaching staff, as their first-choice back-up QB. Saleh praised Wilson after the preseason start against the Browns to Al Iannazone of newsday.com, "Zach did a good job. He was poised. He looked comfortable in the pocket, delivered the ball on schedule. Definitely something to build on." Let me interpret for Coach Saleh. Wilson had one good pass, that his receiver had to make a great catch on. Zach slipped and fell while avoiding a sack (how many times did we see that last year). And, when Wilson inherited amazing field position on the Browns own 31-yard line, the 2nd-overall-pick in the 2021 draft overthrew his receiver and the Jets had to settle for a field goal. Jets fans have seen that movie before.
Not surprisingly, the third-year over-confident-quarterback was happy with his 3-series performance. Wilson told newsday.com, he is ready for the next chapter, "That's the goal, putting everything behind me, learning, being appreciative of it too is a big one. A lot of fun just to get back on the field with the guys." It is hard to judge how much progress Zach Wilson has made over the off-season, especially from a preseason game. However, the young quarterback didn't do anything to instill more confidence in his important position on the roster. If Aaron Rodgers goes down with an injury, that "one" nightmare will return for Jets fans this season.
Dumbest Driving Moves Seen In New York
You have spoken and these are the dumbest driving moves seen in New York State. Be safe out there.
50 Iconic New York State Attractions
How many of these 50 iconic New York State attractions have you visited? Upstate, Downstate, Capital Region, Adirondacks, Catskills, Western New York, Central New York and everywhere in between.
New Study: These Businesses, Restaurants are 'Most Loved' in Albany, NY
When it comes to these Capital Region businesses and restaurants, people don't just like them...they love them.