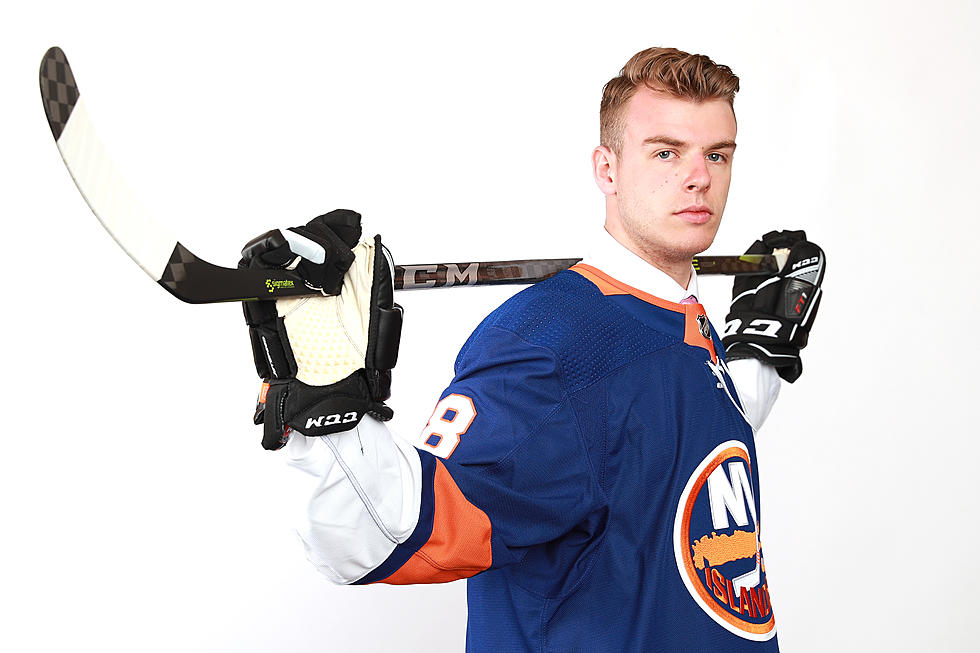 NHL's Vax Stance Doesn't 'Bode' Well For New York Islanders Rookie
Getty Images
The difference between being a vaccinated NHL player, and an unvaccinated one, is going to be vast during the 2021-22 season. While only an estimated 10-15 NHL players remain unvaccinated, the New York Islanders have one of them, and Bode Wilde's future with the club is up in the air as a result.
Wilde, a second-round pick of the club in 2018, was slated to attend the team's training camp this week into next, before it was discovered that Wilde had yet to be vaccinated. The right-handed defenseman spent parts of the last two seasons with the Islanders' AHL affiliate in Bridgeport, and despite the likelihood that he would return to the minors, New York obviously wanted to get a look at him against NHL-caliber competition.
Due to his vaccination status, however, he was not invited to camp, and will instead be forced to find another place to play.
Here are the comments from Islanders' General Manager, Lou Lamoriello, on the status of the team, thanks to friend of the show, Mollie Walker:
Another friend of the show, Andrew Gross, clarified the comments, and included a rather testy Instagram comment from Wilde:
Islanders' head coach Barry Trotz weighed in, offering a bit of sympathy toward the young player:
Twitter, however, wasn't as kind:
Unfortunately, vaccination is a two-way street. It is absolutely a human right to choose whether or not you get vaccinated. In no way was Bode Wilde forced to get the shot. That being said, corporations and governing bodies also have their right to set mandates and guidelines for the safety of others.
And, when it's all said and done, a young Islanders defenseman is left without a home. Are the Islanders, and other teams around the league, doing the right thing?
ALSO: Former Minnesota Twins All-Star's Home for Sale - Complete With Brewery
KEEP READING: See how sports around the world have been impacted by the coronavirus