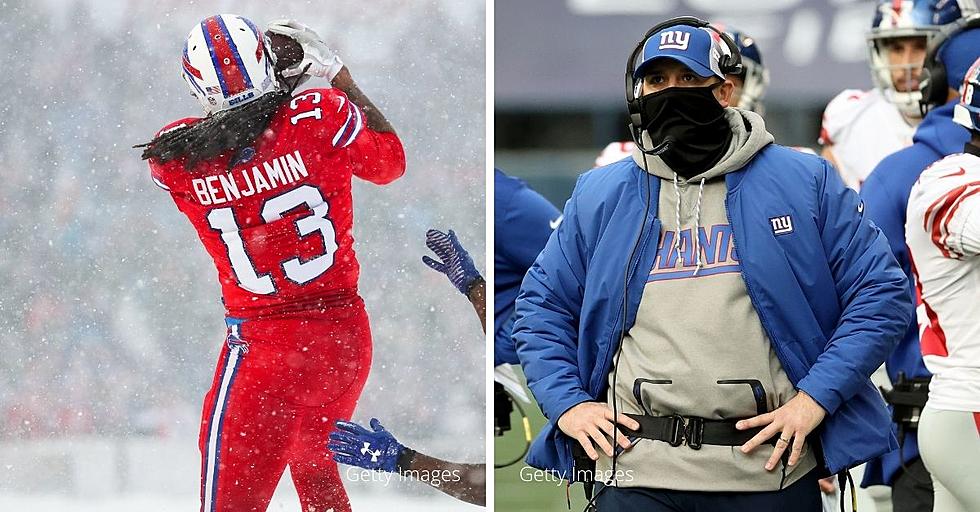 'None' and Done: Benjamin Cut by Giants Before First Practice Began
I don't know about you, but I'll always remember the Kelvin Benjamin era with the New York Giants fondly.
Benjamin, however, may not share the same sentiments, according to reports. Back-tracking a bit, Benjamin signed with the Giants on May 16, 2021. The former first round pick was a can't-miss talent at the beginning of his career with the Carolina Panthers, but battled injuries and inconsistently as the years progressed. He last played in the NFL in 2018 with the Bills and Chiefs, and was reportedly targeting a comeback as a tight end. Standing 6'5" and weighing 268 pounds, one could imagine that a healthy and well-coached Benjamin would have an outside shot to be a difference-maker on any team.
Well, as it turns out, that team won't be the Giants.
The downward spiral of events began with a video:
This video was the apparent aftermath of a conversation with head coach Joe Judge and general manager Dave Gettleman:
Further reports surfaced confirming that the conversation had been to inform Benjamin he had been cut from the team. Now, I'll admit, this did appear to be harsh at the outset. Benjamin was trying to make an NFL comeback, and the team was mere minutes from starting their first practice.
NJ.com's Zack Rosenblatt managed to get in contact with Benjamin, who went all in on his criticism of Joe Judge and the Giants, calling his entire tenure with the franchise a hoax.
On the other hand, however, the team asked Benjamin to slim down ahead of training camp, and return to the team weighing 251 pounds. Instead, the tight end-to-be returned three pounds heavier than his previous weigh-in, saying the weight came through muscle build-up.
Benjamin offered a parting shot at his ex-head coach:
Joe Judge, meanwhile, took another route:
Best case scenario, Benjamin would've been a depth piece, who occasionally received snaps during the regular season. At its worst, however, he could've been a major disturbance to a team trying to scratch and claw for every victory.
Either way, it seems like this marriage wasn't ever one destined for eternity.
TACKLE THESE: Check Out the Best Uniforms In Each NFL Team's History