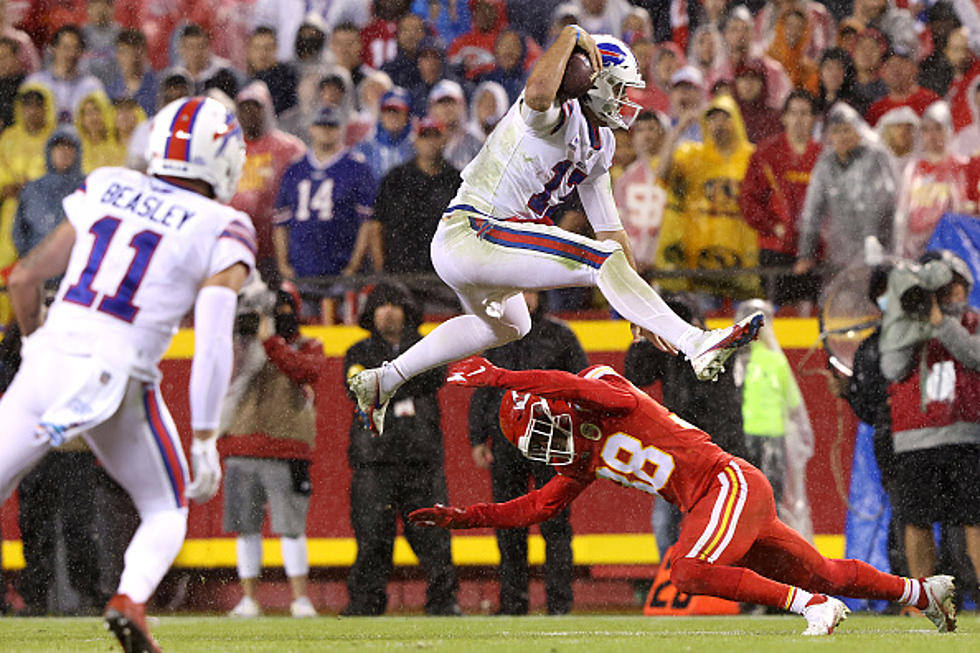 The Buffalo Bills Dominate The Chiefs On Sunday Night Football
Getty Images
The Buffalo Bills won what might be the biggest statement win in a regular season game in years. They defeated the Kansas City Chiefs 38-20 in a game that featured many positive things for Bills fans to take away.
Most notably the play of Bills fourth-year quarterback, Josh Allen.
Allen played a fantastic game for the Bills. He completed 15 of 26 passes for 315 yards and three touchdowns. Allen didn't get a lot of drives but the ones he did, most of them turned into points.
Bills fans are most talking about the incredible touchdown drive in the fourth quarter that made the score 38-20 and put away the game for good. It ended with a touchdown pass to Emmanuel Sanders.
The drive featured a play where Allen leaped over a Chiefs cornerback L'Jarius Sneed to convert a third down and keep the drive alive that ended with the touchdown.
The Bills defense deserves just as much credit as they held both Tyreek Hill and Travis Kelce in check and limited the amount of big plays for Patrick Mahomes.
Kansas City didn't have much room for plays over 10 yards and the Bills had two crucial interceptions: one was a pick-six from Micah Hyde and the other from rookie Greg Rousseau, which stopped a Chiefs drive in the red zone.
Rousseau might have been Buffalo's best player other than Allen. He was dominate against the Chiefs offensive line.
The game had many chances for Bills fans' stress levels to go up with the notable penalties that were, well, questionable at best.
The win solidifies the Bills place at the top of the AFC standings and many now have Buffalo as the team to beat in the AFC and probably the entire NFL.
The Bills next play on Monday Night Football next week in Nashville against the Tennessee Titans.
22 Famous Buffalo Sports Phrases Every Die-Hard Bills and Sabres Fan Knows
Being a sports fan in Buffalo is sometimes like knowing a different language. Here are 22 of our favorite Buffalo sports phrases you already know if you're a huge fan! And if you're new here, here's how to catch up.
25 Things You Need To Do In Buffalo and WNY This Fall Season
The best 25 things to do in Western New York this fall season.
57 Fun Facts You Might Not Know About Buffalo
You might know a lot of these, but there is no way you know all 57 things. If you did, I would be impressed.
Here's a list of 57 fun facts that single Buffalo out from the rest of the country.