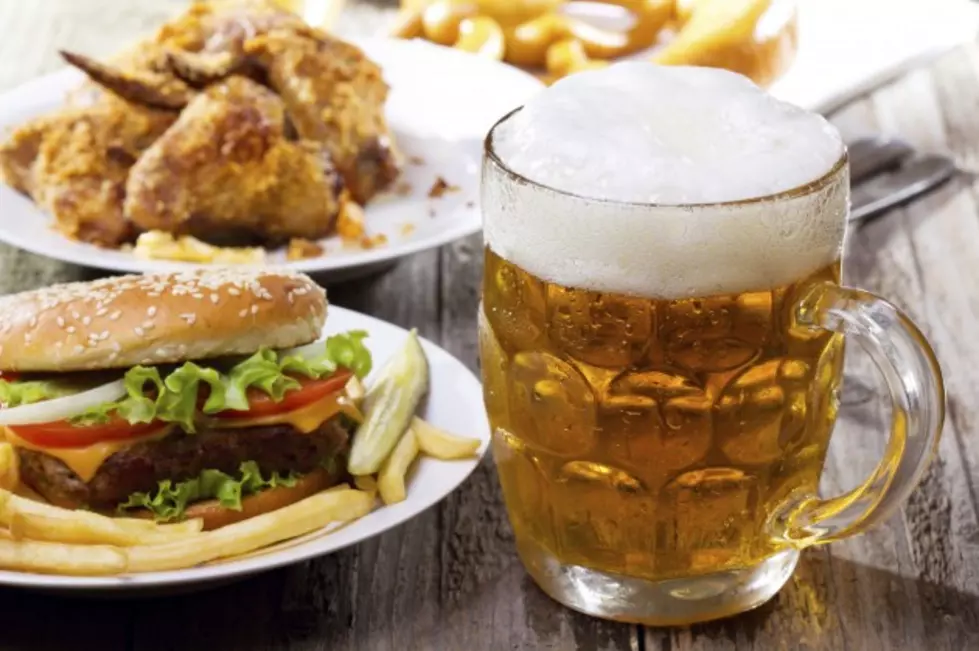 The Three C's of Pairing Beer + Food
iStockPhoto
Beer. It's your buddy at the game, with a slice of pizza, on the lawnmower, between frames, and sometimes standing around the grill. It should be your buddy elsewhere too and with just a tad bit of knowledge you'll be able to have your bff beer with you more often than you do now. When's the last time someone asked you (or you asked) what wine goes with chicken, or pasta, or any other meal? Forget the wine - bring on the beer!
Not only does beer have many more flavor possibilities over wine but far more styles to choose from. There is a beer for everything you eat. There is a beer (more than one actually) to have with your salad, your main course - whatever it may be - and yes with your desert too.
Chances are you may have never once ever considered that the beer you ordered with dinner does not go with it. Maybe you never thought there was one that does. Well, there is.
Three things to remember here - cut, contrast, and compliment.
CUT
Let's start with cut. You know what this is even if you've never been told what it is. Remember when you were a kid and you had your first hot food? You grabbed the water and started chugging as fiercely as you could but no relief came to your flaming mouth. That's because capsaicin (the chemical that makes peppers spicy) isn't soluble in water. It is soluble in beer though, especially one that has a larger amount of hops such as an IPA (India Pale Ale) which makes that beer a great choice to have with hot wings, Mexican food, and may things in-between.
COMPLIMENT
How about compliment? No, it doesn't refer to a beer that helps you dispense compliments to people you otherwise wouldn't… compliment is when your beer goes together naturally with the food. Example - chocolate cake with an chocolate stout. Or maybe a piece of raspberry pie with a cherry raspberry ale.
CONTRAST
Contrast. Black and white. Batman and Robin. Day and night. BBQ wings & pale ale. Opposites attract. Contrast is as simple as that. When you are pairing food with beer contrast is a concept for all but the unadventurous. Bold, big, flavors that you normal wouldn't match. That's what it's about. Oil on it's own - meh -  vinegar on it's own - blech. Mix the two and you have awesomeness. Same goes for contrasting food and beer.
So there you have it - keep the three c's in mind when pairing food and beer to unlock a world of flavor.
Saratoga Beer Week happens from February 19th through 23rd in Saratoga Springs, NY. Prices to various events vary and are available online. If you love beer and a week of nothing but beer sounds good to you, then the Saratoga Beer Week is your kind of a week. It's worth using up that rollover vacation time from last year, if you have it. Or just come for one day. Or two. Or the entire week – it's entirely up to you.