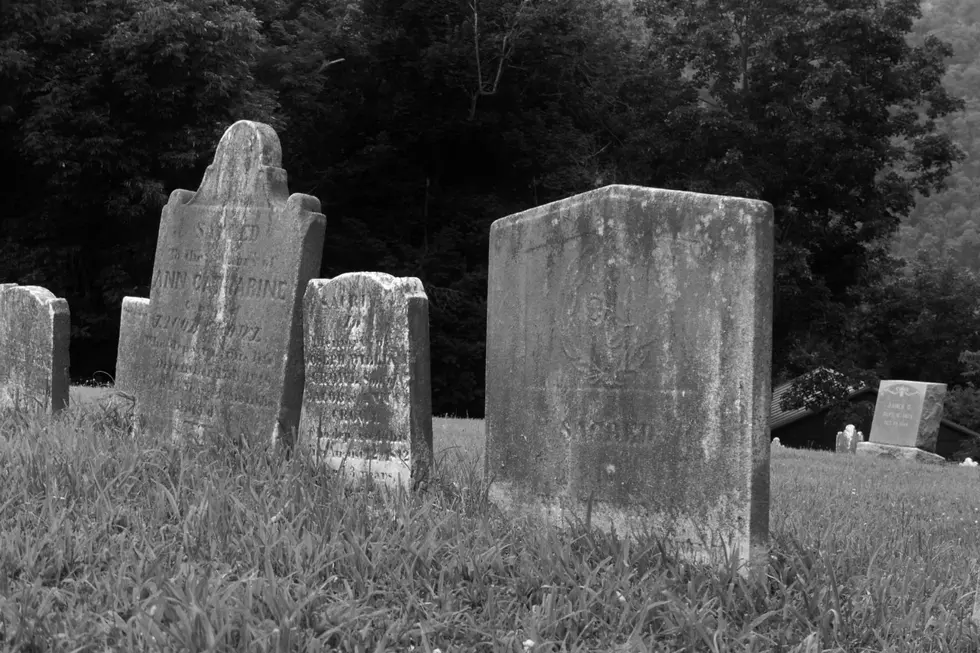 Veterans & Kids Graves Among The 200+ Damaged By VT Vandals
Canva
I always flinch whenever I see a grave destroyed or damaged in a movie or on TV. For example, National Treasure. I love the movie, but there's a scene where the bad guys open fire on Nic Cage in a cemetery and start blowing chunks out of headstones and I cringe every single time.
Maybe it's because of the superstition behind disrespecting a grave, but I think its mainly a respect thing for me. But for a headstone to be destroyed in fiction is one thing, when one is destroyed in real life it's a disgusting act. That's why the Bennington, Vermont community is shocked and furious at the hundreds of graves destroyed this past weekend.
"Why Would Someone Do This?"
The town estimates more than 200 grave markers from the Bennington Village Cemetery were vandalized, as reported by News10. Headstones dating from modern day all the way back to the 1700s were knocked over and smashed in the night.
The graves of numerous veterans from every American war were also desecrated, here less than a month before Veterans Day. The flags in front were ripped out of the ground and dropped in the dirt. Another particularly calloused vandalism occurred at the grave of a child who died in the 1800s.
Starting Repairs
The town of Bennington had recently invested more than $10,000 in restoring many of the graves. That was all undone in one weekend. City officials gathered to begin cleanup while police investigated. Department of Public Works employees will start formal repairs later this week.
The Vermont Old Cemetery Association, a non-profit that preserves and repairs old graves and headstones, has already stepped forward with an offer to help. Bennington Police are currently looking for any trail cams or security camera footage that could show a suspect, and are asking anyone with information to call 802-442-1030.
These Are The 10 Most Stolen Vehicles in New York State
These Are New York's 14 Most Expensive Colleges For 2022
The
Business Journals
calculated total yearly cost for higher learning across America. Their total cost figures no financial aid, no in-state discounts for public universities, and the cost of books, room, board, and general living expenses.
By far, New York is the country's the most expensive state for college, with more schools in the top 60 than any other state. We have 14: one in the top five, and three more in the top 20. Massachusetts finished second with 10 colleges in the most expensive 60. This is probably not a distinction to be particularly proud of, but as inflation continues this trend isn't likely to slow down over the next year.
You Can Rent New York's Largest AirBnb For $343
There are currently two options for those wanting to use the 850 acre Vanderkamp Estate: The Frank Soule Lodge and The Boathouse.
The Frank Soule Lodge is named after the original property owner who used the estate as his personal escape from the world of industry.
The Airbnb listing
includes seven bedrooms for multiple families or lot of friends and has a shuffleboard room, large kitchen, outdoor fire pit, and a private dock. The Lodge is $800 per night.
The real bargain is The Boathouse. 200 feet away from the Lodge, The Boathouse has its own private dock (with personal canoe, it is a boathouse after all), an outdoor fireplace and two bedrooms facing the water.
Airbnb lists it
as $343 per night.
The 850 acres is shared between Lodge and Boathouse guests, but if you can't find a place far enough away from other people within the 1.3 square mile grounds you may have more problems than a weekend retreat is going to solve.
Both retreats are pretty solidly booked through the summer, but have good availability in the fall. As you can see by some of the pictures, this place has to be completely spectacular when the leaves change. Definitely something to look into Oswego County for. Check it out!