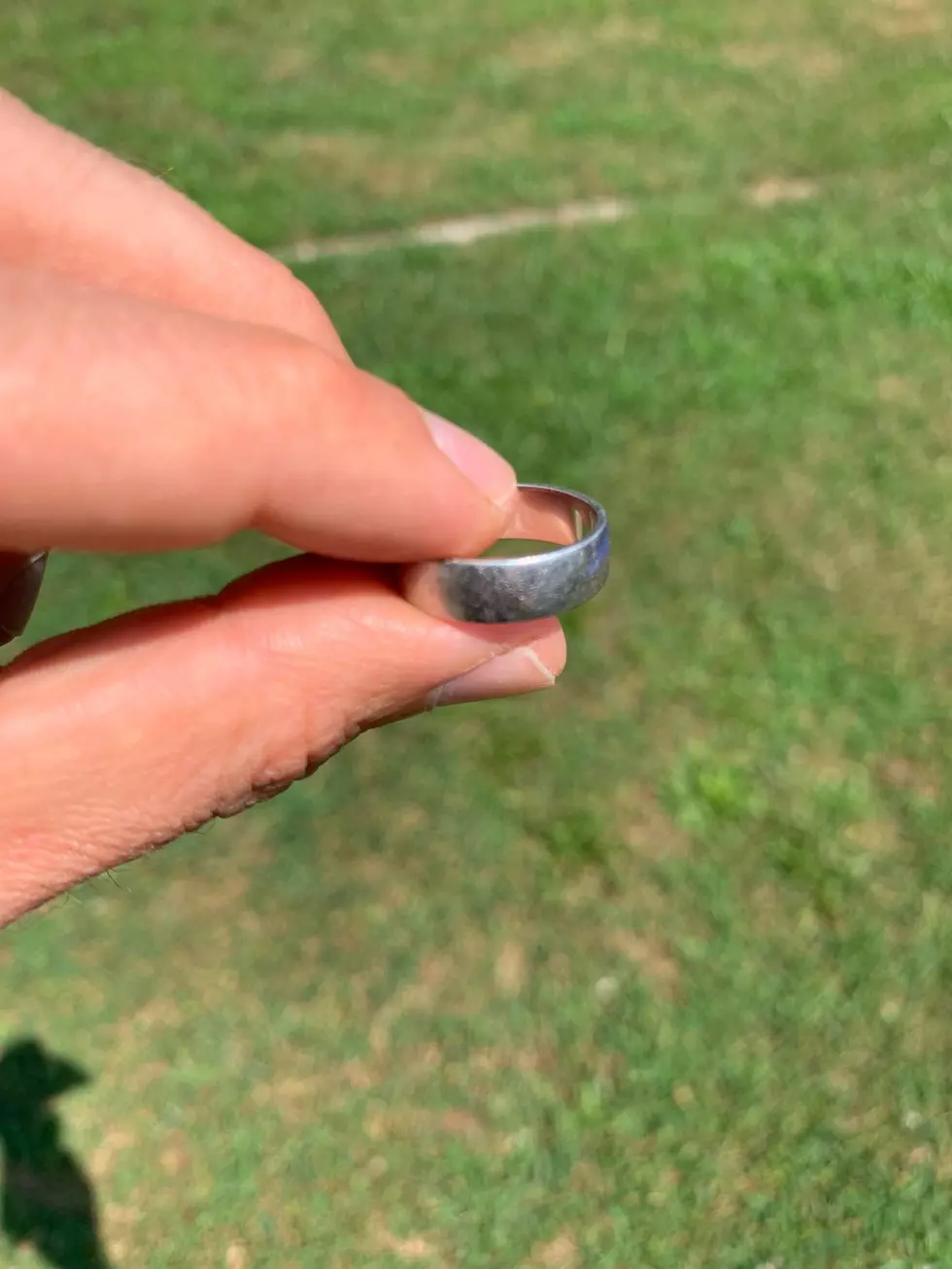 Wedding Ring Found by Diver in Lake George, is it Yours?
Courtesy of Mark Williams
Are you missing your wedding band? Did you happen to lose it somewhere in Lake George? If so, a man vacationing at the lake may have found it.
Last week, Mark Williams was doing some free diving in Lake George in the town of Hague. He came across an underwater cliff. Sitting on the cliff's ledge was, what appeared to be, someone's wedding ring. Williams said if the ring had originally fallen a few inches further, it would have missed the ledge and fallen about 30 or 40 more feet to the bottom of the lake - where it is unlikely it would have ever been recovered.
Since coming across the ring, Williams told News 10 that he's reached out to area police departments to find out if any had been reported stolen, but so far no luck. He's hoping to find its owner by spread the word through social media. In a Facebook post, he's asking anybody who thinks it may be theirs to send him a message.
For verification, he's looking for the following information:
The type of metal
What the inscription says
Approximately where it was lost
It's almost impossible to know when it was lost, but from the pictures provided, it looks like it's still in good shape. If you think it might be yours, Mark is looking forward to reuniting with its owner. He says you can reach out to him via Facebook.
Divers Found Interesting Sunken Treasures at the Bottom of Lake George
Abandoned Ramada Hotel in Lake George is Eerie as Hell
According to the description, this video was taken in the summer of 2021. It claims to be of the former Ramada Hotel in Lake George, although a couple different hotels/motels have sported the Ramada name over the years, it's not clear which one this is. Looking back at some property transactions, it may be a Ramada that eventually become known as the Lake View Inn and Conference Center, located on Route 9N off Northway exit 21. Since no footage looks to have been taken around the building, it's difficult to confirm that. The last photo taken by Google Maps has the road leading to the hotel roped off, so more than likely it's the same place. Perhaps some locals or former guests may recognize the property?
Still, some pretty interesting finds as the explorers take us on a tour of the hotel. It appears all the remaining items in the rooms were pushed out into the parking lot. Old TV's, mattresses, bedding and vending machines line the hotel in the parking lot in a large junk pile.
Inside, the sun room had clearly seen better days - that may have been a restaurant. We can also see a bathroom (urinals) and what appears to be the kitchen. The first floor looks to have been almost completely gutted, so maybe there are plans for this place?
WARNING: Under no circumstances should you enter this property. By doing so you risk bodily harm and/or prosecution for trespassing on private property.
Travel Back in Time to Lake George in the 1950s
Lots of these sights should still be very recognizable.