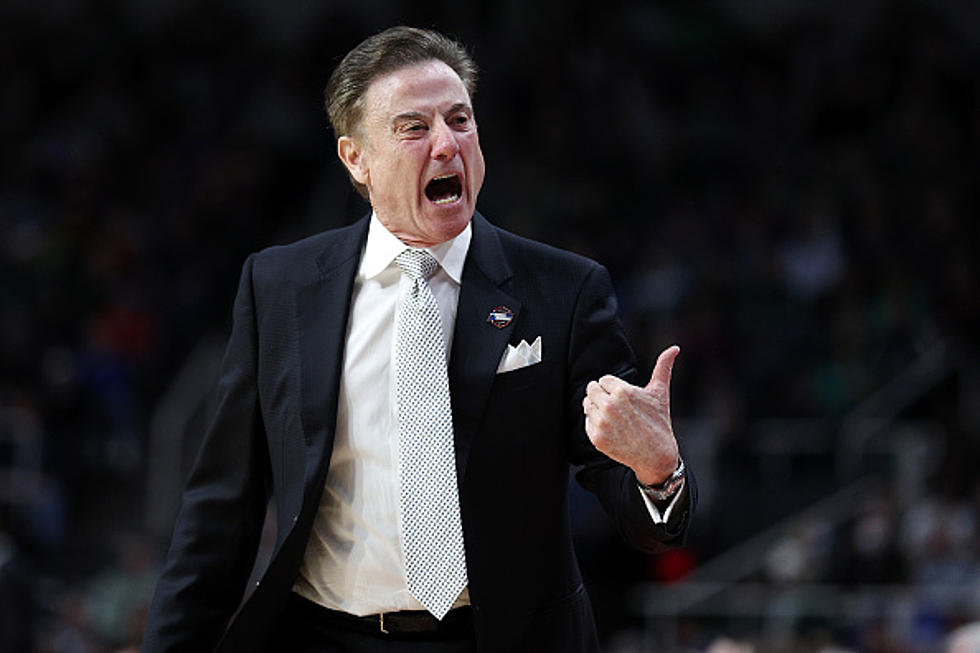 Will Rick Pitino Put St. John's Back On Top In The Big Apple?
Getty Images
Rick Pitino's basketball resume is hard to compare to any other coach in the nation; head coach of numerous successful collegiate programs, as well as two NBA teams. Pitino has developed some of the best basketball players in the world. However, as the song goes, "all that shines, is not gold."
Rick Pitino has won two NCAA national championships, in 1997 with the University of Kentucky and in 2013 with their in-state rival, the University of Louisville. The latter was vacated by the NCAA for multiple violations in 2017. However, that all seems to be in the rearview mirror for the 71 year-old basketball guru, a man who wrote a book called "Born To Coach." Can Pitino save a once storied basketball program that used to dominate the back-pages of New York City newspapers?
Lou Carnesseca was a legend in the Big Apple. The fiery retired St. John's coach, known for wearing goofy sweaters, brought the Queens, New York campus to the forefront of college basketball with multiple trips to the Sweet 16 and the Elite 8. Carnesseca's greatest achievement was the team's Final Four run in 1985, led by NBA Hall of Famer, Chris Mullin. Since then, St. John's fans haven't seen anything more exciting than a second round loss during March Madness. Does Rick Pitino have the magic to turn St. John's back into a college basketball powerhouse?
One would have to think, he probably does. Pitino may have a questionable recruiting past but most of the "extra benefits" the coach was accused of providing, are now legal in the NCAA. I said "most" because prostitution is still illegal (see: Pitino at Louisville for more information on that). However the NCAA does allow for cash benefits now, through Name/Image/Likeness (NIL) deals and cost of attendance benefits. One thing Rick Pitino is excellent at: identifying basketball talent.
Pitino can identify talent and he can recruit. Look how he brought Iona to back-to-back trips to the NCAA tournament in his first two seasons. Winning the Big East will be a bigger task than winning the MAAC but it's all relative. St. John's fans and financial supporters will certainly get behind the charismatic coach that grew up on the north shores of Long Island. That will give Pitino and his coaches what they need to bring the Red Storm back to prominence in college basketball and New York City. This will be interesting.
SEE IT: Final Day Of Another Awesome NCAA Tourney In Albany
Sunday's Men's Basketball NCAA Tournament 2nd Round action at the MVP Arena in Albany, New York
2023-2024 Capital Region Concert Calendar
This Concert Calendar is updated regularly so keep checking back for the latest!
Check Out Mechanicville's 'Anything That Floats' Homemade Boats!
Take a look at the past vessels that entered into the annual 'Anything That Floats' category in Mechanicville's Annual White Water Derby. The race takes place on Sunday, April 2nd along Anthony Kill Creek.