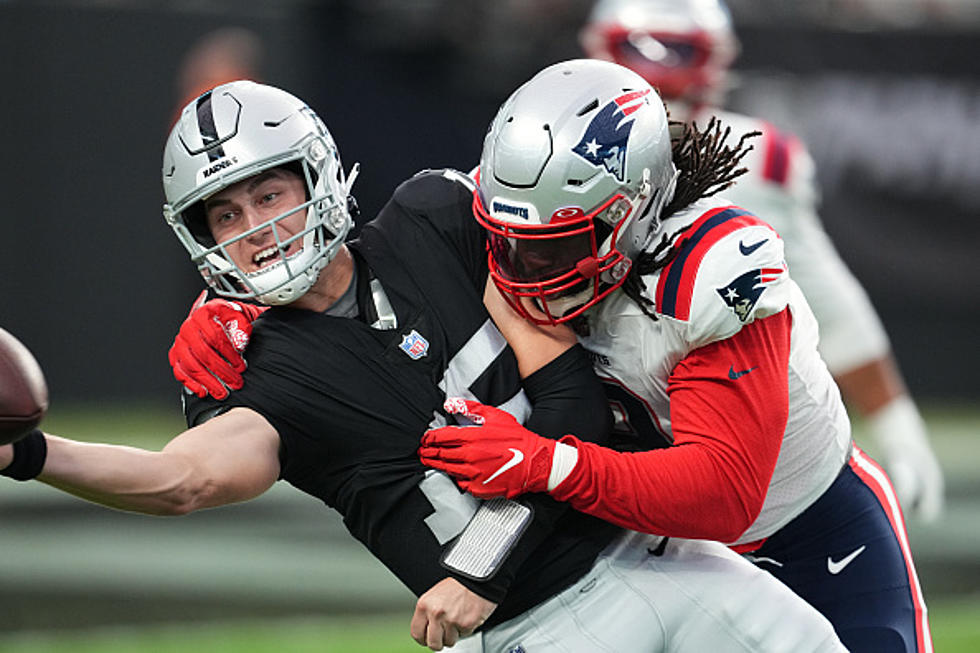 104.5 The Team's 'Intern Mike's' Hot Picks For Week 3
Getty Images
Week 3 of the NFL kicked off on Thursday night with the Niners politely disposing of the injured Giants 30-12. To get you ready for Sunday's action, 'Intern Mike' Giarraputo has put together his 'Hot Picks.'
Now before you dismiss our young NFL guru's selections, just know this; 'Intern Mike' puts in a ton of statistical research into his 'Hot Picks' and has delivered a winning success rate of 60% with a 6-3-1 record. With that said, looking at some of his picks this week, that winning percentage could go down the drain! Here are 'Intern Mike's' Week 3 'Hot Picks':
Buffalo Bills @ Washington Commanders, 1:00 PM, CBS
The Bills are coming off a convincing home win vs. the Raiders. It was a game where Josh Allen accomplished something that he rarely achieves: turnover free football. As for what will happen in this one, Buffalo is certainly facing a better front seven this week. I'm not sure Buffalo is equipped to handle Washington's defense. The Commanders are first in the NFL with 10 sacks through two weeks. Additionally, offensive coordintor Eric Bienamy has QB Sam Howell and this offense playing great, and I expect them to keep it going in this one.
PICK: Commanders +6.5
Houston Texans @ Jacksonville Jaguars, 1:00 PM, FOX
The Jags put up a weak performance on offense last week. One that they'd rather forget, chalking up just 9 points at home against Kansas City. They get a far more favorable tilt this week with the Texans, who are dealing with injuries across their secondary and offensive line. Whether it's on the ground with Travis Etienne, or through the air with Trevor Lawrence, I expect the Jags will roll in this one.
PICK: Jaguars -8.5
Carolina Panthers @ Seattle Seahawks, 4:05 PM, CBS
One can safely say that the performance Geno Smith showed us last year, wasn't just a flash in the pan. Geno brushed off a lackluster Week 1 and went for 328 yards and 2 touchdowns in an OT victory in Detroit. The Panthers will be without Bryce Young, meaning it'll be Andy Dalton who gets the nod. I just can't see Carolina going into Seattle on a short week and going shot for shot with this Seahawks offense.
PICK: Seahawks -6.5
Chicago Bears @ Kansas City Chiefs, 4:25 PM, FOX
On offense, the Bears have been wildly disappointing through two weeks of play. Many believed Justin Fields would take a Jalen Hurts-like leap in year three and they've been met with nothing but disappointment. However, we can expect Fields to have something closer to 'free range' when it comes to running the offense this Sunday. That could either lead to more points or even more turnovers. Chiefs will have their way on offense and the Bears will do all they can to keep up.
PICK: OVER 48.5 Points
Philadelphia Eagles @ Tampa Bay Buccaneers, 7:15 PM (MNF), ESPN
This is, arguably, the most interesting game on this week's slate. The Baker Mayfield led Bucs will get an early litmus test with the defending NFC Champion Eagles. The Bucs have looked sharp on offense with Baker at the helm, and they have a roster more than capable of competing toe to toe with Philly. I'll take the home dogs in this one.
PICK: Buccaneers +5
Those are 'Intern Mike's' Hot Picks for Week 3 of the NFL season. These are some interesting picks, going against the powerhouse quarterbacks in Buffalo and Philadelphia. It should be fun. Good luck and always enjoy responsibly.
12 Beloved Toys Named Finalists for Upstate NY Toy Hall's Class of '23
Twelve beloved toys were recently named finalists for the Upstate New York-based Toy Hall of Fame's Class of 2023. Which toys do you believe should be inducted?
LOOK: Counties with the most tornadoes in New York
Upstate NY State Park Named Among Best Hiking Spots in America - See Photos
An Upstate New York state park has been named among the best hiking spots in America for 2023. Have you ever explored this incredible terrain?