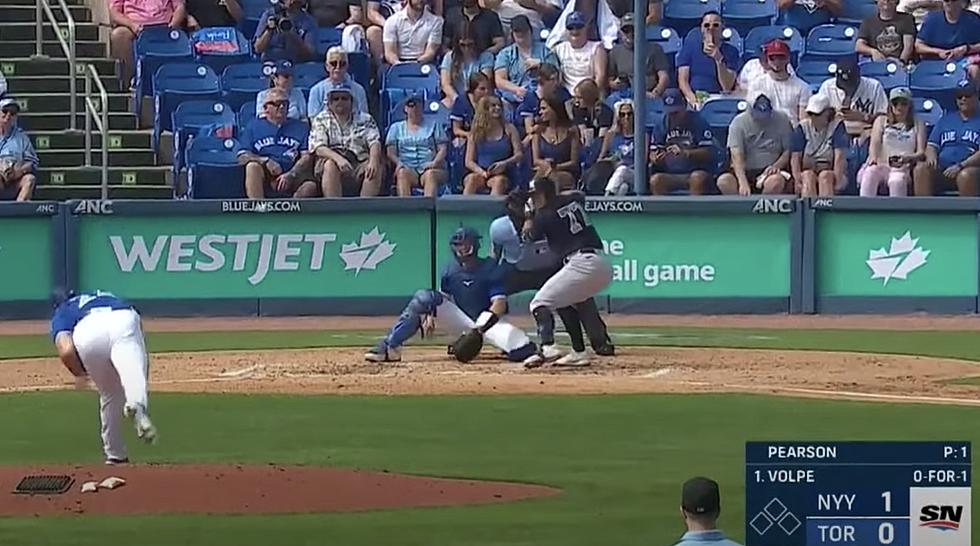 5 Key New York Yankees To Watch This Spring
Yankees Avenue YouTube.com
The New York Yankees are once again faced with a Spring Training full of questions. The hot-topic: did general manager Brian Cashman do enough to fortify the Bronx Bombers to get by the World Champion Houston Astros.
Yankees fans have a lot to look forward to in 2023, especially with their newly-knighted captain, Aaron Judge, secure in pinstripes for the next decade. Let's look at the 5 key players to watch this spring for manager Aaron Boone.
#1 Shortstop Anthony Volpe
Anthony Volpe was the Pinstripes' first round draft pick in 2019. The Morristown, New Jersey product is one of Cashman's prize young players that he refused to include in any trade. Volpe is currently fighting for the starting shortstop job. His power, athleticism and defense at shortstop could inch New York closer to Houston. Yankees' bench coach Carlos Mendoza told nypost.com how impressed he has been with Volpe so far in camp. "First time in big-league camp, a lot of stars around him, just the way he goes about it. He's a total pro. He gets in early, gets his work in and then he gets out of the way and just watches some of the older guys. But then when you see him out on the field, you can see the abilities." He started it off well on Sunday vs. the Blue Jays.
#2 Outfielder Jasson Dominguez
Jasson Dominguez is only 20 years-old. His out-of-this-world athletic ability has earned him the nickname, "The Martian." Dominguez may be a year away from the big leagues or he may be ready for the break-out year that puts the New York over-the-top. Remember Juan Soto hit 34 home runs as a twenty-year-old. The Yankees desperately need an everyday left-fielder to go with Harrison Bader in center-field and Aaron Judge in right. The Pinstripes also need a left-handed power bat. Dominguez is an athletic outfielder that has some work to do on his defense. However, 20 year-old is a switch-hitter with power from both sides of the plate. The Martian could be the missing piece in 2023.
#3 Starting Pitcher Luis Severino
29 year-old Luis Severino pitched in 19 games for Aaron Boone in 2022. It was the right-handers most appearances since the 2018 season. That year, Severino was 19-8 and was chosen to his second All Star game. After missing most of the 2019 season, Severino had Tommy John surgery in 2020. After several shoulder set backs last season, the Dominican Republic native appears to be ready fully to be a contributor to the starting rotation in 2023. Can Severino duplicate his best years from 2017 and 2018? The Yankees seem to be counting on it with good reason. The right-hander pitched well last year and team executives believe that will only get better in 2023. Luis Severino is a big wild card in New York's success this year.
#4 Third Baseman Josh Donaldson
Let's start here, in November Bleacher Report ranked the performances of MLB third baseman in 2022. Josh Donaldson came in at #25. Now, there are those that say, "Top 25! Yes!" But let's slow that roll for a second. There are only 30 teams. So, Donaldson is better than the five worst third baseman in the big leagues? Well, it's not that bad. The 37 year-old can still field with the best of them but his power numbers took a big dip last year. Donaldson had a .682 OPS in 2022 and hit .172 in the playoffs. Either Josh Donaldson turns it around this spring, or someone else will be occupying third base this season.
#5 Utility Player Oswaldo Cabrera
Last but certainly not least, is the rookie that took Yankees fans by surprise last season, Oswaldo Cabrera. The versatile Venezuelan played every infield position and both outfield corner positions multiple times in 2023. Cabrera had never played in the outfield professionally until last season. In fact, he handled the outfield corners so well, Aaron Boone had Cabrera beyond the infield in 34 out of the 44 games the rookie played in. Oswaldo Cabrera needs to prove this spring that 2022 wasn't a fluke. Every championship team needs that Swiss Army knife that can play multiple positions well. Cabrera could be that guy. I think Yankees fans will be watching Cabrera for a very long time.
Those are the 5 key players for Aaron Boone this spring. If all five have big years, the Yankees may have a championship parade waiting for them in the "Canyon of Heroes."
Look Who Has Played the New York State Fair
Here's a look back at some of the artists that have played the Great New York State Fair.
Concert Archives
Top 10 Capital Region Places to Get a Fish Fry [RANKED]
Here is a guide to the best fish fry in the Capital Region according to Yelp! reviews. There are some restaurants that specialize in fish fries and others that are full restaurants. There are 10 on this list but there are probably twenty more we could have listed.