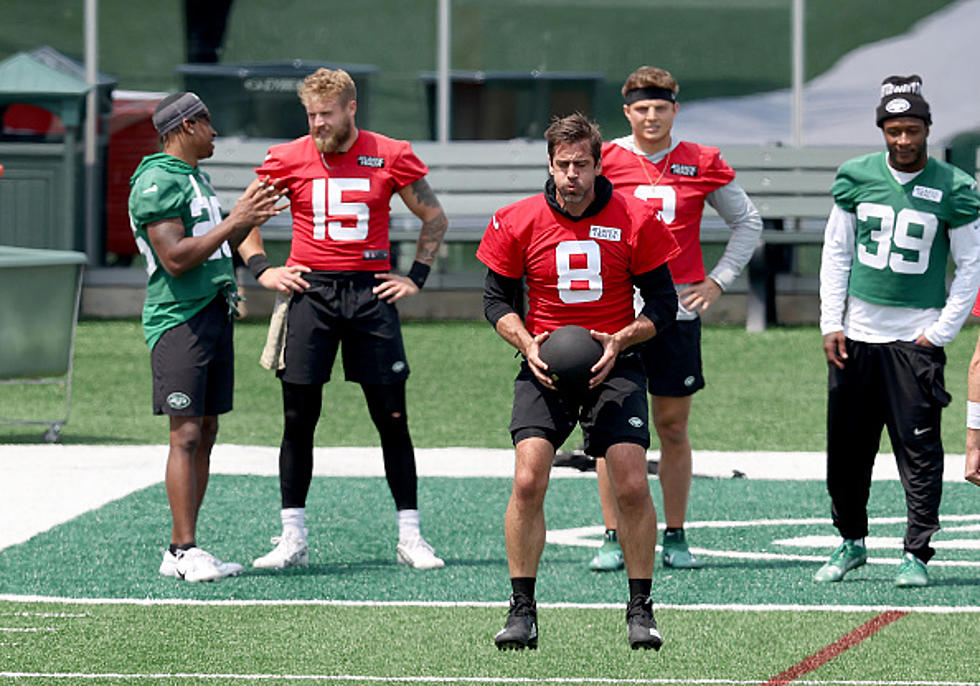 5 Questions Facing The New York Jets & Aaron Rodgers On Wednesday
Getty Images
On Wednesday, the New York Jets will be opening their official 2023 training camp, featuring their new aging-star, Aaron Rodgers. Will this version of Gang Green be any different from the past 53-years?
We'll see and here the FIVE questions that will be answered...eventually.
#1 Can the Jets offensive line protect their shiny new (old) Hall of Fame quarterback? To me, this is the biggest question that the Jets face. The offensive line is full of question marks, like will Mekhi Becton stay healthy enough to make an impact in 2023? Can the Jets expect warrior OT Duane Brown, who played the last half of the season with torn shoulder ligaments, to return 100% from should surgery? Will offensive guard Laken Tomlinson perform better than last season's lack-luster effort, after coming to the Jets as a big ticket free-agent? The good news is that OG Alijah Vera-Tucker is healthy. That is a big boost for Rodgers' protection plan.
#2 How much can the Jets rely on running back Breece Hall? Breece Hall was enjoying a breakout rookie season over the first three weeks of 2023. Hall, not Garrett Wilson, was the most dynamic offensive rookie to start the season. Then his season ended on October 23rd against Denver. His ACL was torn and his season was over. Few running backs come off of ACL surgery and return to dominate the next year. ESPN's Rich Cimini said back in April that Hall would not be active in training camp but is attempting to be ready for September 11th vs. Buffalo. That would be a tall order. Either way, the Jets would get a huge offensive boost if Hall is ready for the second half of the season.
#3 How will Aaron Rodgers mesh with his new team under pressure? Things have been fantastic with Rodgers and his new teammates in shorts and jerseys. What happens when Mekhi Becton blows a blocking coverage and Aaron gets hammered? What happens when a pass tips off of Garrett Wilson's fingertips and into the hands of a defender for a pick-six? How will Aaron Rodgers react and in-turn, how will the rest of his team respond? It will certainly be interesting.
#4 Can the 39-year-old quarterback stay on the field enough to help the Jets get to the playoffs for the first time since 2010? He may be a bit weird but Rodgers is a gamer. Since 2008, only twice has he played under 15 games. Despite the many distractions, Aaron Rodgers works hard at staying in game-shape and on the field. An injury to Rodgers that keeps him out more than 2-3 games is just "Jets Bad Luck".
#5 What is success for the New York Jets and Aaron Rodgers in 2023? Is this season a "Super Bowl or bust" season? Will breaking the playoff drought 12 seasons be enough to call this year a triumph for Rodgers? What will Woody Johnson do with Robert Saleh and Joe Douglas if Gang Green doesn't make the playoffs? Wow. I say break the playoff draught and I'll be happy with a real kick at the Lombardi Trophy next season. A long-time Jets fan with low expectations. This will be fun and it all starts Wednesday.
Dumbest Driving Moves Seen In New York
You have spoken and these are the dumbest driving moves seen in New York State. Be safe out there.
These are New York's Ten Biggest Phobias, What are You Afraid of Most?
Most New Yorkers suffer from some kind of phobia...an extreme or irrational fear...and these ten phobias were searched for most often online.
2023-2024 Capital Region Concert Calendar
This Concert Calendar is updated regularly so keep checking back for the latest on Saratoga Performing Arts Center, MVP Arena, The Egg, the Palace Theatre and much more!