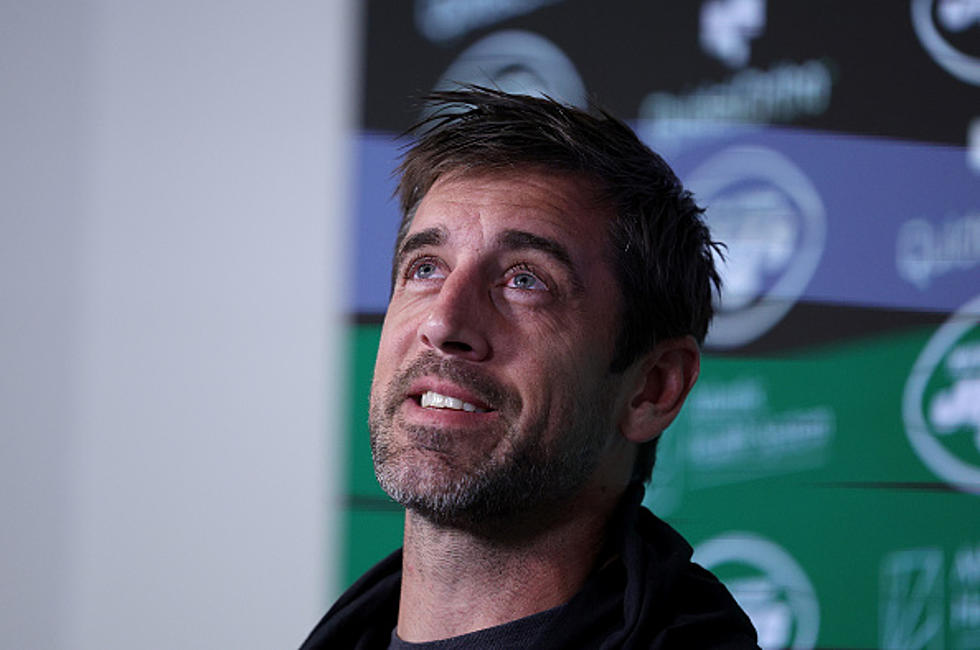 Aaron Rodgers Confesses Fandom For "Jersey Shore" Prior To Jets
Getty Images
The state of New Jersey would like to be known for its beautiful beaches that bring the Atlantic Ocean to life for millions each year. However, that wasn't the "Jersey Shore" that the New York Jets brand-new starting quarterback was referring to when he spoke to the media on Tuesday.
As the Jets Organized Team Activities took shape with Aaron Rogers in the building, unlike his last few years in Green Bay, the 39-year old, 4-time MVP, faced some easy questions about his time in New Jersey.
According to friend of The Drive with Charlie & Dan, Andy Vasquez of nj.com, Rodgers was asked on Tuesday if, so far, playing in New Jersey is like what he expected. Rodgers told the media, "The only thing I kind of knew about, besides Teterboro was 'Jersey Shore. I was assured that was not a proper representation of this great state, but I've had a good time." However, maybe hanging with 'Snooki', 'JWoww' and 'DJ Paulie D' are the "Jersey Shore" pals Rodgers is looking for. It appears that Woody Johnson's Super Bowl savior-in-waiting is a bit of a fan of the MTV classic.
Rodgers entertained the media, including Andy Vasquez, with his story involving the classic reality TV show that ran on MTV for six seasons from 2009 to 2012. "that's just the only lens I saw Jersey through. I was walking out to practice today and the media are here, always doing different videos and things, and the video was, 'Do your best 'Jersey Shore' impression. I just laughed to it. C.J. Uzomah was walking next to me and he said he'd never watched the show. I said, 'How can you not watch the show? One of the greatest shows back when MTV actually used to have content on it. It's phenomenal.' Then Rodgers really revealed his fandom for the popular MTV show.
Rodgers told nj.com, "No, I'm a fan of all of them. I actually went to Pauly D's set in Vegas back when I used to go there a few times a year, back in 2011 or something." Now that's a fan. Who knew?
The Ten Best Capital Region High Schools for Athletes in 2023
These are the ten best high schools in the Capital Region in 2023 for the up-and-coming student-athletes in your family.
50 Iconic New York State Attractions
Whether you like hiking, the arts, big city life or the countryside, New York has it all. Some of the locations listed below are on-of-a-kind while others are historic, prestigious or just really cool.
A couple of the locations don't exist any longer but you may have visited as a child. Others are known world-wide and some are hidden gems that locals don't want everyone to know about.
So, let's see, how many of these 50 iconic New York State attractions have you visited? Upstate, Downstate, Capital Region, Adirondacks, Catskills, Western New York, Central New York and everywhere in between. Keep track of the number of places you have been to.
10 Forgotten New York Concerts from the Early 80's
Take a moment to think back on the concerts you attended in the early 80's. As the shows start to populate your mind you will smile and think, 'I can't believe they played that venue'. Here are some of those shows and moments in time.