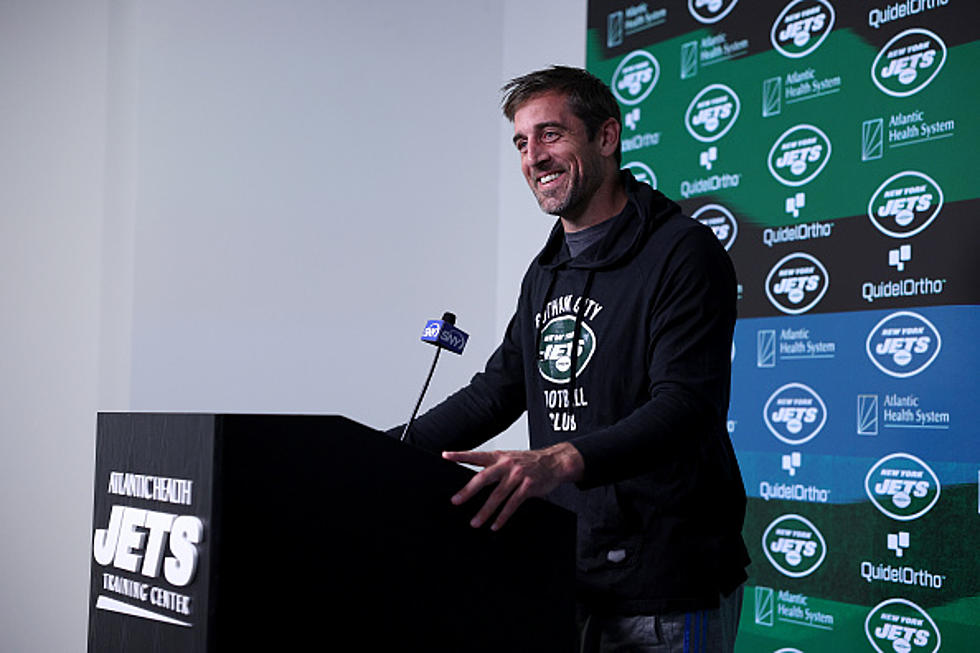 Aaron Rodgers Is Already Helping The Buffalo Bills
Getty Images
As training camp nears, the silence around the Buffalo Bills is more than a welcome sound or lack-there-of. Last season the was anything but quiet for head coach Sean McDermott and his team.
The mental stress placed on the Buffalo Bills players, outside of football in 2022, was unprecedented. In May, the Bills beloved city was devastated by the mass murder at a Top's Supermarket in May. The horrific event rattled the team to its core. Next was the pain of watching teammate Damar Hamlin have to be brought back to life, in early December. Then, at a much lesser extent but stressful nonetheless, snow moved a home game to Detroit.
Despite all of that, the Buffalo Bills were expected to dethrone Patrick Mahomes and the Kansas City Chiefs in January. We all know that didn't happen. How much of role did all of those factors have on the Bills? Well, they plan on finding out this upcoming season and will certainly enjoy some quiet around their organization. The New York Jets are welcome to enjoy all of the noise this year.
With Aaron Rodgers joining the Jets, expectations have shifted in the AFC East. That is not a bad thing for the Buffalo Bills. McDermott and general manager Brandon Beane navigated a minefield of off-the-field and on-the-field issues last season. In addition to the aforementioned events, the Bills lost their coveted free agent star Von Miller in week-11 for the rest of the season. This year's talented Bills roster should be able to regroup and refocus on their Super Bowl quest, with hopefully less distractions. Buffalo would love to see Rodgers continue to demand much of the NFL media attention this summer.
It will certainly be a more difficult road for the Bills with the Jets and Dolphins improving in 2023. However, that also means that both teams should take some attention off of the "Josh Allen and Stefon Diggs" soap opera. A quieter season with less distractions could help Buffalo shuffle off to Super Bowl LVIII next February.
Dumbest Driving Moves Seen In New York
You have spoken and these are the dumbest driving moves seen in New York State. Be safe out there.
These are New York's Ten Biggest Phobias, What are You Afraid of Most?
Most New Yorkers suffer from some kind of phobia...an extreme or irrational fear...and these ten phobias were searched for most often online.
2023-2024 Capital Region Concert Calendar
This Concert Calendar is updated regularly so keep checking back for the latest on Saratoga Performing Arts Center, MVP Arena, The Egg, the Palace Theatre and much more!