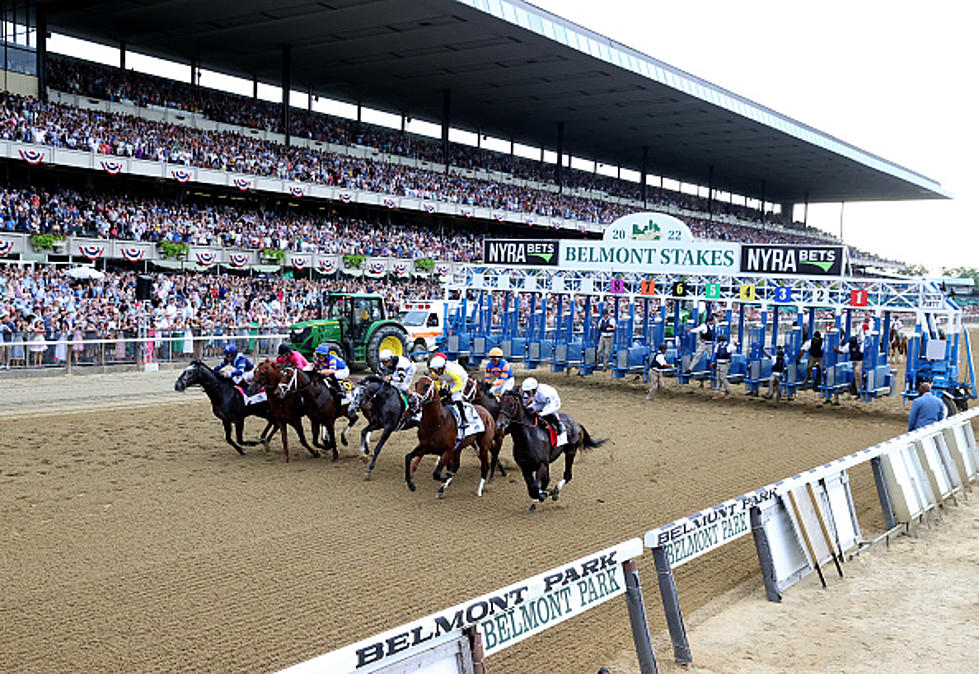 Belmont Stakes Primes Horse Racing Fans For Saratoga
Getty Images
Saturday will be the 155th running of the Belmont Stakes, the third leg of horse racing's jewel, the Triple Crown. As the anticipation builds for fans to watch Forte battle Tapid Trice and National Treasure this weekend, the attention of many in the horse racing community has already begun to look north to Saratoga, horse racing's summer home.
Don't misunderstand, Belmont Park will be rocking this weekend. Events and festivals begin on Thursday and run through Sunday. Before limiting capacity due to the UBS Arena, the Belmont Stakes consistently brought New York's largest sporting event crowds. In 2004, the race drew over 120,000 enthusiastic fans.
Vice President of Communications for the New York Racing Association, Pat McKenna told newsday.com, "Each day, the momentum, the excitement builds to a crescendo whereby Saturday afternoon, at 5 p.m. the entire attention of the sports world focuses squarely on Belmont Park for what is always a historic race. The Belmont Backyard is pulsing with energy in the lead up to the Belmont Stakes. The moment those horses hit the paddock, it's a different kind of electricity than you see at almost any sporting event," much like Saratoga Race Course.
If you have never been to the Belmont Stakes, it is well worth the trip. The events that surround the race are as much fun as the race itself. Belmont Park is easy to get to from the Capital Region in just about 3 hours. There is a ton of New York City fanfare that surrounds the Triple Crown race, creating a fun and energetic event flooded with celebrities, influencers and major sports personalities. It's funny, that sound like the entire summer in Saratoga. That fun begins on July 13th. Go to nyra.com for a complete events listing for the Belmont Stakes and to purchase tickets for Belmont and Saratoga Race Course.
50 Iconic New York State Attractions
How many of these 50 iconic New York State attractions have you visited? Upstate, Downstate, Capital Region, Adirondacks, Catskills, Western New York, Central New York and everywhere in between.
$5.2 Mil Sprawling Upstate NY Lakefront Estate & Stone Mansion For Sale
This sprawling property is located in Bemis Point, NY, and sits on the Chautauqua Lake. It includes a three-bedroom carriage home, two charming cottages, an apartment building, and a gorgeous stone mansion. The entire property is meticulously landscaped with stone walkways, patios, and topiaries plus a stone fountain feature. The mansion has beautiful millwork throughout. A vast foyer allows for special occasions. There is a formal living room and dining room with woodwork on the walls, floors, and ceilings. The kitchen has a butler's pantry along with quartz countertops. There is a solarium with tons of sunlight. There are five bedrooms, three full bathrooms, and the main bedroom offers lakefront views. The mansion itself is 6,508 square feet.
Ten Celebrities Who Were Spotted Wearing New York Mets' Colors
From Kevin James to Jerry Seinfeld and beyond, a number of famous celebrities have been spotted around Citi Field sporting New York Mets' colors.