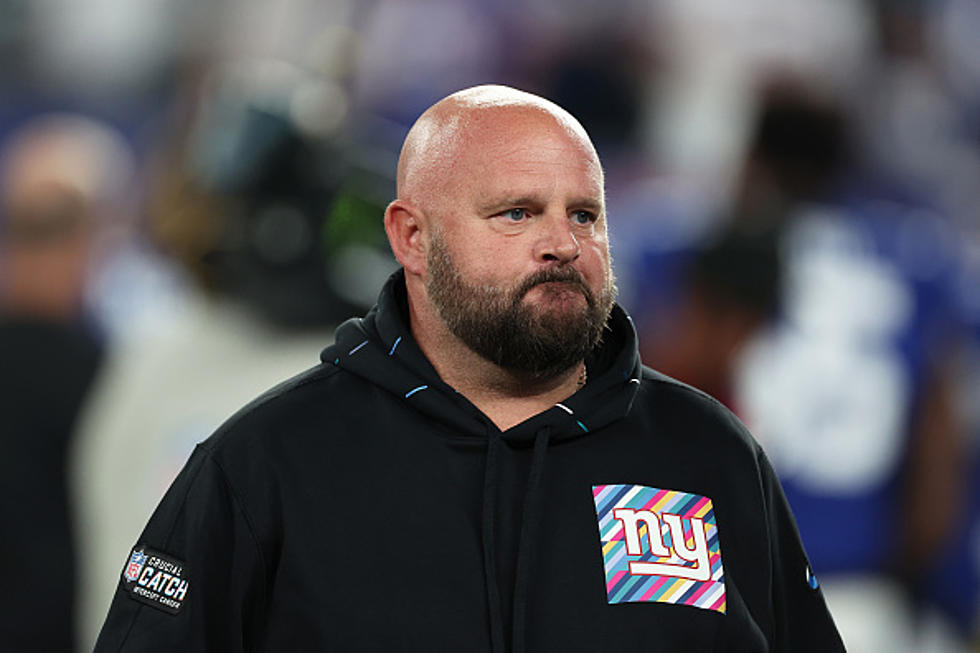 Daboll, Not Jones, Is To Blame For New York Giants' Regression
Getty Images
No Big Blue fan is going to sugarcoat it. New York Giants quarterback Daniel Jones made some terrible mistakes on Monday night against the Seattle Seahawks. But, what should really worry the fanbase is head coach Brian Daboll.
Daboll, coming off of his NFL Coach of the Year honors, may want to ask New York Mets manager how well that title worked out for him after a disastrous 2023 campaign in Queens. Brian Daboll has to be better prepared and was completely out-coached by Seattle's Pete Carroll on Monday.
It was no secret that the Giants did not have All Pro left tackle Andrew Thomas up front to help protect Jones. But to give up 11 sacks? Really? If you got hammered that many times, you'd be throwing the ball to the other team too. In addition, Seattle racked up another 10 tackles for losses. Brian Daboll had the Giants' offense completely unprepared for pressure that they knew was coming. Do you know what is worse, Seattle came into the game as the 28th ranked defense in the NFL, according to sportsnaut.com.
Jones is not absolved from contributing to Monday's horrific performance by Big Blue. #8's third quarter pass went from a 5-yard touchdown pass to a 97-yard pick-6 in an instant. It was a terrible decision to force that pass. If the Giants score there, the outcome may have been very different. But some of the blame on that play is on Daboll, too. Coming into last season, Jones had a propensity to throw to the opposing team or fumble in red zone situations. In 2022, those issues seemed to go away. Daboll has to make sure that the Giants score in that situation and that his 5th year quarterback knows what to do if the play is not there.
Brian Daboll knew his O-line was banged up, which made his 4th and 1 call during the Giants' first possession of the game even more head-scratching. 'Let's run the quarterback up the middle, behind an awful offensive line, when everyone knows its coming?' Seriously? Throughout the game, Daboll was the one that put the extra pressure on his quarterback. The second-year head coach failed to adjust his offense to protect against the blitzing Seahawks defense. This was a poor performance by the former offensive coordinator for the Buffalo Bills. The lack of adjustments and creativity by Daboll should be very concerning for Giants fans with the meat of the season still ahead.
Help The FBI Solve These Eight Open Investigations in New York State
The FBI Albany Field Office has a number of on-going investigations currently happening in the State Capital, and some of the details of the crimes are chilling.
Gallery Credit: Dan Bahl
12 Beloved Toys Named Finalists for Upstate NY Toy Hall's Class of '23
Twelve beloved toys were recently named finalists for the Upstate New York-based Toy Hall of Fame's Class of 2023. Which toys do you believe should be inducted?
Gallery Credit: Dan Bahl
LOOK: Counties with the most tornadoes in New York
Gallery Credit: Stacker