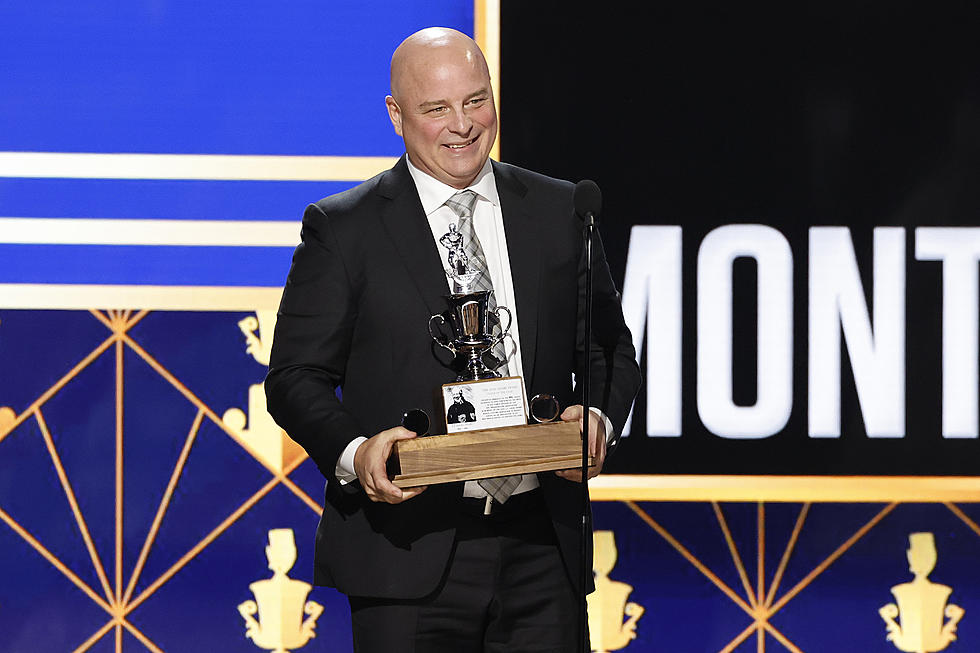 Ex-Upstate NY College Coach Details Alcohol Struggles in NHL Awards Speech
Getty Images
Last night, Jim Montgomery was named the winner of the 2023 Jack Adams Award, given to the best coach in the National Hockey League. Montgomery won the award in his first season behind the bench for the Boston Bruins, a team that won games at a historic pace during the 2022-23 regular season.
For Montgomery, he reached the pinnacle of his profession last night, but it was a long journey to get to get to this point. The former RPI men's hockey assistant coach shared some of his emotional story during his acceptance speech on Monday night, and we needed to make sure you hear this.
---
Jim Montgomery Shares Recovery Story During Jack Adams Award Speech
As part of Monday night's NHL Awards ceremony, it was learned that Jim Montgomery, head coach of the Boston Bruins, had won the Jack Adams Award, given to the best coach in the National Hockey League each season.
Montgomery completed his first season behind the bench in Boston in historic fashion, as his team won 65 of a possible 82 regular-season games, three more than the previous league record.
This was Montgomery's first year in Boston, but his second stint as a head coach in the NHL. Following a successful stint coaching in college hockey with the University of Denver men's hockey team, Montgomery was hired by the Dallas Stars as their head coach ahead of the 2018-19 season.
Just over one season later, however, Montgomery was mysteriously fired, with very little reason given by the team for his sudden departure. Rumors began to circulate that Montgomery's firing had been for personal reasons, not based on his performance, as the team had a winning percentage over .500 during his brief tenure.
Montgomery resurfaced in the NHL one season later, signing on to be an assistant coach with the St. Louis Blues. Two seasons later, he was brought in by the Boston Bruins as the team's head coach, his first head coaching job since being dismissed by Dallas.
Still, though, we had little information about why he and Dallas had parted ways. That was until Monday night.
Montgomery's inaugural season was a rousing success, and as he stood on-stage at the NHL Awards Monday night, he shared the emotional story of his journey, and his return to the game he loves.
Check out the clip here:
It cannot be understated how brave Jim Montgomery is to share his story on such a public platform. His message is an extremely important one, however, and we should all give him a ton of credit for sharing his story with the world.
After all, you never know who might've been listening, and who might've needed to hear it.
After spending one season as an assistant coach with Notre Dame, Montgomery moved to the Capital Region in 2006, where he served as an assistant coach with the RPI Engineers' men's hockey team. He spent four seasons in Troy serving under head coach Seth Appert, before departing for his first head coaching gig in the United States Hockey League.
Just over a decade later, his journey has taken him to the top of the coaching profession, and his powerful story will be told by hockey fans for a very long time.
Ten Capital Region Hockey Players that Made it to the NHL
The Capital Region has a rich history of hockey players turning professional, and with the 2021-22 NHL season now underway, here are ten players from the region with NHL ties.
What a Goal! Check Out These Classic Albany River Rats Photos
The Albany River Rats called the Capital Region home for close to two decades, and had many memorable moments. Check out these shots from their 2004-05 season.