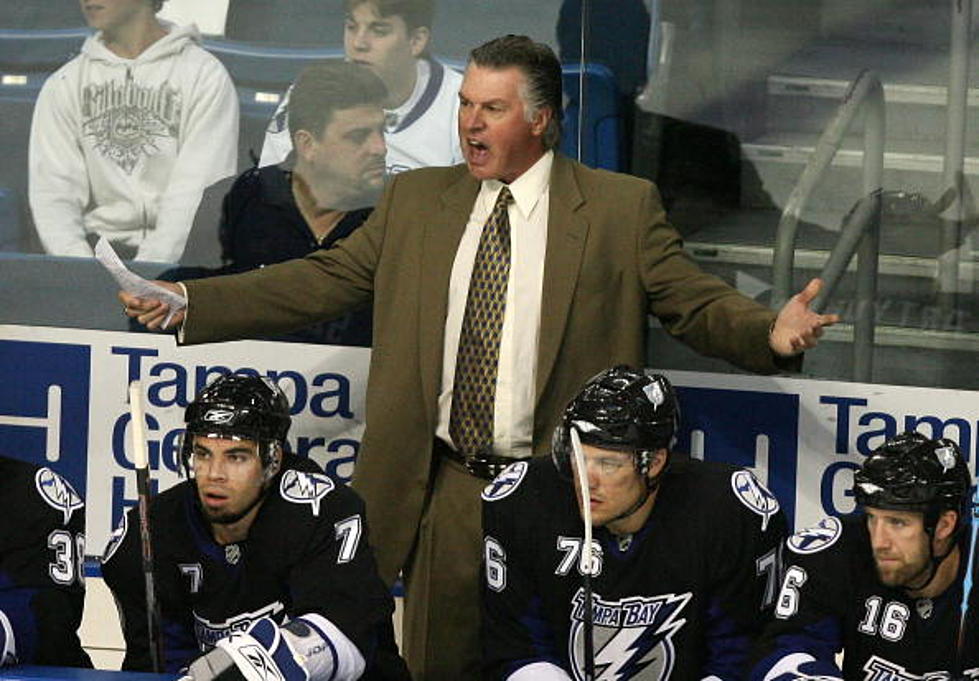 Glens Falls Hockey Legend Stepping Down At ESPN
Getty Images
Tuesday was a sad day for the NHL hockey world, as long time player, coach and broadcaster Barry Melrose, who has strong ties to the Capital Region, announced he was retiring from the broadcast booth, as a result of complications from Parkinson's Disease.
Melrose has been a member of ESPN's NHL coverage since 1996. Prior to that, the Saskatchewan, Canada native started his playing career in the World Hockey Association in the 1970's, eventually went on to the Toronto Maple Leafs and Detroit Red Wings. As a coach, Melrose made it to the highest stage, guiding the Los Angelas Kings to the Stanley Cup Finals. He also coached the Tampa Bay Lightning during one season prior to jumping into the television booth. On Tuesday, Barry Melrose made the somber announcement that he would be stepping away on NHL.com.
"I've had over 50 extraordinary years playing, coaching and analyzing the world's greatest game, hockey. It's now time to hang up my skates and focus on my health, my family, including my supportive wife Cindy, and whatever comes next," the 67-year-old said in a statement Tuesday. "I'm beyond grateful for my hockey career, and to have called ESPN home for almost 30 years. Thanks for the incredible memories and I'll now be cheering for you from the stands."
Barry Melrose's connection started as player in Glens falls in the mid 1980's, as a member of the Adirondack Red Wings. At the time, the Red Wings were Detroit's AHL affiliate and Melrose bounced between the NHL team and the minor league squad. Melrose's final season as a player was 1986-87 with Adirondack.
Barry Melrose will always be loved in the City of Glens Falls, and their rabid hockey fan population, for coaching the Adirondack Red Wings to their fourth and final Calder Cup championship in 1991-92, defeating the St. John's Maple Leafs in a seven-game Calder Cup Final. Glens Falls loves their hockey and the Red Wings were the hottest ticket in town in the early 1990's, thanks to Coach Melrose. The very next year, Melrose took "The Great One" Wayne Gretzky and the Los Angelas Kings to the Stanley Cup Finals. Melrose has been a frequent guest and has had a long-time friendship with Big Board Sports' Rodger Wyland.
Help The FBI Solve These Eight Open Investigations in New York State
The FBI Albany Field Office has a number of on-going investigations currently happening in the State Capital, and some of the details of the crimes are chilling.
Gallery Credit: Dan Bahl
12 Beloved Toys Named Finalists for Upstate NY Toy Hall's Class of '23
Twelve beloved toys were recently named finalists for the Upstate New York-based Toy Hall of Fame's Class of 2023. Which toys do you believe should be inducted?
Gallery Credit: Dan Bahl
LOOK: Counties with the most tornadoes in New York
Gallery Credit: Stacker