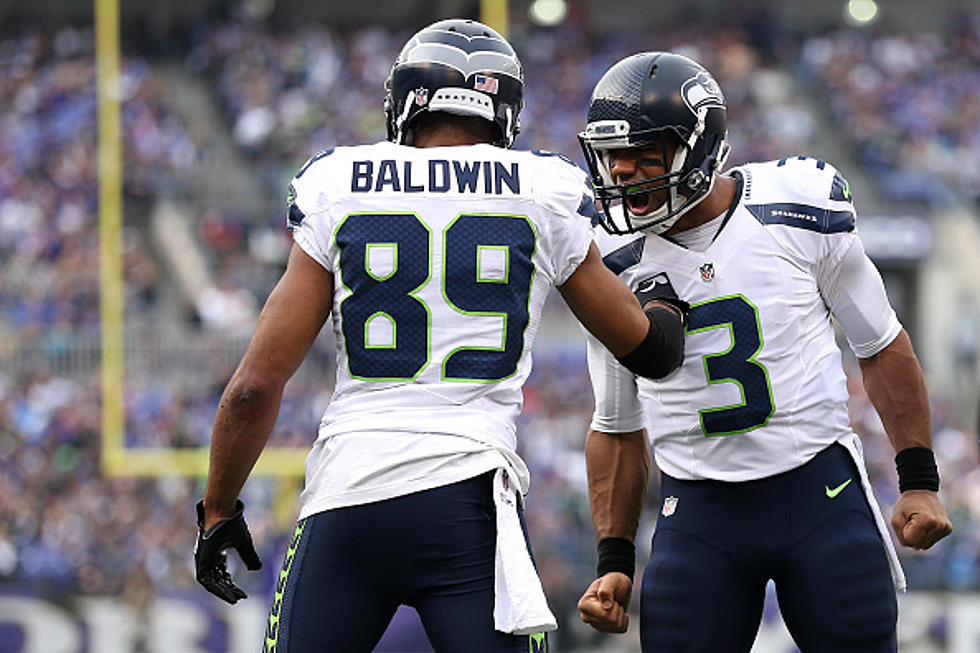 Hogan's DraftKings Advice For The Divisional Round
Getty Images
We're back for another week in the NFL Playoffs. If your favorite team lost this past weekend, don't be to bummed out you can now put all your focus into your Daily Fantasy Football Lineup for DraftKings. Check out the plays for this week and make sure to check out every week to see a new DraftKings article!
Locked & Loaded Picks of The Week
QB: Russell Wilson ($6,900): The Seattle Seahawks will travel on the road this week to face one of the hottest teams in the NFL. This game figures to put up points even with that stellar Seahawks defense the Falcons have proven time and time again that they can score on anyone in the NFL. They even showed this back in week 6 when the Falcons traveled to Seattle and put up 24 points. Also, consider the fact that the Falcons defense is giving up the second-most points this year to opposing quarterbacks. Russell Wilson will have to throw the ball and might even add in some rushing attempts which would boost his value. As the 4th highest priced quarterback this week Russell Wilson is more than worth the investment.
Projection: 285 passing yards, 5 rushes for 28 yards, and 3 touchdowns.
WR: Doug Baldwin ($8,100): He's the 3rd highest receiver this week because of the matchup and how on fire he has been as of recent. As I've stated above, I love Russell Wilson this week, and Baldwin has been one of the most underrated wide receivers of late regarding ownership percentage. He has an outstanding 75.2% of catches per target, and he's going up against a weak Atlanta Falcons defense ranking towards the bottom regarding points given up to opposing receivers. They've been even worse since shutdown cornerback Desmond Trufant had season-ending surgery at the end of November. Also, consider the fact that both teams will more than likely be trading shots all game. Baldwin makes for an adamant play especially coming off of an 11 catch game for 104 yards and a touchdown.
Projection: 8 receptions, 135 yards, and 1 touchdown.
RB: Ezekiel Elliot ($8,500): Coming off of a bye week and a reported car accident where he came away unscratched according to multiple reports Elliot figures to be ready for a full workload against the Greenbay Packers at home. You know he's going to get enough touches after finishing the season with only 3 games where he didn't have at least 20 touches, and one of those games was the last game of the season when the starters were taken out for precautionary reasons. He's also been highly consistent this season and has had at least 100 yards from scrimmage or a touchdown. Even though the Packers have been pretty stellar against the run this year the Cowboys earlier in the season were one of the few teams to find success on the ground against them. In that game, Elliot compiled for 174 yards from scrimmage in week six against the Packers. Also, add the fact that the game plan will more than likely be to keep Aaron Rodgers off the field and to control the tempo of the game.
Projection: 122 yards and 2 touchdowns.
Bust of The Week
WR Julian Edelman ($6,800): He's been on fire as of late and might be a part of the best offense in the NFL. So why would I pick him as my bust of the week? Well, first off the Houston Texans defense has been great this year, especially against opposing wide receivers ranking in at 4th. Now I do believe the Patriots will win this game comfortably even with the defense being superb, but this also works against Edelman. The Patriots could get a big lead and ride LeGarrette Blount for the majority of the game. Then include the fact that the Texans have been abysmal over the course of the year, and I don't see that changing against the Patriots this weekend.
Projection: 4 receptions for 48 yards and no touchdowns.
WR: Dez Bryant ($6,600): Dez could finish as the number one wide receiver this week when the Cowboys host the Packers, and he's only the 7th highest priced wide receiver. The Packers are surrendering the second most points to receivers this season, and if the Giants receivers didn't drop all of those passes last week, they would've had some great fantasy days. Even with Ezekiel Elliot more than likely getting a bulk of the work Dez will get be able to produce in a game that figures to be another shootout this weekend.
Projection: 6 Receptions for 110 yards and a touchdown.
WR: Randall Cobb ($5,700): "People keep asking Cobb if he's back, yeah I'm thinking he's back" in my best John Wick voice. Randall Cobb finally arose to the scene this past weekend against the New York Giants and was heavily involved when Jordy Nelson was forced from the game. Randall Cobb finally looks to be over those nagging injuries and with fellow receiver Jordy Nelson more than likely to sit out this weekend or at least be limited, Randall Cobb should see his fair share of targets from Aaron Rodgers who is the hottest quarterback in the NFL. He could be a nightmare for that Dallas secondary in the middle of the field.
Projection: 6 Receptions for 105 yards, 5 rushing yards, and a touchdown.
Sleepers
WR: Taylor Gabriel ($4,400): The ultimate boom or bust player this week. The speedster is going up against the Seattle Seahawks but with no Earl Thomas to help out that secondary I believe he will find a way to get past the defense for a big gain. He's also had at least 4 targets dating all the way back to week 8.
Projection: 3 Receptions for 75 yards and one score.
RB: Christine Michael ($4,300): After being snagged off the waiver wire many people thought that this was now going to be Michael's backfield. Well as we have seen he has served primarily as a backup to Ty Montgomery. Last week Michael finally saw double-digit carries and gave the Packers a necessary spark from the ground game. Montgomery did leave the game last week with an injury, but he's been practicing all week., With that being said I expect more of an even workload between the two backs this week in Dallas.
Projection: 52 yards rushing, 1 reception for 12 yards, and a possible red zone look.
Defense To Roll With
Patriots ($4,000): They are at home going against Brock Osweiler who has had trouble all season long. The Patriots should be the highest scoring defense this week, and it might be by a considerable margin. I'm not usually one to select a high-priced defense, but in this situation, it's almost a must.
Projection: 3 Sacks, 2 interceptions, and one defensive/special teams touchdown.