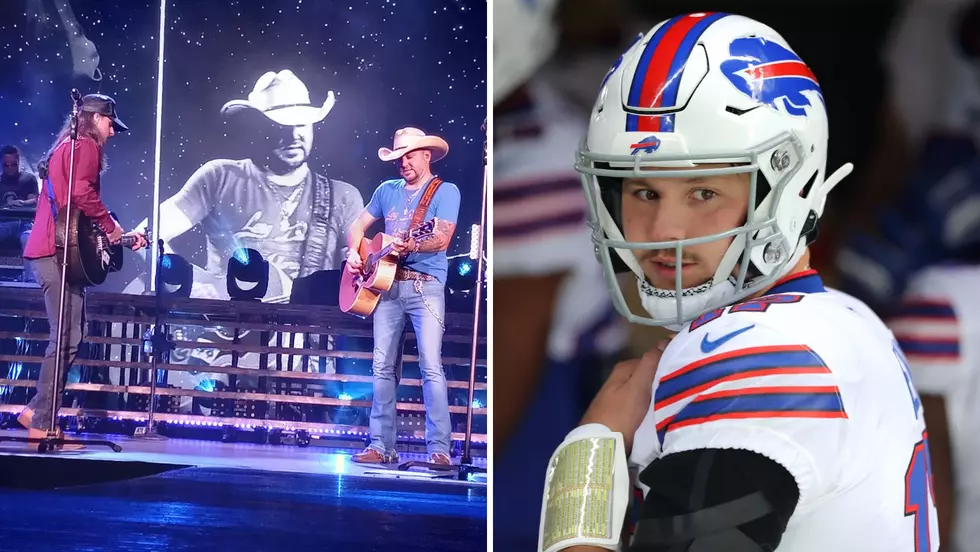 Jason Aldean Put His Name On A Josh Allen Jersey [PHOTO]
Photo Credit: Canva Image
Josh Allen jerseys are worth more than the price tag. 
He is only the hero of, like, every kid in Buffalo ever. So it makes sense why everyone would want his jersey for the upcoming football season.
But when you finally get a Josh Allen jersey, you are a little protective of it, right? I mean, you wouldn't want just anyone to sign it.
However I guess there are some exceptions to that rule, especially when it comes to a celebrity with the same initials (J.A.).
Jason Aldean was in town this weekend for a concert at Darien Lake, and at one point during the night, Michael Czajka handed Aldean their Josh Allen jersey along with a sharpie. 
Usually you only see Josh Allen signing the #17 jersey, but when you are as big of an Aldean fan as Czajka is, I guess it makes sense to give Jason Aldean your jersey and a sharpie to sign it. After all, Czajka named his dog Aldean!
And when you think about it, they have the same initials, so maybe the world would never know who actually signed the jersey.
Aldean didn't miss a beat when the jersey was handed to him. He kept singing as more people kept tossing stuff towards him, so he could sign it. One hand held the microphone, while the other hand kept signing boots, hats, and everything in between.
It got pretty crazy, but I still think the rowdiest country concert I've seen was when Frankie Ballard returned to Western New York in early August. Ballard and Montgomery Gentry were at the Backlot Entertainment Venue near Clarence for Buffalo's Country Music Festival when someone hurled a cowboy boot in Ballard's direction during his performance.
Shortly after that, Ballard invited a few of the line dancers in the audience to join him on stage, so I don't think he minded that much.  
You can read more about that here.
Would you ever ask someone else to sign your Josh Allen jersey? Let us know on our Facebook page.
11 Pictures of Why We Love Josh Allen
Will Josh Allen Be The New Logo For The NFL?
After noticing the change to the NFLtwitter page, Bills Mafia jumped on Facebook to talk through the possibility of Josh Allen's iconic jump becoming the new logo for the sport.
25 Underrated WNY Restaurants You Need to Visit
So many hidden gems in Buffalo for food. Here are 25 places you should be visiting.