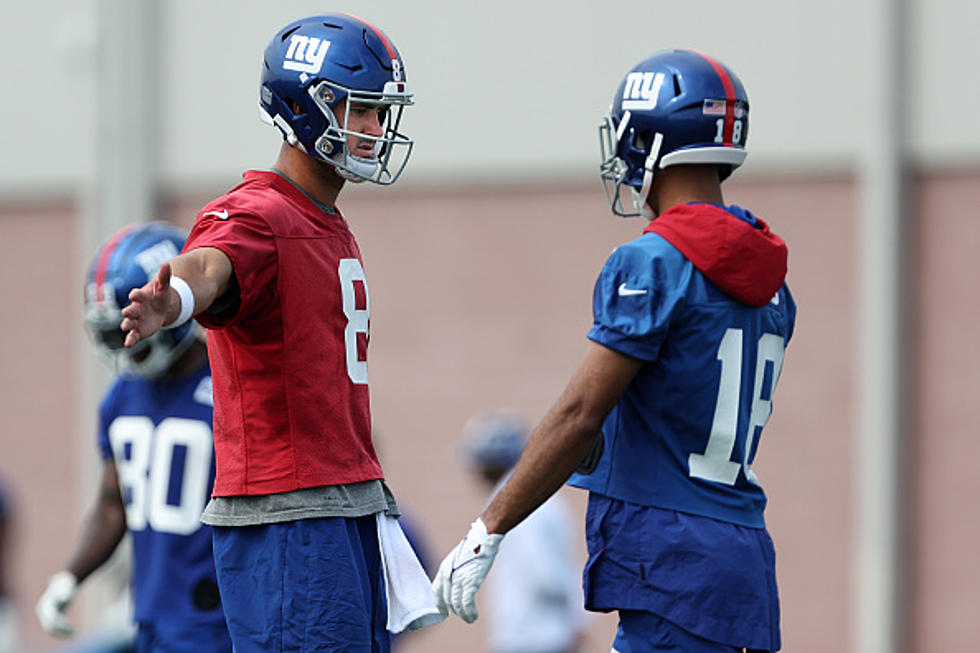 Jones Is More Than The 'Other' New York Quarterback
Getty Images
There is little question that New York Jets' quarterback Aaron Rodgers has absorbed as much of New York's NFL Spotlight as humanly possible. Rodgers will be a Hall of Famer five years after he retires and the Jets stink. 'Hope & Misery' always dominate Big Apple headlines. However, football fans may not want to sleep on the 'other' New York quarterback, who, lately, appears ready to flash his own arsenal.
It would be a ridiculous for Big Blue fans to hope Daniel Jones turns into a better quarterback throughout his career than Rodgers. The four-time MVP has been in the league for 19 seasons, has a Super Bowl ring and is in the Top 10 in nearly every quarterback career statistic. Jones has none of that but time is on his side (thank you Rolling Stones).
As Gang Green's new savior dominated HBO's "Hard Knocks" first episode, Big Blue's $40 million-man began to show his own critics reasons to believe that the Giants playoff run in 2022 was not a fluke. After a disappointing performance by the offense on Tuesday, Jones led the charge to turn things around. According to our friend Paul Schwartz of nypost.com, Jones went 4-for-4 in their first red zone drill and felt good about his team's performance.
Heading into his fifth season with a new mega-contract, Jones expressed his enthusiasm about the practice to nypost.com, "Yeah, it was pretty crisp, and we were able to execute in some key situations in the red zone and third-and-longs. I thought it was pretty good." 'Leadership by example' is a key step for Daniel Jones towards earning that huge contract. Jones now has to be the player that will 'right the ship' and 'come up big'. That's why you get paid the big bucks. Wednesday's practice was an important step towards a real 'New York's Top Quarterback' competition...
Upstate NY State Park Named Among Best Hiking Spots in America - See Photos
An Upstate New York state park has been named among the best hiking spots in America for 2023. Have you ever explored this incredible terrain?
Dumbest Driving Moves Seen In New York
You have spoken and these are the dumbest driving moves seen in New York State. Be safe out there.
50 Iconic New York State Attractions
How many of these 50 iconic New York State attractions have you visited? Upstate, Downstate, Capital Region, Adirondacks, Catskills, Western New York, Central New York and everywhere in between.