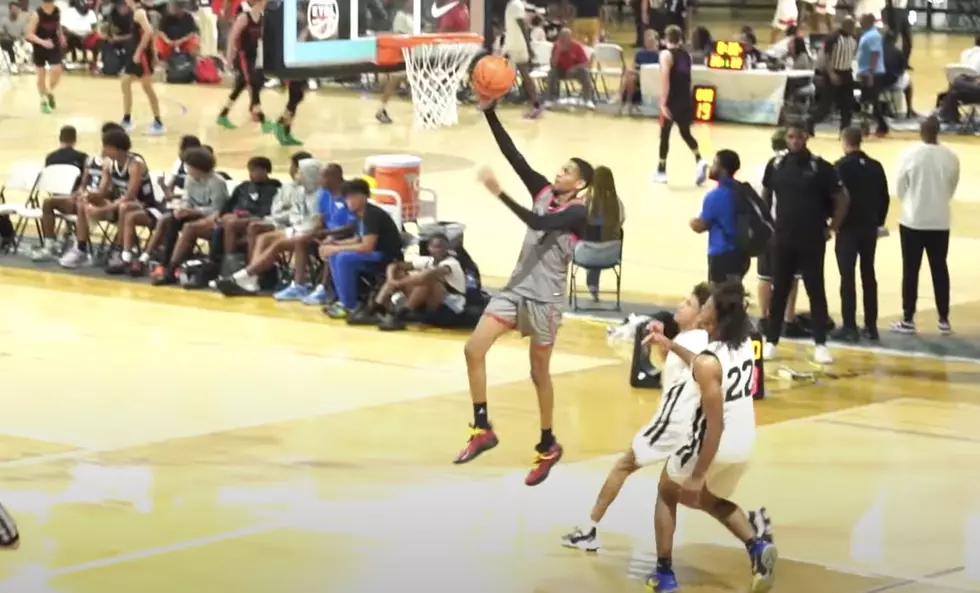 Melo's Son Gets Offer To Continue Legacy At Syracuse
Kiyan Anthony Summer 22 YouTube.com
What a difference a year makes. Carmelo Anthony played for one season at Syracuse University. In that 2002-03 season, Melo averaged 22 points and 10 rebounds, leading head coach Jim Boeheim's team to their third National Championship. Melo left a few months later in the NBA draft as the 3rd overall pick of the Denver Nuggets. However, Anthony will always be on the Mount Rushmore of Syracuse basketball. Now his son may continue that Orange legacy.
In the same season that Syracuse plans to honor the 20th anniversary of the 2003 national title team, Jim Boeheim has offered a scholarship to the son of the Orange legend. Kiyan Anthony is a 6-foot-5 guard in the 2025 recruiting class He is the son of Carmelo Anthony. On Sunday, Kiyan announced on Twitter that Syracuse had given him a scholarship offer. The high school sophomore currently attends Christ the King High School, known for its long-line of basketball of future basketball stars located in New York City.
According to the Syracuse basketball website, in 2009 Carmelo Anthony made a $3 million donation toward the creation of the Carmelo K. Anthony Basketball Center, where Syracuse's men's and women's programs practice. Anthony's gift represented one of the largest individual donations to Syracuse University Athletics. "I would never in a million years think I would be sitting here today six or seven years after winning a national championship, doing the ribbon cutting for my building," exclaimed Anthony at the time of the ribbon-cutting.
Mike Waters of syracuse.com reported that Kiyan Anthony is ranked No. 62 in the '25 class by 247Sports.com. He also has scholarship offers from Memphis, Manhattan and Bryant. To date, Syracuse has yet to receive a commitment from any recruits in the '23 class.
2023 Capital Region Concert Calendar
Updated regularly so keep checking back!
Upstate NY Pet Owners Beware! Thanksgiving Foods Harmful to Furry Friends
Thanksgiving is all about family gatherings and that includes our furry friends. Here's a reminder of the foods that are harmful to our pets and some that could make them deathly ill. When we get together this holiday season, make sure you treat your pets with the right foods.
Tunnel Under Niagara Falls
This 115-year-old tunnel underneath the Niagara Parks Power Station is open for you to explore. See the falls in a whole new way.