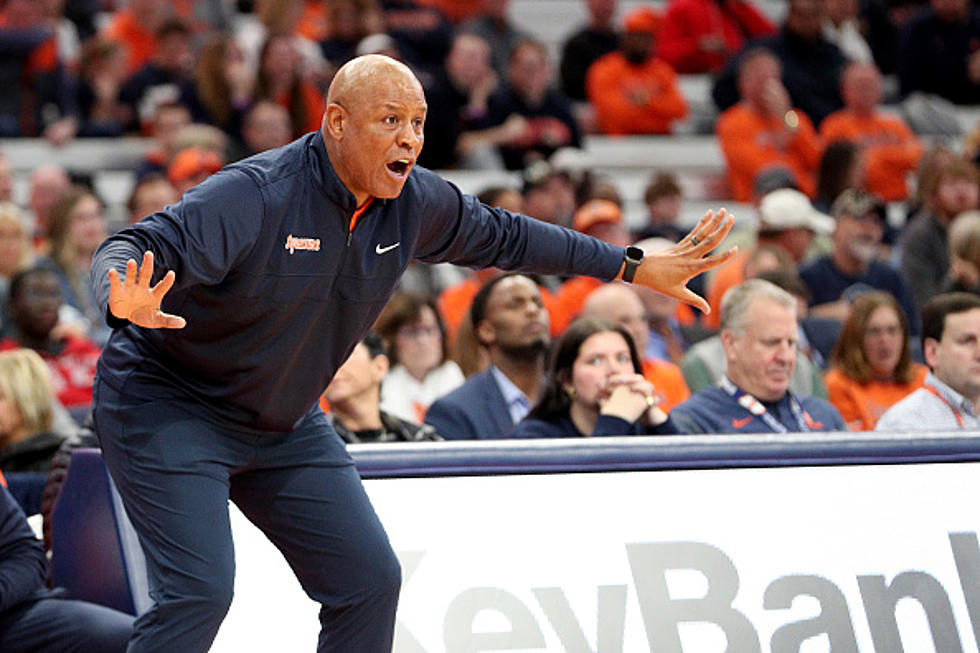 New Coach Goes 'Old School' To Notch First Victory At Syracuse
Getty Images
For the first time in nearly a half of a century, the Syracuse basketball program started a season with a new basketball coach. Hall of Fame coach Jim Boeheim stepped aside at the end of last season after 47-years at the helm.
Monday night, new head coach Adrian Autry took the reins for the Orange and led Syracuse to a 83-72 victory over New Hampshire of the America East Conference. After a much publicized summer of implementing new 'man to man' defenses, into a program that has played predominantly a '2-3 zone' defense for decades, Autry went 'old school' to seal the victory.
According to Orange beat writer for syracuse.com, Donna Ditota, less than a minute into his first post-game presser, the 51-year old Syracuse alumni exclaimed, "Thank God for the 2-3 zone," a subtle nod to his legendary predecessor, Boeheim. The coach and his players acknowledged that they began practicing 'zone' last week, knowing there would be times they would need to switch defenses.
That time came in game one. "We know we're not going to be able to play man for the whole season, especially when we get in foul trouble or depending on the team we're playing," sophomore guard Justin Taylor told syracuse.com. "Us six from last year know it well, but the new guys, we've taught them that and they've transitioned to it. In the long run it's going to be good to be able to play both man and 2-3." So far, it worked out. The 1-0 Orange host Canisius from the MAAC on Wednesday at the JMA Wireless Dome.
Study Ranks Top Ten New York Colleges, SIX Upstate NY Colleges Included
A recent study compared 800 higher-education institutions in the United States, and these New York colleges were regarded as the best in the state.
Gallery Credit: Dan Bahl
Google Auto-Completes 'Upstate New York' Search with These Words
Out of curiosity, we typed "Upstate New York" into the search engine Google, and these were the ten terms that auto-filled the search bar.
Gallery Credit: Dan Bahl
Ten Best Photos of Fans from Upstate NY and Beyond at Bills' London Game
Fans from Buffalo, Upstate NY and beyond met at Tottenham Hotspur Stadium in London to watch the Bills play the Jaguars, and these were ten of the best photos.
Gallery Credit: Dan Bahl