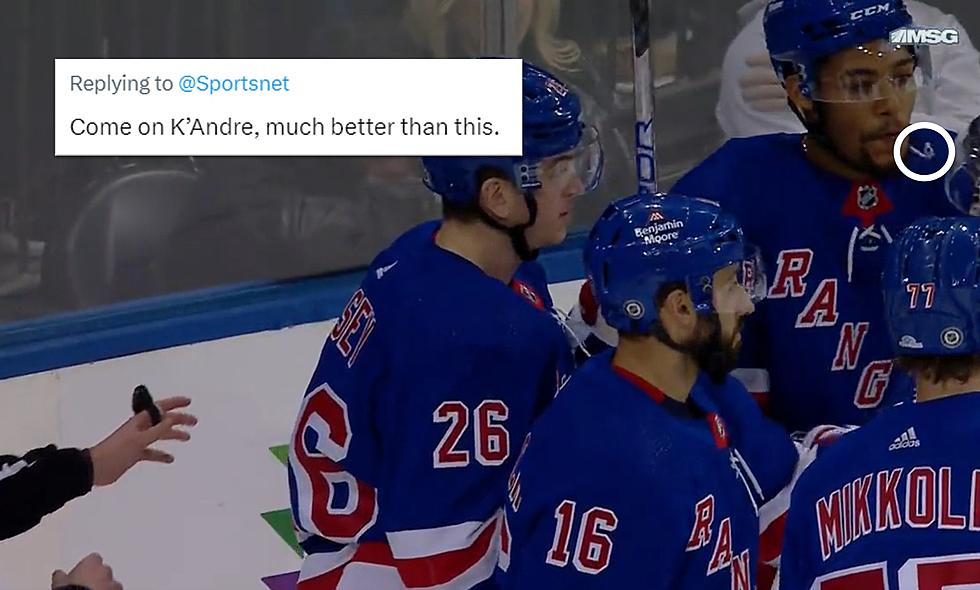 New York Fans Rip Young Rangers' Player for Spitting on Opponent [TWEETS]
Twitter (@Sportsnet)
It was a rough night for New York Rangers' defenseman, K'Andre Miller.
During the middle of the first period of his team's game against the Los Angeles Kings on Sunday, Miller was assessed a match penalty and ejected from the game, with officials claiming that Miller had spit in the face of his opponent, Kings' defenseman Drew Doughty.
Now, Miller is facing a possible suspension, and Rangers' fans were quick to take to Twitter to voice their displeasure with the situation.
---
Fans React to New York Rangers' Defenseman Spitting in Opponent's Face
As stated in the story in The New York Post on the incident, this was extremely uncharacteristic of Miller to do. In his three professional seasons with the Rangers, Miller has yet to accrue 30 total penalty minutes in each year he's played. In theory, that means Miller takes less than 15 minor penalties per season, which is a low number for a defenseman.
By comparison, Rangers' captain Jacob Trouba racked up 88 penalty minutes last season. His 29 PIMs this year is a career high, but generally speaking, Miller is not know as an overly combative player, which makes what happened yesterday all the more surprising.
Here's a look at the incident itself, as posted by Sportsnet in Canada:
As one would expect, Rangers' fans were disappointed to see this situation unfold, and generally, seemed to surprised that Miller was the one to do it. Here were a few of the responses that fans posted online:
Now, the situation rests in the hands of the National Hockey League. Other reports on the Miller incident have cited Boston Bruins' player Garnet Hathaway, who while playing with the Washington Capitals, was suspended for three games after being assessed a game misconduct for spitting on a player.
Unfortunately, the question here is not if Miller will get suspended, but rather, how long he will have to serve it for.
This incident just adds to the controlled chaos facing the Blueshirts right now. Chicago Blackhawks' winger, Patrick Kane, has officially left his team ahead of the NHL Trade Deadline, and reportedly only wants to be traded to New York. The Rangers will likely have to move Heaven-and-Earth in order to fit Kane's salary onto their roster, but if the trade is made, the team will have one of the best offenses in all of hockey entering the stretch run.
With a possible suspension facing K'Andre Miller, a potential trade for Patrick Kane, the recent dealing of Vitali Kravtsov, and the recent demotion of Braden Schneider to the AHL, it's been an eventful few days for the New York Rangers.
Expect that chaos to continue through Friday, at the earliest.
What a Goal! Check Out These Classic Albany River Rats Photos
The Albany River Rats called the Capital Region home for close to two decades, and had many memorable moments. Check out these shots from their 2004-05 season.
Ten Capital Region Hockey Players that Made it to the NHL
The Capital Region has a rich history of hockey players turning professional, and with the 2021-22 NHL season now underway, here are ten players from the region with NHL ties.