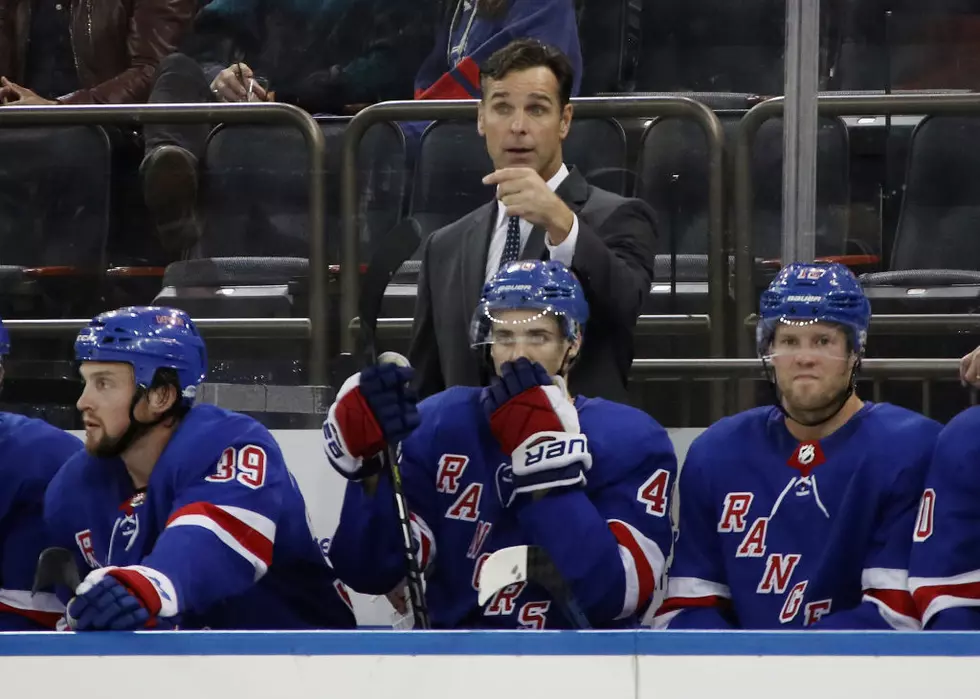 Rangers, Dolan HAVE to Make Playoffs After Firing David Quinn
Getty Images
The New York Rangers pushed all of their chips to the center of the table earlier today, when the team announced the firing of head coach David Quinn. Quinn, along with assistants David Oliver, Jacques Martin and Greg Brown were relieved of their duties, a decision that comes mere days after the team fired General Manager Jeff Gorton and Team President John Davidson.
Last week, James Dolan told Larry Brooks of the New York Post that he "saw a weakness in the team that was not being addressed" and alluded to that being the reason Gorton and Davidson were fired. Well, if you're Dolan, you've now gutted the front office and the coaching staff in order to hire guys that will address this issue.
And if you're Dolan, you better hope you're right.
This isn't just a risky move, this is a doubling-down on what was already a risky hand of cards. After committing to a rebuild in 2018, you've pulled the plug on a leadership group that was making slow, but steady, progress in said rebuild. You've decided that this team needs to be in the playoffs now, and will have to recruit the kind of leadership that can get you there.
If you get to the playoffs next season, that's incredible. You won your bet. Hooray. But if you're wrong, and you've dismissed your coaching staff, GM and President for nothing, you'll have set your valuable franchise back another half decade, if not more. You may even face another rebuild.
Now, I can't sit here and say that I absolutely believe David Quinn is the coach that will win you a Stanley Cup. He's young and untested in the Cup Playoffs, for sure. That said, he clearly has a propensity for working with young talent, and was ushering in a new age of Rangers hockey, bringing in a young, passionate and excited crop of fans with it.
You've decided that wasn't good enough. I'm rooting for you, James Dolan...sort of.
ALSO: Former Minnesota Twins All-Star's Home for Sale - Complete With Brewery