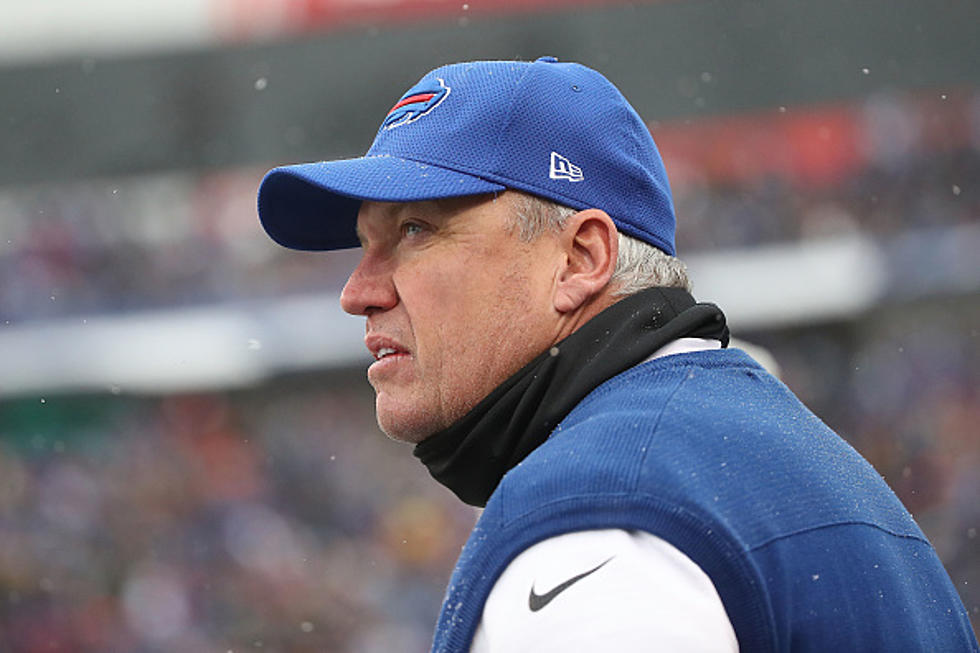 Report: Former Bills Head Coach Wants to Make NFL Comeback
Getty Images
The NFL off-season is off to a pretty interesting start. A part of that is the potential for a lot of quarterback movement.
Lamar Jackson, Derek Carr, Aaron Rodgers, Ryan Tannehill, Jimmy Garoppolo and Carson Wentz are just some of the potential quarterbacks who could be on the move to new teams in the coming weeks.
Coaching changes are still happening, although the last head coaching vacancy was filled this week, with the Arizona Cardinals hiring Philadelphia Eagles defensive Coordinator, Jonathan Gannon as their new head coach.
The assistant positions are still being filled and one former Buffalo Bills head coach might be making a comeback.
According to Ian Rapoport, Rex Ryan has emerged as a top candidate for the Denver Broncos defensive coordinator position. Ryan last coached in the NFL in 2016 with the Bills.
Ryan has not been a defensive coordinator since 2008, which was his last year with the Baltimore Ravens. After that, he was a head coach for the New York Jets from 2009-2014 and then was the Bills head coach from 2015-2016.
Ryan's tenue wasn't a great memory for Bills fans, but it was the ownership saying "we want to swing big," which it certainly was. After Ryan was fired, Anthony Lynn took over as interim head coach to close out 2016 and then the Bills hired Sean McDermott in January of 2017...you probably know what happened after that.
Lately, Ryan has been part of the NFL Sunday Countdown crew with Sam Ponderm, Randy Moss, Matt Hasselbeck and Tedy Bruschi.
It will be fascinating to see a Rex Ryan defense against that division's quarterbacks: Patrick Mahomes, Justin Herbert.
16 Buffalo Bills With Some Of The Best And Worst Nicknames
22 Famous Buffalo Sports Phrases Every Die-Hard Bills and Sabres Fan Knows
Being a sports fan in Buffalo is sometimes like knowing a different language. Here are 22 of our favorite Buffalo sports phrases you already know if you're a huge fan! And if you're new here, here's how to catch up.
Complete List Of Buffalo Bills Available On Cameo