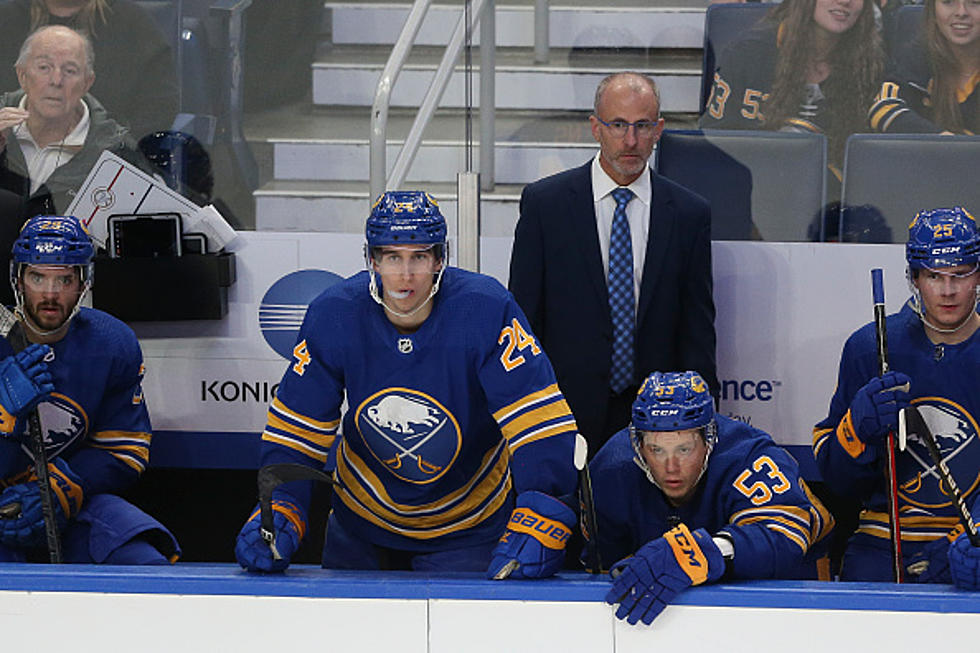 Sabres Coach Don Granato Wears Bills AFC East Shirt at Press Conference
Getty Images
The Buffalo Bills are getting ready for a huge game this Saturday against the New England Patriots. The game will be part of the NFL's Wild Card Weekend, and it will be the first playoff meeting between the two teams since the AFL/NFL merger.
Kickoff will be at 8:15 pm at Highmark Stadium in Orchard Park. It will be shown on CBS.
Everywhere you look around Western New York, it's Bills mania. Josh Allen jerseys are all over Downtown Buffalo and it's the number one topic at any dinner table or bar in the region.
One of the cool parts about Buffalo is when the Bills and Sabres support one another. That was the case on Tuesday morning, when Sabres head coach Don Granato decided to showcase his Bills colors at his press conference.
The Sabres actually play on the same day as the playoff game between the Bills and Patriots. They will be on the road at the Detroit Red Wings at 7 pm this Saturday. I can't remember the last time the Sabres and Bills played at the exact same time, and during a Bills playoff game no less.
The Bills are hoping to get wide receiver Emmanuel Sanders back for Saturday night. Bills head coach Sean McDermott said Sanders would be a full participant at practice on Tuesday.
The Patriots are hoping to have rookie defensive tackle Christian Barmore for the game. He was hurt against the Miami Dolphins on Sunday.
28 Songs To Play For When You Break a Table
These are the best 28 songs to play when you see someone preparing to take the leap of faith.
Top 10 Running Back In Buffalo Bills History
As we get ready for another season of Buffalo Bills football, check out the Top 10 running backis in Bills history.
Top 10 Receivers In Buffalo Bills History
The Bills have had some amazing wideouts. Here are the Top 10 based on reception yards in Bills history.
15 Things You Should Never Do at a Bills Home Game
Things that are a no-no to do at a Buffalo Bills home game.
READ ON: See the States Where People Live the Longest
Read on to learn the average life expectancy in each state.