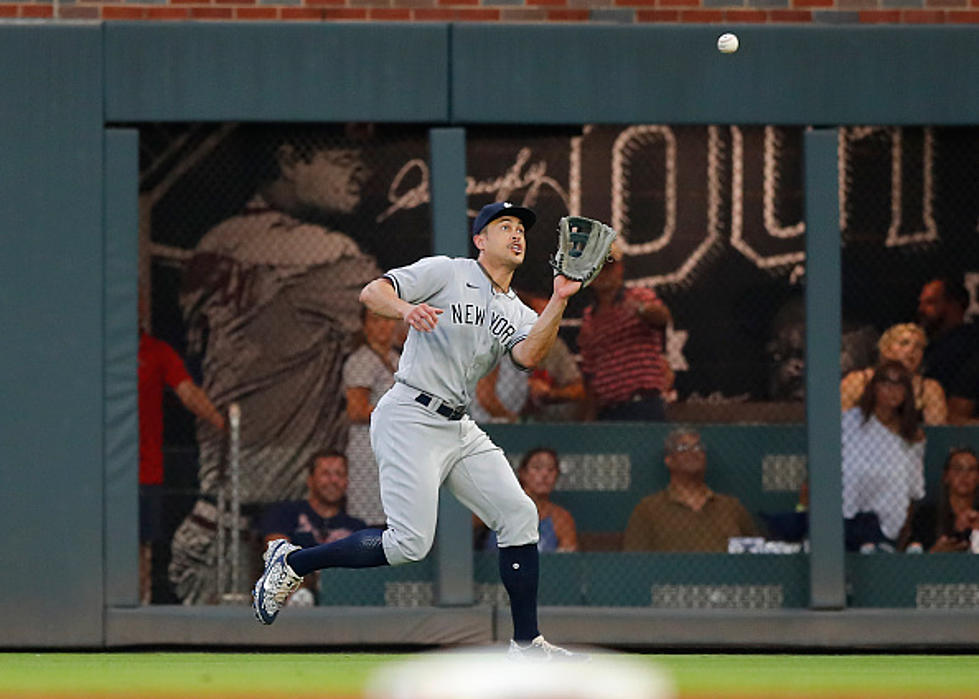 Stanton Stakes Claim to New York Yankee Outfield
Getty Images
It hadn't happened since 1901. No, not Giancarlo Stanton playing in the outfield, but two teams riding 9-0 winning streaks facing each other. One team achieves a double digit winning streak, the other hopes for a win the next night for a split the two game series. According to Betehem Ashame of MLB.com, "Entering Monday's contest, the Yankees and Braves had posted comparable offensive numbers in August, leading to their respective stretches of success. New York went 17-4 while averaging 5.5 runs per game, tallying a plus-45 run differential and compiling a starters' ERA of 3.22. Meanwhile, Atlanta went 16-3 with 5.7 runs per game, a plus-42 run differential and a 3.02 starters' ERA." Those numbers are pretty close.
Fortunately for the New York Yankees, they had their lethal secret weapon in right field, as the Yankees defeated the Braves on Monday 5-1 behind the bat of right fielder? Giancarlo Stanton. The big power hitter has been, for the most part, limited to the Designated Hitter role during his nearly four year stint in the Big Apple. Stanton was a solid outfielder in his years in Miami. In 2012, he won Wilson's Defensive Player of the Year. Now, for the past four weeks, Giancarlo has been a semi regular outfielder and it may be helping his hitting. Over Stanton's last 7 games, he is batting .400 with 3 homeruns and 8 RBI.
According to Peter Botte's article in the NY Post, Stanton himself thinks being out there may be helping him. "I think [playing defense] has helped kind of just not focusing on hitting," Stanton said after the game. "You always want to be your best in the box, and feel like you're in the best mind frame. But that also means turning it off for a second and using that focus somewhere else. … So yeah, it helps in some way."
Aaron Boone needs keep Giancarlo in the outfield as much as possible and keep the winning streak rolling! Don't miss The Drive with Charlie and Dan starting at 3pm for latest Yankee news and the starting lineups brought to you by our friends at The Hideaway at Saratoga Lake Golf Club, great food, great atmosphere and the Yankees are always on.
LOOK: 15 Discontinued McDonald's Menu Items