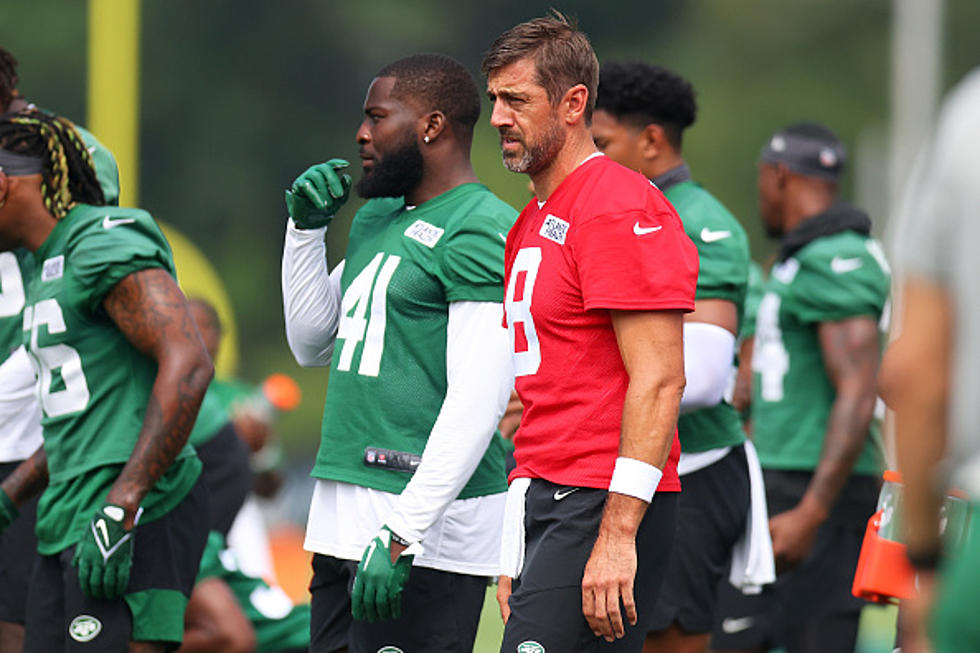 Typical New York Jets Will Test Rodgers' Fate In Meaningless Game
Getty Images
Beleaguered New York Jets fans have been holding their breath throughout training camp, praying for Aaron Rodgers to survive the dog days of August, injury free. Sunday, head coach Robert Saleh gave them more reason to believe the "other shoe" is bound to drop on Gang Green.
On Sunday, the Jets made it known that Aaron Rodgers is going to make his Jets debut on Saturday, in a preseason game vs. the Giants. Now, is this really a big deal? It shouldn't be. Patrick Mahomes played for the Kansas City Chiefs this past Saturday and Josh Allen played a few snaps for Buffalo, as well. What's the big deal? Well, first and foremost, this is the New York Jets, the team that holds the longest playoff draught in the NFL, at 12 years and counting. What could go wrong?
First and foremost, the Jets offensive line is still a work-in-progress. Starting left tackle Duane Brown is still on the physically unable to perform (PUP) list and most likely won't be there to protect Rodgers. Right tackle is still and undecided position, depending on the progress of Mehki Becton this week and, as seen on HBO's 'Hard Knocks', the four-time MVP is still getting used to center Connor McGovern. That's not all.
The "battle of New York" gets a little chippy sometimes between the Jets and the Giants. In 2010, Eli Manning took a shot from Jets linebacker Calvin Pace that required a dozen stitches. This is the final preseason game. The last thing that the Jets need is an overzealous Big Blue rookie taking a late hit on Gang Green's best chance at breaking the Joe Namath curse in the last 54 years.
Finally, for no other reason, Robert Saleh and general manager Joe Douglas should remember that Aaron Rodgers is the only thing that stands between them and Zach Wilson starting at quarterback during owner Woody Johnson's "dream" season. That alone makes me question the Jets front office for planning to play Aaron Rodgers at all against the Giants on Saturday. If something were to happen to Rodgers, fans across the region will say in unison, "typical Jets."
Upstate NY State Park Named Among Best Hiking Spots in America - See Photos
An Upstate New York state park has been named among the best hiking spots in America for 2023. Have you ever explored this incredible terrain?
Dumbest Driving Moves Seen In New York
You have spoken and these are the dumbest driving moves seen in New York State. Be safe out there.