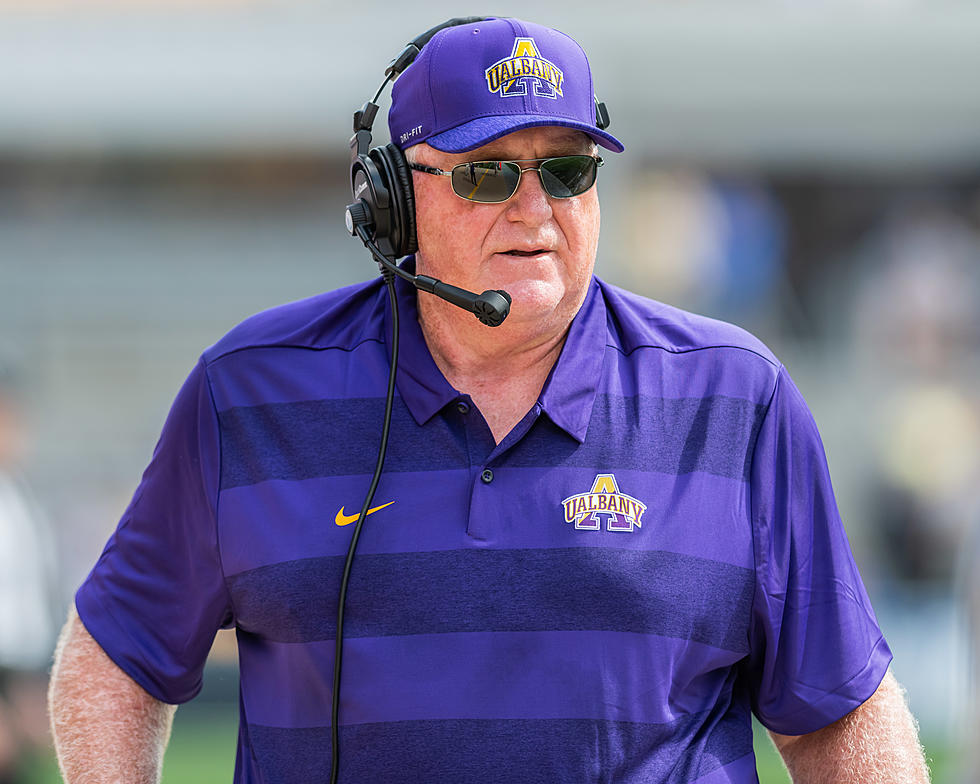 UAlbany Football Coach Greg Gattuso On Team And Upcoming Season [AUDIO]
Photo - Bill Ziskin
The second NCAA Signing day was yesterday so UAlbany Great Danes Football coach Greg Gattuso joined Levack and Goz to talk about the new class and to preview the season. The Great Danes added five addition players and Coach likes the size and speed they're bringing with them.
You can hear Coach Gattuso's thoughts here:
UAlbany's press release highlights the newest players and Gattuso's thoughts on each:
The five newest members of the recruiting class are:
CB • 6-3 • 185 • Irvington High School (Irvington, N.J.)
Accolades:
 2018 Team captain. … Two-time First-Team All-Conference player and one-time All-County honoree. … Helped lead his team to its first sectional title game appearance in 12 years.
Coach Greg Gattuso:
 "We're excited about Darren. He's a jersey guy, a big corner who also can play safety. He's been very good at both positions. We're trying to get bigger at corner, and we think he'll be a great fit for us."
WR • 5-9 • 170 • Wilson Magnet High School (Rochester, N.Y.)
Accolades:
 First-Team All-State as a junior and senior. … Three-time First-Team All-League. … Two-time First-Team All-Greater Rochester Area. … Team captain. … Helped team to first ever Section V championship in 2017.
Coach Gattuso:
 "Rickey's just a dynamic, athletic receiver. I loved him in camps. I really really like everything I've seen about him. He's going to be a great complement to our receiving corps. He can can play slot, he can play outside and he's a great return guy as well."
LB • 6-5 • 235 • Arlington Catholic (Bedford, Mass.)
Accolades:
 Three touchdowns and two PATs as a senior. ... Boston Herald Catholic Central League Football All-Star selection for three straight years from 2016 to 2018.
Coach Gattuso:
 "Joseph Greaney really stood out in his senior year. He is a big and physical middle linebacker in our system. His brother, Thomas, is on our team as well."
K/P • 6-1 • 195 • Dublin Coffman (Ohio)
Accolades:
 Averaged 40-plus yards per punt. ... Chris Sailer Kicking/Punting Champion. ... Ohio All-Central District First-Team Selection.
Coach Gattuso:
 "Joey Mitchell is an outstanding punter. In high school, he showed the ability to kick deep, kick to targets and roll back. We also believe he has great potential as a kickoff specialist. He comes from a great family and program. We are excited for his arrival."
OL • 6-6 • 185 • Columbine High School (Littleton, Colo.)
Accolades:
 Named to Denver Post's 2017 All-Colorado Team. … All-Colorado Offensive Lineman MVP in 2017. … 2017 CHSAA 5A All-Star.
Coach Gattuso:
 "He was a young man from prep school. To get him here mid-year to compete on the offensive line is great. He's going to be out there all Spring getting some reps to help give him a chance to compete as a freshman."