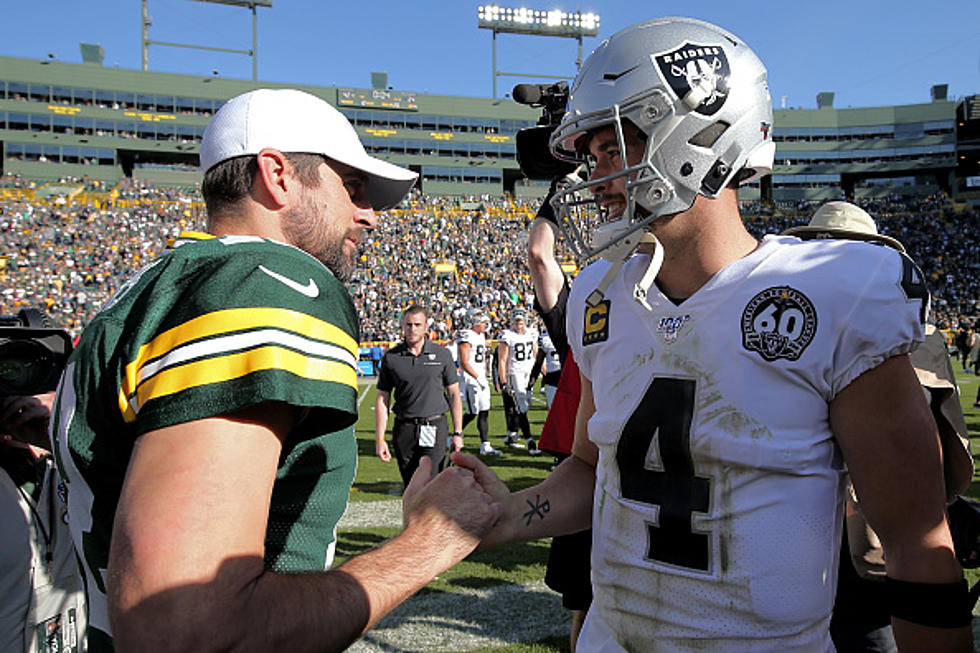 Which QB Saves The New York Jets & Which One Crushes Them?
Getty Images
General manager Joe Douglas and head coach Robert Saleh are weeks away from making a decision that will save or lose their jobs. It will be a decision that could be heavily influenced by owner Woody Johnson but if the choice is the wrong one, the consequences will be squarely on their shoulders.
If Aaron Rodgers emerges from his four-day darkness retreat and sees his shawdow, will Punxsutawney Aaron decide to allow the Jets to pay a kings ransom for his services? Or will Douglas & Saleh try to secure free agent quarterback Derek Carr to lead their playoff-desperate franchise to the postseason?
Former New York Giants star-turned-radio-host, Tiki Barber thinks Aaron Rodgers is too sensitive to play in the spotlight of New York City. As reported on nypost.com, Barber told his listening audience, "As I'm reading the full quotes from his Pat McAfee weekly appearance, talking about Schefter and Rapoport. It just made me start to realize that if he (Rodgers) is that sensitive that he gets upset that people, reporters, opinion-makers, influencers, whatever, want to talk about him, he is going to struggle in New York." I agree with Barber.
Now let's talk about Derek Carr. Vic Tafur of The Athletic quoted anonymous sources from within the Raiders organization questioned his toughness and his ability to perform in the cold weather. As pointed out by Noah Concordia of nypost.com, Carr does not have the best record in games below 37 degrees. The free agent QB is 0-7 in those games during his career. Carr threw nine interceptions and only six touchdowns in games played nearing the freezing mark. Definitely worth noting for the Jets, hoping to play in playoff games in the northeast in January.
There may not be a right answer to which quarterback is the best fit for the Jets in 2023. There certainly could be a wrong answer, which could cost both Douglas and Saleh their jobs. Aaron Rodgers is undoubtedly a Hall of Fame quarterback and could lead a young talented Gang Green offense to the playoffs. The challenge becomes how many of the core players will Gang Green be able to keep given the salary cap challenges that accompany Rodgers?
As for Derek Carr, he is younger and less talented than Aaron Rodgers. However, Carr will be cheaper and more of a long term solution and won't cost the team valuable draft picks or players to secure his services. However, to me, that is the problem. The Jets still want Zach Wilson to take over in a year or two. They don't want Derek Carr 3 years from now. They still picture #2 leading the team at some point before his rookie contract ends. That is why Aaron Rodgers will be the Jets choice for quarterback in 2023.
Every Country Artist Performing In Upstate NY In 2023
We are set for a big year of Country shows in 2023, and here is a complete list of artists already scheduled to perform in the year ahead in the Capital Region and all over Upstate New York. Don't miss your favorite Country stars - keep checking back here as we will be adding lots of shows in the weeks and months ahead.
2023-2024 Capital Region Concert Calendar
This Concert Calendar is updated regularly so keep checking back for the latest!
Here's Where You Can Get a Heart-Shaped Pizza This Valentine's Day!
These are some of the places in the Capital Region where you can get heart-shaped pizzas this Valentine's Day. What better way to say you love them than with a delicious heart-shaped pizza? Check them out. Click on the name of the pizzeria to go to their website.