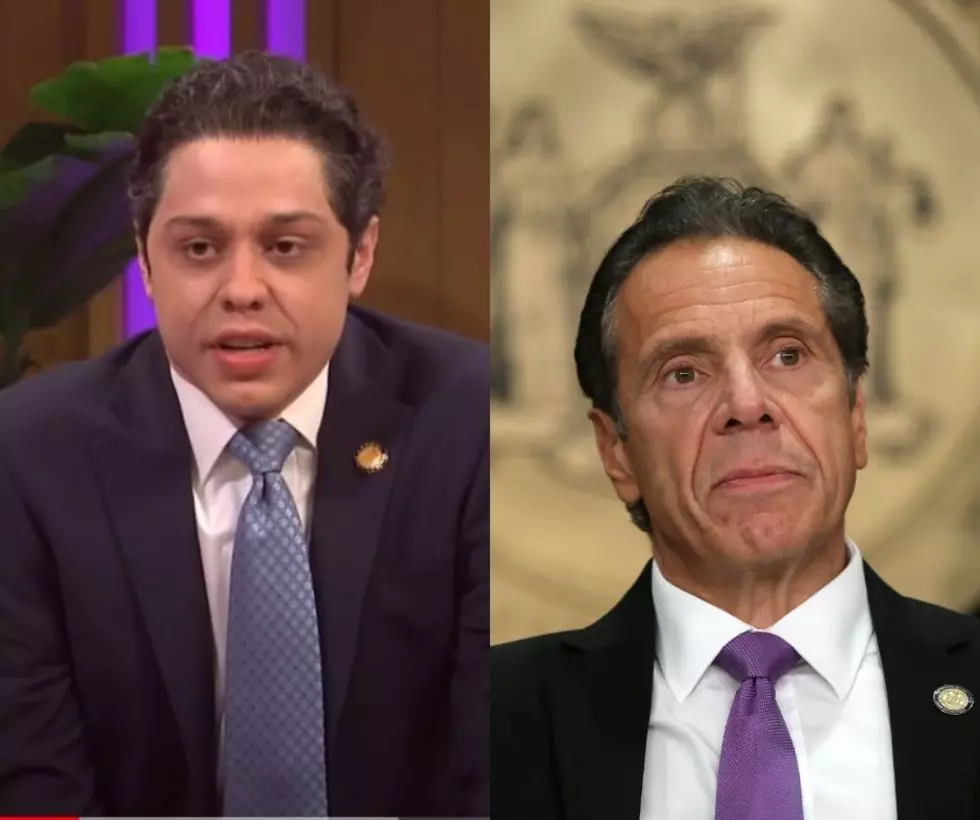 Will Pete Davidson's "Governor Cuomo" Be a Weekly SNL Bash?
SNL Youtube/Getty Images
Saturday Night Live had a lot of comedic ammunition to go after several big stories from last week. Ted Cruz's Mexico vacation, the Britney Spears documentary, snow in Texas, and of course our very own Governor Cuomo.
Remember back during the early days of everyone praising Cuomo for being so presidential and his daily coronavirus press conferences were a must-see? Well, those days are over. Saturday Night Live included Cuomo (Played by NYC native Pete Davidson) in their cold open "Britney Spears" talk show. Ted Cruz was the first guest, just back from his Mexican vacation, and then Cuomo was on the couch.
"Britney," asked "Cuomo" if he knew why he was there...he replied, "Because in restaurant dining is back in NYC!" No, it was about the nursing home scandal. He then tried to compare the nursing home deaths to Disney hiding deaths at their parks.
Is it too early to be joking about all the people that died in nursing homes? I saw a couple of posts on social media questioning if it was okay. Most people said yes it was okay since it was ripping on Cuomo and not making light of the nursing home deaths.
I don't know if Pete Davidson's "Cuomo" will become a fixture on the show, but I think he did a pretty good job as the faux governor.
Here's the SNL cold open.
The Governor Cuomo rip-fest didn't stop with the cold open. He was also mentioned during the Weekend Update segment. Co-Host Michael Che said that Governor Cuomo, "looks like all three Goodfellas at once." He then went into his joke about legal weed helping New Yorkers forget about the nursing home stuff.
Famous People With Ties To The Capital Region