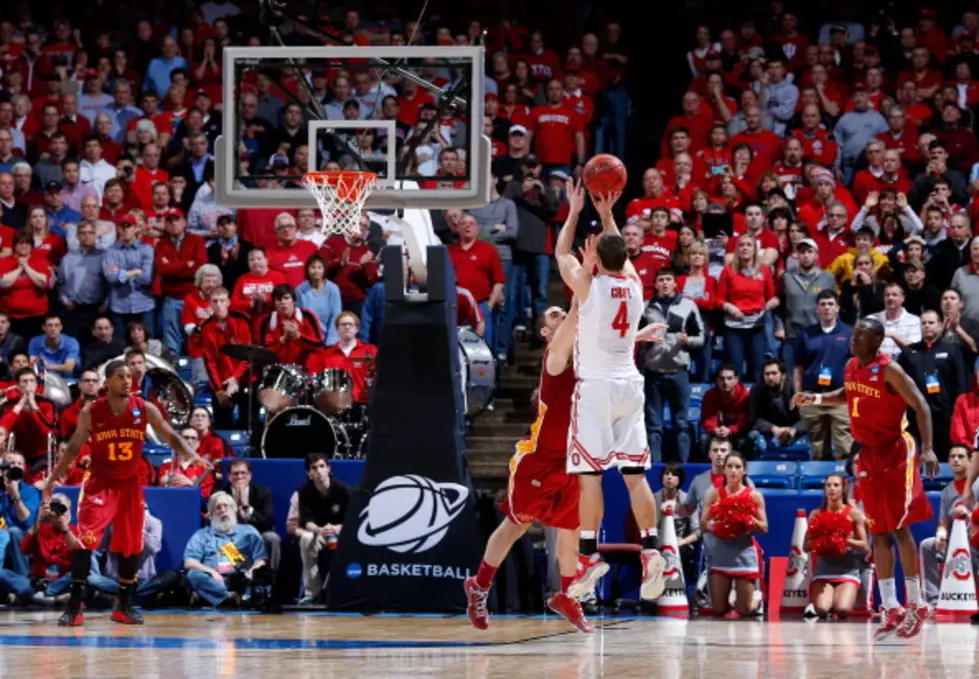 Aaron Craft Hits Game Winner Against Iowa State [VIDEO]
Getty Images
Ohio State point guard Aaron Craft hit the game-winning shot against Iowa State on Sunday.  Find out who committed a cardinal sin on the play.
The Ohio State Buckeyes survived against Iowa State 78-75 on Sunday to advance to the Sweet 16 of the 2013 NCAA Tournament.  Aaron Craft played all 40 minutes and pitched in 18 points, including the game-winning shot.  Ohio State forward Deshaun Thomas scored a game-high 22 points for the Buckeyes.
Iowa State guard Bubu Palo was matched up on Aaron Craft while the final seconds ticked off of the clock.  With seven seconds remaining, Ohio State forward LaQuinton Ross set a screen on Palo.  6-foot-7 freshman forward Georges Niang was guarding Aaron Craft after the switch.
Georges Niang committed a cardinal sin by backing up to give Aaron Craft room to shoot the game-winning 3-pointer.  There were only 0.5 seconds remaining after Craft nailed the shot.  You have to be aware of the situation.  There wasn't enough time for Craft to drive closer to the bucket.  He had to shoot the ball from deep range.
Niang should've been crowding Craft at the 3-point line.  It was just like Austin Rivers hitting the game-winning shot for Duke as Tyler Zeller of North Carolina gave plenty of space for Rivers to jack up the final shot (video below).  Both Craft and Rivers hit clutch shots, but their opponents made life much easier for them.
Brian Noe is the Brand Manager at 104.5 The Team, ESPN Radio in Albany, NY.  Brian also hosts "The Noe Show" weekdays from 1-3 pm ET on WTMM.