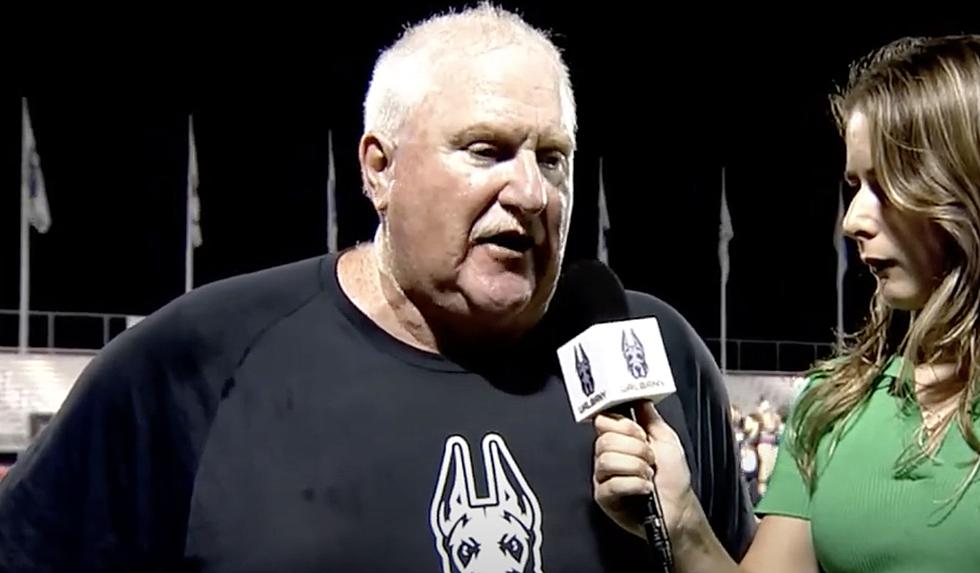 Albany Football Coach Sidelined For Hawaii Game Saturday
Flo Sports YouTube.com
The University at Albany athletic department announced on Wednesday that head coach Greg Gattuso was not on the team flight to Honolulu, Hawaii on Tuesday due to illness. Gattuso was expected to join the team on Wednesday but was unable.
The Great Danes opened the season with an impressive victory against Fordham 34-13, in front of a sold out crowd of over 8,000 at Tom & Mary Casey Stadium. Gattuso's squad headed to Huntington, West Virginia last week and almost took down their toughest FBS opponent of the season, Marshall, losing on a 4th quarter, 4th-down touchdown by the Thundering Hurd 21-17.
With two days of rest and preparation, UAlbany boarded a 4am bus on Tuesday morning but without head coach Greg Gattuso. Associate head coach and offensive coordinator Jared Ambrose will take charge for the remainder of the trip and on Saturday. Ambrose told Mark Singleas of timesunion.com, that his brother Rob, who was the head football coach at Townson University, gave him some great advice. "He just said, 'Be you.' Given the opportunity to do this, and you try to do it better than someone else did it, you look at the early (Bill) Belichick guys who got head coaching jobs elsewhere and they tried to do it Bill's way and there wasn't much success. Greg told me the same thing. He said, Jared, 'I'm not here. You're stepping in. Do it the way you want to do it. It might not be exactly how I do it.' I couldn't be more thankful he gave me that advice. I've got to do it my way and try not to get in the way of the players." That is certainly good advice for a solid, future head coach.
Everyone wishes Coach Gattuso a speedy recovery. The Great Danes have gotten off to a tremendous start to the 2023 season. Coach is certainly looking to get his squad back into the NCAA playoffs this season. You can listen to the Great Danes take on their second consecutive FBS opponent, Hawaii, Saturday night, on 104.5 FM The Team, WTMM. The pre-game show, featuring Rodger Wyland and Micheal Johnson, will begin at 11:45pm with kickoff scheduled for midnight. 104.5 FM The Team, WTMM is the official home of UAlbany football and basketball. Rodger and Michael will bring the action from every home and away match-up, right through the playoffs and tournaments.
Upstate NY State Park Named Among Best Hiking Spots in America - See Photos
An Upstate New York state park has been named among the best hiking spots in America for 2023. Have you ever explored this incredible terrain?
Ten New York Yankees Who Cannot Be Back in The Bronx in 2024
With hopes of a playoff berth fading fast for the New York Yankees in 2023, the team needs to focus on 2024. These changes need to be made, and fast.