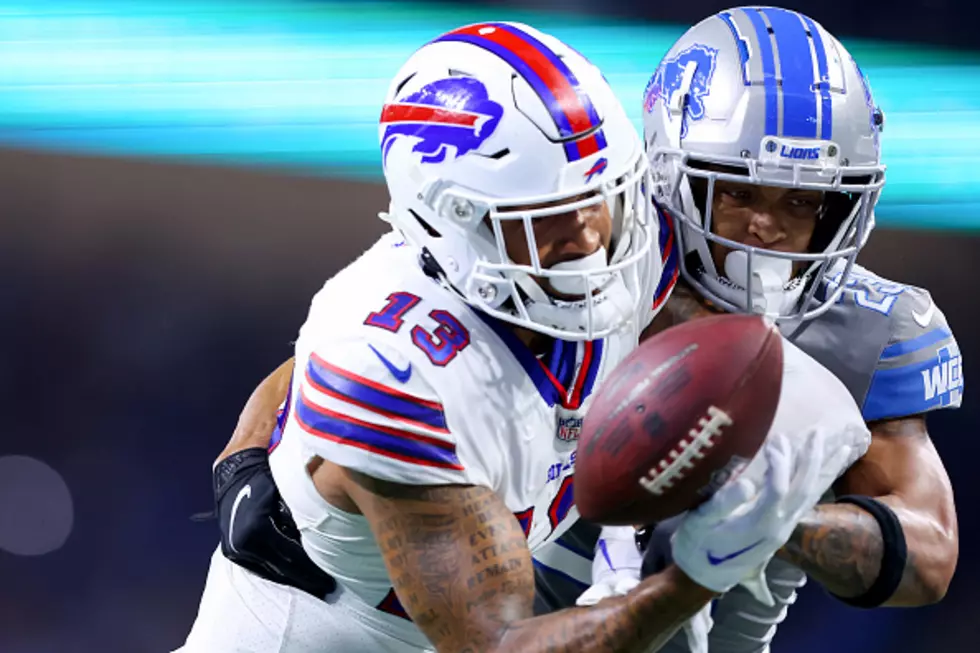 The Buffalo Bills Absolutely Need to Upgrade This Position
Getty Images
The NFL off-season is here for 30 teams and that includes the Buffalo Bills.
The AFC Divisional round loss against the Cincinnati Bengals was one of the worst losses in recent years for the franchise. It was probably the worst playoff loss since the 1996 playoff game against the Jacksonville Jaguars, which was Jim Kelly's final game.
The Bills did not have a bad regular season; on the contrary, they had a very good regular season.
Buffalo went 13-3 and had the second best offense in the NFL in terms of yards per game, while also having the sixth best offense in the league for yards allowed per game.
However, if you watched the Bills entire season, you know they had problems after the bye week. From the Sunday Night Football game against the Green Bay Packers onward, the offense did not look the same. Whether Josh Allen's UCL injury is partly to blame is unknown but for sure there were problems on offense in scheme, play calling and talent around Allen.
The Bills are going to have some tough decisions to make with pending free agents. The salary cap will increase to $224.8 million but they still will have to let most of their upcoming free agents go and rework a few current big contracts to have some wiggle room, just to upgrade and sign draft picks.
Offensive line is a huge need. The Bills will have to find better depth and better starters at left guard and right tackle. However, there's one other position that the Bills just address above all else...wide receiver.
The Bills absolutely have to get better at wide receiver.
Too many times in games, it felt like Allen ad Stefon Diggs were doing it all themselves. Defenses would double Diggs and it was tough to get other guys open for offensive coordinator Ken Dorsey.
Look at the Cincinnati Bengals, Philadelphia Eagles and San Francisco 49ers...all three have multiple elite pass-catching threats. In the case of the Kansas City Chiefs, they have arguably the greatest tight end and offensive play-caller in NFL history. That's your final four.
Granted, the Bengals were aided by Joe Burrow, Ja'Marr Chase and Tee Higgins being on rookie contracts (which will change this off-season), but it shows that elite teams have to have more than one elite passing game threat after the quarterback.
Gabe Davis has not shown he is a capable wide receiver two. As much as he has become a fan-favorite, he did not do nearly enough down the stretch for the Bills offense.
After that, Isaiah McKenzie wasn't up to the main slot receiver position, while rookie Khalil Shakir was not trusted enough by coaches to take on a larger role; whether or not that should have been the case.
Then you have Jamison Crowder, who broke his ankle in September and missed the rest of the season, while Jake Kumerow also missed most of the season due to injury.
Diggs is the number one but he will be 30 years old next season. McKenzie has one year left on his contract and likely won't be back after 2023. Davis has one year remaining on his contract as well, while Crowder, John Brown and Cole Beasley are all  30 or over by next season and free agents this off-season.
Jake Kumerow will be 31 next season as well.
Realistically, the only wide receivers you could argue are guaranteed to be here in 2024 are Diggs and Shakir...that's not ideal.
The Bills have to use their first round selection (27th overall) on a wide receiver; along with signing a viable veteran in free agency. They like to pass the ball and this core has not lived up to expectations.
The Bills need to also address the offensive line, safety and linebacker, but wide receiver is a must-upgrade position this off-season.
Jordan Addison, Quentin Johnston, Josh Downs, Jaxon Smith-Njigba, Jalin Hyatt and Zay Flowers are all names that Bills fans should get familiar with by April. Those are wide receivers who will be first or second round draft picks in the 2023 NFL Draft.
Best Free Agents Signed By The Buffalo Bills
The Buffalo Bills are gearing up for a run at the Super Bowl next season and some big-time free agents are already reaching out to the Bills looking to join the team. Check out some of the best free agents the Bills have signed in the past.
22 Famous Buffalo Sports Phrases Every Die-Hard Bills and Sabres Fan Knows
Being a sports fan in Buffalo is sometimes like knowing a different language. Here are 22 of our favorite Buffalo sports phrases you already know if you're a huge fan! And if you're new here, here's how to catch up.
15 Things You Should Never Do at a Bills Home Game
Things that are a no-no to do at a Buffalo Bills home game.