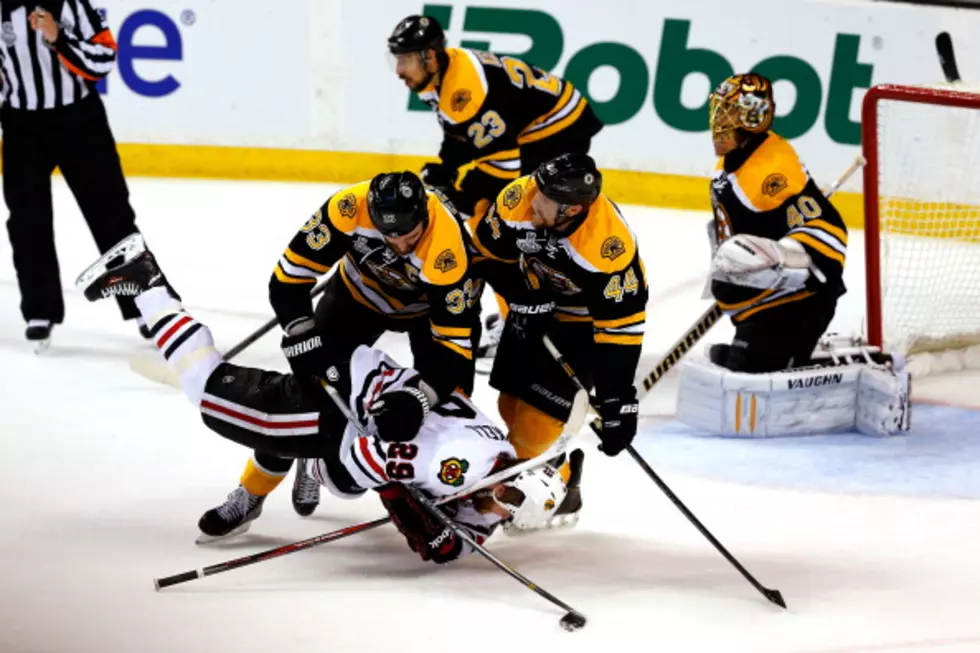 Bruins Blank The Blackhawks. Take 2-1 Lead In Stanley Cup Finals
Getty Images
No chance that game 3 of the Cup finals could be better then the 1st 2 games of this finals thriller. The game wasn't as good unless you root for the Bruins. Led by Tuuka Rask, the B's shut out the Blackhawks in Boston 2-0 and hold a 2-1 lead for the Cup.
Chicago's cause was hurt in warmups when Marian Hossa went down with an injury. Some guy named Ben Smith filled in for Hossa. Not an even trade off. Hossa has 15 points in the playoffs, tied for the team lead. He also has 3 game winning goals in the playoffs.
Rask stopped 28 shots for the shutout. Chicago went 0-5 on the power play. The Hawks also missed 2 point blank chances in the 3rd period when Brent Seabrook and Patrick Kane missed open nets with shots.
The Bruins got goals from Daniel Paille and Patrice Bergeron in the 2nd period. It was all Rask needed. The B's out shot the Hawks 33-28.
The high flying Blackhawks never could mount a solid push. Credit Boston's solid defense and the man in the mask.
Game 4 of the finals will be back in Boston on Wednesday night.