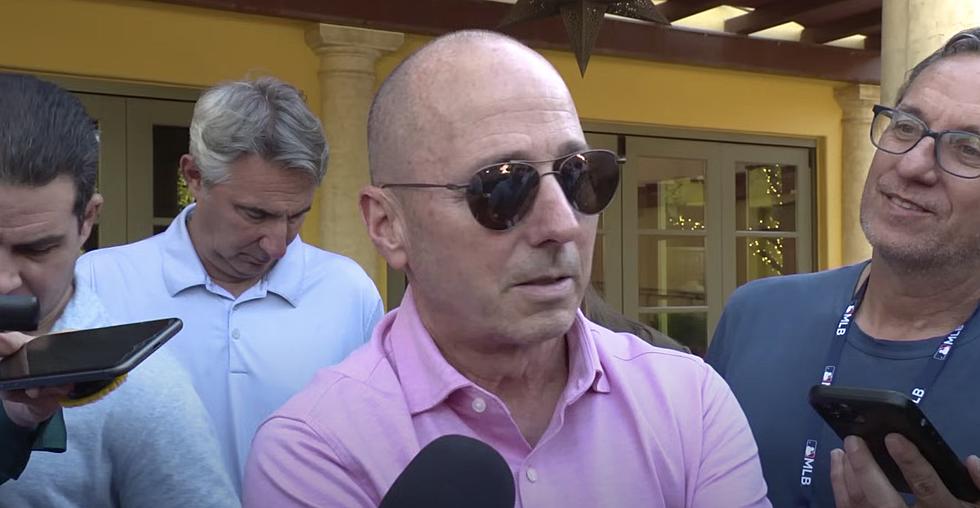 Cashman's Analysis of 2023: New York Yankees "S**t Down Our Leg"
NY Post YouTube.com
Acknowledging that there is a problem is normally the first step to solving it. It is not news to most that the New York Yankees finished 19 games out of first place in the AL East and 6 games out of the Wild Card race. In fact, they were way closer to last than first.
So on Tuesday, at the MLB general managers meeting , when Pinstripes' GM Brian Cashman barked at the media, "I think we're pretty f**king good, personally. I'm proud of our people," it is hard to take the 25-year veteran GM seriously. Cashman's comments were so out of touch and defensive, Yankees fans had better prepare for a long winter of nothing.
As reported by Greg Joyce of nypost.com, Cashman continued to defend his front office and their organizational philosophies. Snapping at the media about the Yankees critics, most of them standing feet away from him with microphones, "No one's doing their deep dives. They're just throwing ammunition and bulls**t and accusing us of being run analytically. Analytics is an important spoke in our wheel but it should be in everybody's wheel and it really is. It's an important spoke in every operation that's having success. There's not one team that's not using it. We're no different. But to say we are guided by analytics as a driver, it's a lie." As some politicians will tell you, if you say it long enough and loud enough, people will believe it to be true.
If none of New York's critics are doing "deep dives" and suggesting that analytics are driving the Bronx Bombers decisions on the field is a "lie," then Cashman needs to explain the organizational failures beyond injuries and bad luck. Cashman alluded to those excuses on Tuesday and then he used an analogy that I'm not sure that I've ever heard a general manager or front office personnel of any MLB team ever say publicly.
In explaining what went wrong with his team, that was battling with Boston for the second half of the season to stay out of last place, Cashman said, "I'm telling you that injuries and underperformance are part of it, without a doubt. Are there areas for us to get better at and improve at? Yes. Are there people that jumped off the bandwagon because we started to s**t down our leg and losing games and it caused them to make mountains out of mole hills?" Uh, excuse me? Besides, Cashman's need for a diaper, fighting for last place is "a mountain" and not a "mole hill."
This has not been a good few days for New York Yankees' fans. Between owner Hal Steinbrenner suggesting that the team may "bunt" their way to success in 2024 or Cashman using a graphic analogy to say that his team basically choked this year, there does not seem to be any self-blame or drastic need for change. Buzz phrases like "getting more athletic" and "more fundamentally sound" will continue to be thrown around and the same front office personnel will continue to make the same decisions. This is not a good start to the offseason for the Bronx Bombers.
Study Ranks Top Ten New York Colleges, SIX Upstate NY Colleges Included
A recent study compared 800 higher-education institutions in the United States, and these New York colleges were regarded as the best in the state.
Gallery Credit: Dan Bahl
Google Auto-Completes 'Upstate New York' Search with These Words
Out of curiosity, we typed "Upstate New York" into the search engine Google, and these were the ten terms that auto-filled the search bar.
Gallery Credit: Dan Bahl
Ten Best Photos of Fans from Upstate NY and Beyond at Bills' London Game
Fans from Buffalo, Upstate NY and beyond met at Tottenham Hotspur Stadium in London to watch the Bills play the Jaguars, and these were ten of the best photos.
Gallery Credit: Dan Bahl