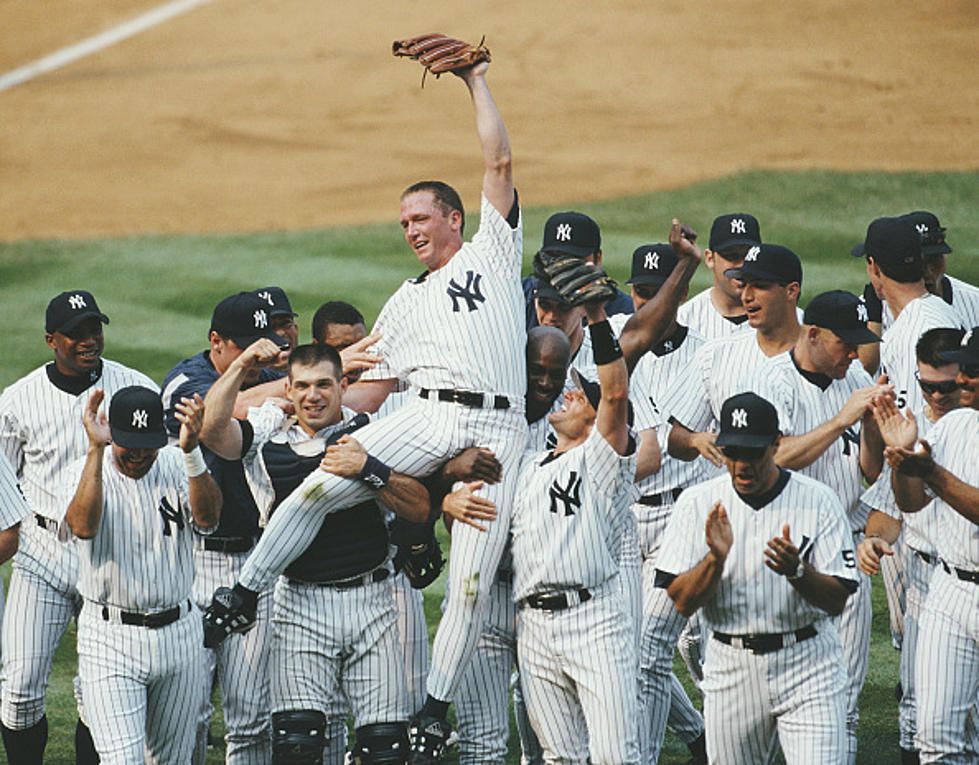 Cone Could Relate To New York Yankees Perfection
Getty Images
Few people can relate to what Domingo German did against the Oakland A's on Wednesday night. Most are aware that German was only the 24th pitcher in Major League Baseball history to pitch a perfect game. The 16th pitcher to do it was sitting by, enjoying every pitch.
David Wells fired perfection for the Pinstripes on May 17, 1998 vs. the Minnesota Twins for the 15th perfect game in MLB history. 14 months later on July 18, 1999, Wells' Yankee teammate, and now YES Network commentator, David Cone painted his own masterpiece shutting down the Montreal Expos, 27-up, 27-down.
In an article by Ted Holmlund of nypost.com, Cone talked about the perfect game on the YES Network postgame show. "This was great to follow. He was so efficient the whole time." Cone knew from experience what it took for German to accomplish the rare feat.
Cone talked about how his interaction, with his catcher Joe Girardi, during the game was way different back then. "You know, he almost went out of his way to avoid me. So yeah, it's much different today, you know, I mean, obviously there's a lot more information in today's game...Whereas I kind of played it by feel, you know, we were allowed to kind of do it on the fly a little bit and Joe Girardi and I just kind of read bats, and we did it kind of the old school way. Whereas I understand today there's much more preparation and much more information." Interesting perspective on different approaches to the same result.
Cone was extremely happy for Domingo German and Kyle Higashioka, "You know, … this is a long time coming for both of those kids and to see them celebrate together after the game with the team and the photo behind it, I think was just remarkable...[The] pure joy on Domingo's face was just palpable." Cone could relate to German like only a few people can.
These are New York's Ten Biggest Phobias, What are You Afraid of Most?
Most New Yorkers suffer from some kind of phobia...an extreme or irrational fear...and these ten phobias were searched for most often online.
2023-2024 Capital Region Concert Calendar
This Concert Calendar is updated regularly so keep checking back for the latest on Saratoga Performing Arts Center, MVP Arena, The Egg, the Palace Theatre and much more!
New York State License Plates - 2023 Additions
The New York State Department of Motor Vehicles have unveiled the latest additions to the New York State License plate. The 14 new choices celebrate the different regions of the Empire State. We now have more than 200 different picture plates to choose from. Order yours
HERE
.