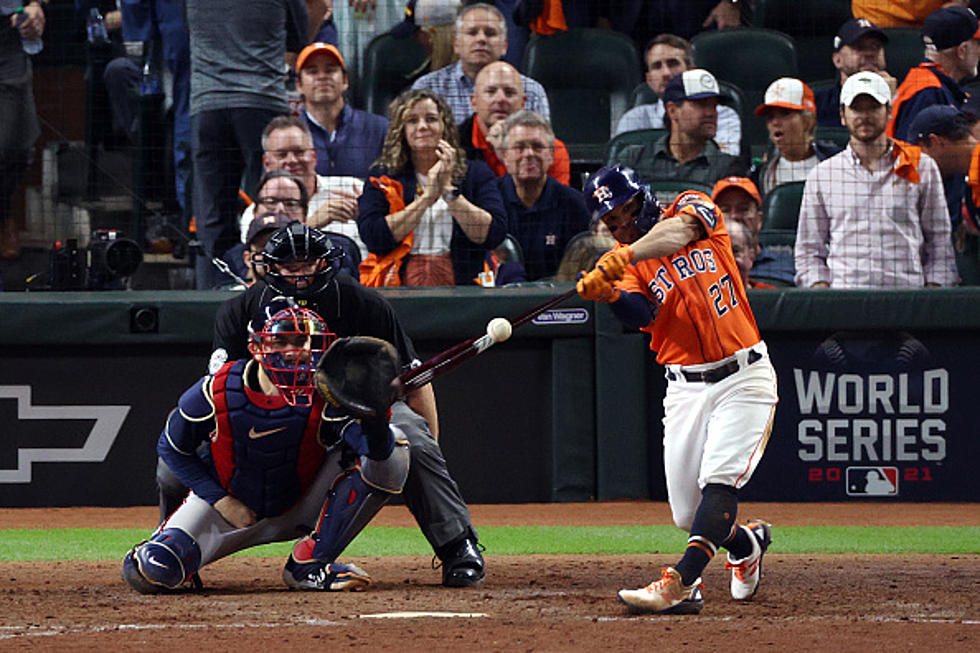 Former Tri City ValleyCat ties Former Albany-Colonie Yankee HR Mark
Getty Images
The Capital Region has a rich history when it comes to the sport of baseball. Minor league baseball has been weaved in the fabric of this area for decades. From the Albany Senators, to the Albany-Colonie A's, to the A-C Yankees, then Diamond Dogs and now the Tri City ValleyCats, this community has witnessed greatness in many stages on local diamonds.
As many local fans get ready to cheer on Clifton Park native Ian Anderson of the Braves in his World Series Game 3 start on the mound Friday night, others have been cheering on the other team on the field, the Houston Astros as a result of their 19 year affiliation with the team occupying Joe Bruno Stadium in Troy, the ValleyCats.
Though it seems hard to fathom in the belly of New York Yankees country, local fans erupted when former TC Cat, José Altuve, who played 21 games for the Cats in 2009, connected on his Game 2, 7th inning home run off of Braves reliever Drew Smyly. It was the 22nd postseason dinger of Altuve's career. It also tied him for 2nd on the all-time Major League Baseball postseason home run list with another former alumni of Capital Region minor league baseball, Bernie Williams. Manny Ramirez is first with 29.
Williams spent two years with the Albany-Colonie Yankees logging 225 games before going on to a stellar career which included 4 World Series rings with the Bronx Bombers. Bernie Williams was a fan favorite amongst the Heritage Park faithful in the early 1990's. His easy demeanor, friendliness and outstanding performance led to some strong Capital Region feelings for #51.
I had the opportunity to interview Williams while he was playing for the Yankees back in the spring of 1996. He was a complete gentleman and was a fantastic conversation. I always rooted for him and now enjoy his music.
According to an article in the New Post, who covered the Game 2 postgame press conference, "Altuve said he'd seen Williams play a lot growing up. "Great hitter, obviously,'' Altuve said. "It means a lot to me,'' he said of the accomplishment. "It makes me keep going out there, hitting homers to help my team, to keep accomplishing things like this. As long as we win, everything's good."
Everything is good when you can watch players that played on local diamonds succeed on the biggest stage of the game. Good luck to Ian Anderson on the hill for Game 3! You can listen to all of the action of World Series Games 3, 4, 6 & 7 on 104.5 The Team, the official home of World Series baseball.
TACKLE THESE: Check Out the Best Uniforms In Each NFL Team's History