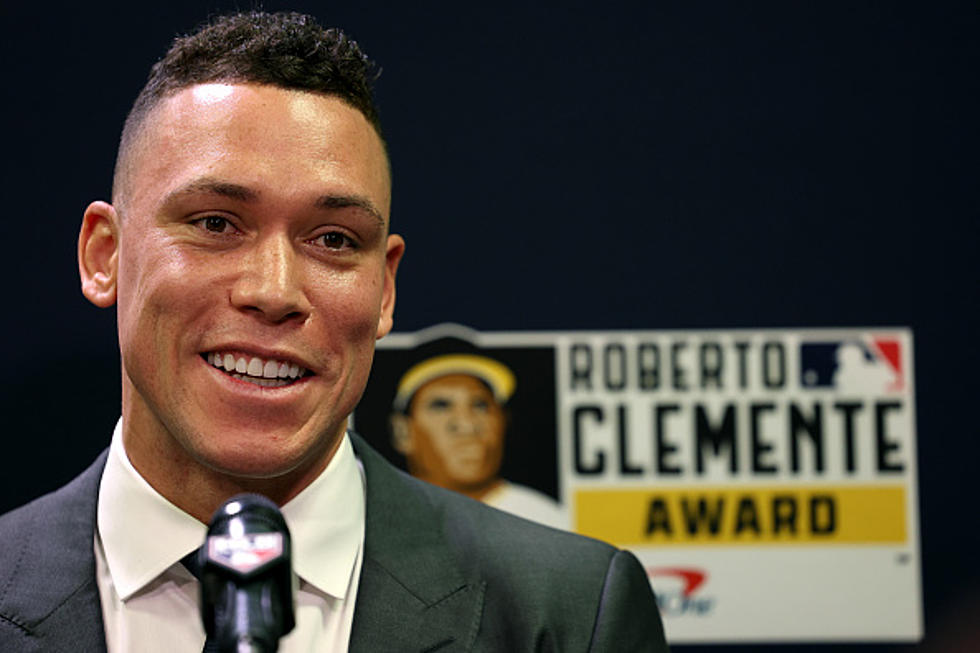 Input For Change By New York Yankees Players May Sting Cashman
Getty Images
New York Yankees slugger Aaron Judge accepted the Roberto Clemente Award on Monday, which is given annually to the Major League Baseball player that displays the highest character and embarks on true philanthropic efforts. Many around the game consider it baseball's greatest honor.
Judge is certainly well deserving of the award. Afterwards, while meeting with the media, the Yankees right-fielder discussed the future of the franchise, with seemingly first-hand knowledge directly from owner Hal Steinbrenner. According to Dave Lennon of newsday.com, Judge said he spoke with Steinbrenner on Sunday and plans to again in person when he goes back to New York.
Don't expect Aaron Judge to sugar-coat any displeasures. The All Star outfielder certainly doesn't want to be attending the World Series for ceremonial purposes. He wants to play in it. It's not going to be easy and everyone won't like what Judge and other players have to say, especially general manager Brian Cashman.
Judge told the media on Monday, "You know, changes could mean a lot of different things. From philosophies, players, coaches, everything. We haven't made it to the big dance in quite a few years, so we got some work to do, even on the player side. So looking forward to hopefully getting us back to the promised land with some good moves." It's sounds like #99 isn't exactly thrilled with some of the past moves by the Pinstripes.
Lennon pointed out that Steinbrenner wants the player's input. The Yankees' legacy owner is well-aware that the Bronx Bombers fanbase is getting restless and no matter how good Brian Cashman's overall record is, change is needed. Steinbrenner recently talked about the importance of quality interaction with his players. "To have a captain that I can really talk to that is a true leader of the team and respected by young players, veterans, everybody, it's a benefit, because you have to get their perspective. It's good to have that sounding board. Gerrit Cole, same thing."
Since 1998, the Yankees top baseball executive has had free rein in running the organization. Cashman's interactions with players, especially during arbitration or re-negotiation of contracts, at-times have been described as cold. Aaron Judge and Gerrit Cole likely have the pulse of the clubhouse and, through the newer players, the organization. Any displeasure of how Cashman and/or the front office treat the players and staff will likely come to light. All-in-all, this needs to happen for the Yankees to move forward. One person running the same team for 26 years in Major League Baseball doesn't happen often. There are many reasons why, making the playoffs 21 of those years with 4 World Series rings are some of them. The next few months will be interesting for Yankees fans.
Study Ranks Top Ten New York Colleges, SIX Upstate NY Colleges Included
A recent study compared 800 higher-education institutions in the United States, and these New York colleges were regarded as the best in the state.
Gallery Credit: Dan Bahl
Google Auto-Completes 'Upstate New York' Search with These Words
Out of curiosity, we typed "Upstate New York" into the search engine Google, and these were the ten terms that auto-filled the search bar.
Gallery Credit: Dan Bahl
Study Names 2023's Ten Worst 'Small Cities' in Upstate New York
A study ranked every "small city" in America, and while Saratoga Springs was named one of the country's best, these NY cities were a few of the country's worst.
Gallery Credit: Dan Bahl