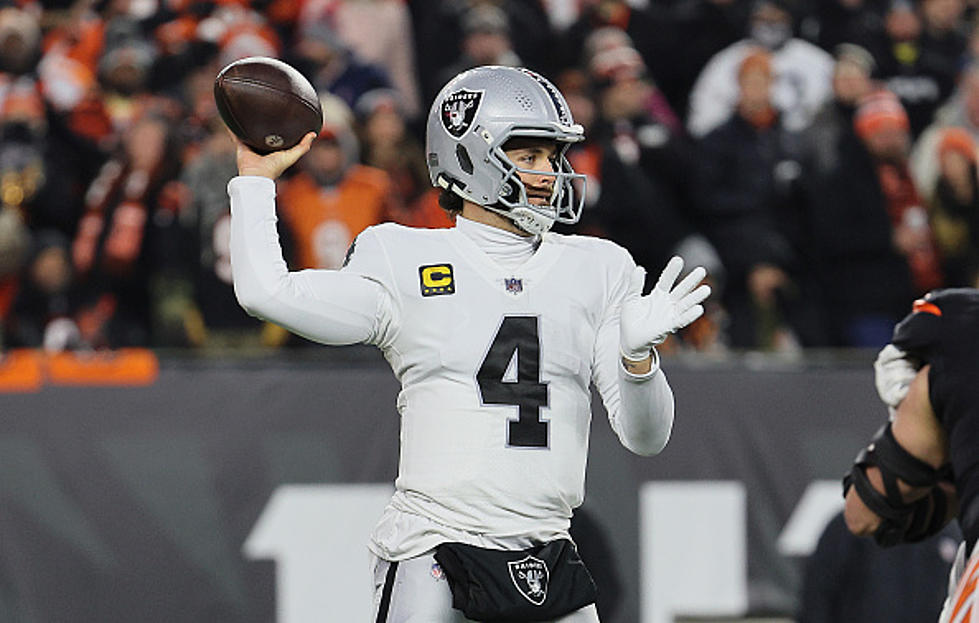 Is Derek Carr The Right Fit At Quarterback For The New York Jets?
Getty Images
The New York Jets need to find a good veteran quarterback to be their starter in 2023.  We all know that Zach Wilson won't be the starter in 2023.  There are several options available such as Derek Carr, Aaron Rodgers, Jimmy Garoppolo, and Ryan Tannehill.  The two quarterbacks who have been linked heavily with the Jets are both Derek Carr and Aaron Rodgers.  Rodgers is always a risk just with his uncertainty and antics off of the field.  Carr is a steady veteran and a good locker room guy but has limited playoff experience.  Carr is younger but Rodgers is more talented and has a Super Bowl win.
Derek Carr met with the Jets on Friday and even had dinner with head coach Robert Saleh and others.  If I'm the Jets, I would go all in for Derek Carr.  He seems like the perfect fit.  He would be great with the New York media.  He is an accurate QB and the Jets have some good weapons on their offense.  All you need to do is bolster that offensive line as the Jets have a great defense as well.
MJ and I discussed the Jets and Derek Carr earlier this morning right here on Big Board Sports.  We both agree it is the right move to make and not wait for Aaron Rodgers.  Below is our full conversation on this.
Go for it if you are Joe Douglas and the Jets as Derek Carr already has a positive relationship with the organization and is a good quarterback.  We will see how this all plays out in the coming days and weeks as nothing is more entertaining than the NFL offseason.
10 New York Jets That Can Lead Gang Green To The Playoffs
Can the New York Jets return to the NFL playoffs for the first time in more than a dozen years? Can Zach Wilson be the quarterback that GM Joe Douglas dreamed he would be? Can Sauce Gardner and Jermaine Johnson turn the Jets defense into a contender? That answer to "can" they is yes. The answer to "will" they may be yes as well!
Ten New York Laws That are Completely Insane, But Exist in 2023
There's no way that someone could actually be arrested for breaking these...right? Check out ten laws that are insane, but still exist somewhere in New York.