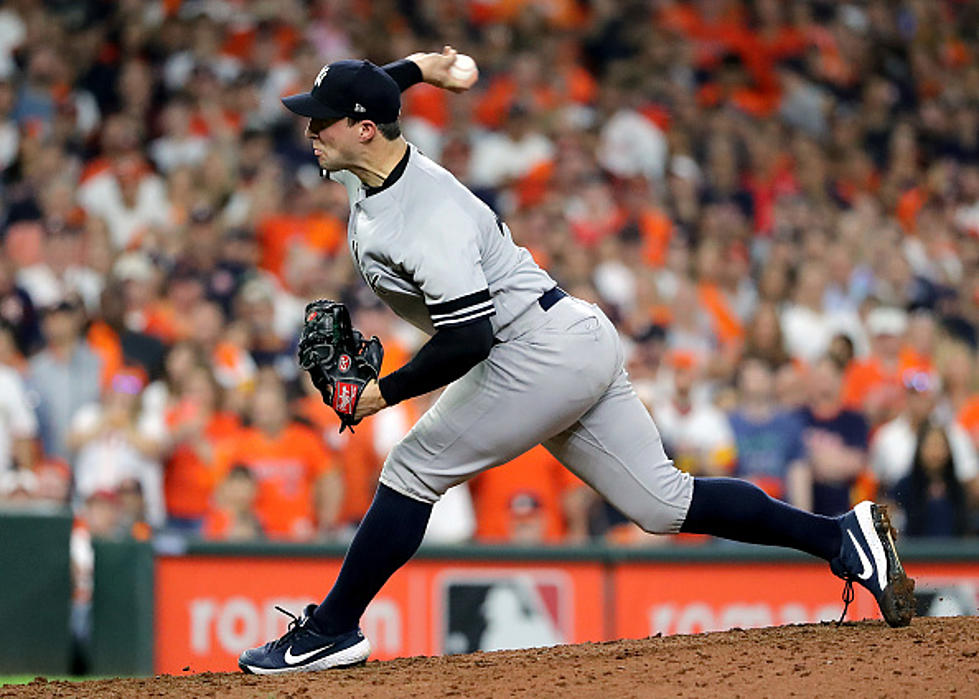 Latham Pitcher Endures Slow Return To New York Yankees
Getty Images
Shaker High School graduate, Tommy Kanhle is entering his 9th season in Major League Baseball. The right-hander from Latham has pitched well enough to earn a 2-year/$11.5 million contract with the New York Yankees through the 2024 season. However, Kahnle's second stint in pinstripes has gotten off to a slow start.
Tommy Kahnle has battled injuries since 2020, when he underwent Tommy John surgery after only one appearance with the Bombers. Kahnle then signed a free agent contract for two-years with the Dodgers, even though Los Angelas knew Kahnle would be out for the entire 2021 season. 2022 was rough for the Latham native, having spent four months on the injured list for Los Angelas. Still, Kahnle's performance commanded a solid contract on free agent market. The right-hander came back home to New York. However, this spring hasn't completely gone as planned.
On Saturday, manager Aaron Boone mentioned that Kahnle had a setback and no timetable was set for his return. Kahnle certainly didn't react well to the news. "I'm sick of rehabbing," Kahnle told friend of The Drive with Charlie & Dan, Max Goodman of nj.com, "Pretty sick of rehabbing...Haven't felt that good so I'm not sure what the next steps are. I know we're regrouping today (Sunday) and figuring out where we're going from there."
Kahnle plans to be patient. "It definitely got better, but I guess it just wasn't ready yet," Kahnle told nj.com. "I'm just gonna buy time and I'll be back when I'm ready." Aaron Boone and the rest of the Yankees will be more than ready to see Tommy Kahnle running out of the bullpen into a regular season game, so will many in the Capital Region rooting for the Shaker grad.
SEE IT: Final Day Of Another Awesome NCAA Tourney In Albany
Sunday's Men's Basketball NCAA Tournament 2nd Round action at the MVP Arena in Albany, New York
2023-2024 Capital Region Concert Calendar
This Concert Calendar is updated regularly so keep checking back for the latest!
Check Out Mechanicville's 'Anything That Floats' Homemade Boats!
Take a look at the past vessels that entered into the annual 'Anything That Floats' category in Mechanicville's Annual White Water Derby. The race takes place on Sunday, April 2nd along Anthony Kill Creek.