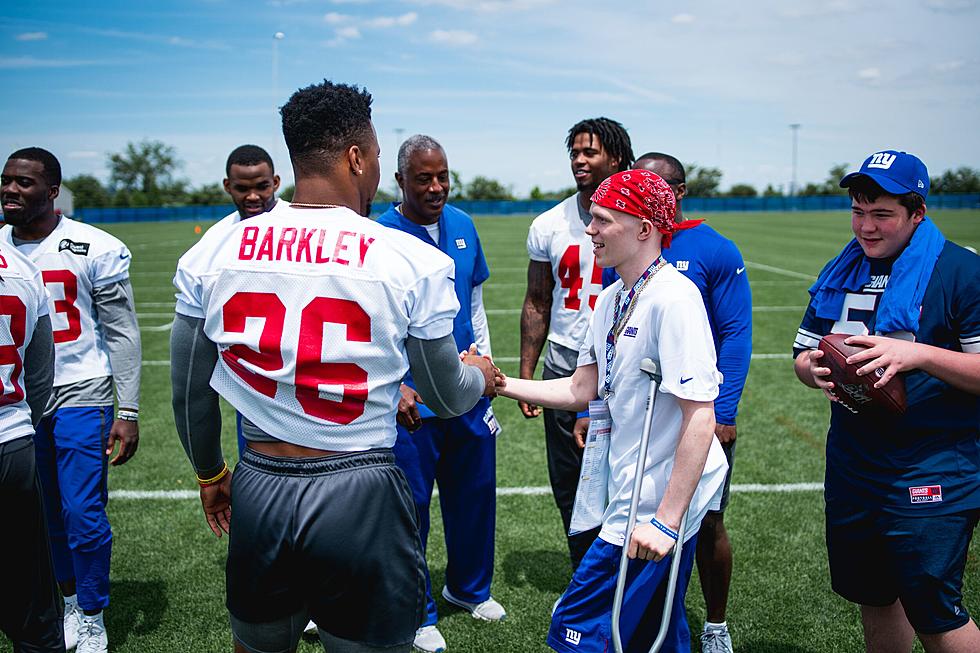 Local Make A Wish Kid To Be Featured On ESPN My Wish
George Taylor, a Cohoes High School football player, had his wish to meet New York Giant Saquon Barkley chronicled by ESPN.
One of my favorite things ESPN does is their "My Wish" series. If you haven't seen it, the sports world has embraced Make-A-Wish and the kids whose wishes they can grant. I almost always end up crying but it's a good-for-the-soul kind of cry. This year 15-year-old George Taylor of Cohoes will be featured! Make-A-Wishes Mark McGuire tells us how it all came together.
Cohoes Make-A-Wish® Kid Featured in
Annual ESPN® 'My Wish' Series

Viewers can tune into SportsCenter starting July 13 to see 15-year-old
George Taylor from Make-A-Wish® Northeast New York have his
wish to meet New York Giant Saquon Barkley granted
ALBANY, New York (July 11, 2019) – Make-A-Wish® and ESPN® have teamed up for the 14thconsecutive year for the annual "My Wish" series intended to showcase life-changing wishes for children with critical illnesses that includes George Taylor, a wish kid from Cohoes. George is a 15-year-old with cancer who wished to meet 2018 NFL Rookie of the Year Saquon Barkley of the New York Giants. George's wish is one of five inspirational sports stories in the summertime series on SportsCenter presented by Dove Men+Care.
Beginning during the day on Saturday, July 13, and continuing through the week, the series will conclude on Thursday, July 18. George's story will kick off the series at 8 a.m. on Saturday, and will re-air multiple times in various editions of SportsCenter through Sunday. The piece is also the weekend's SC Featured, and will be available on ESPN.com.
ESPN cameras captured each wish in its entirety, beginning with the initial surprise when a child was told their wish would be granted, all the way through the unforgettable experience they shared with the athlete. Over the years, the series has featured best-in-class professionals, including global superstars, world champions, gold medalists, hall of famers and MVPs. This year's roster is no exception, with star-studded talent including: the Colorado Rockies; YouTube sensations Dude Perfect; NHL all-star goaltender Marc-André Fleury of the Vegas Golden Knights, and WWE® Chief Brand Officer Stephanie McMahon, in addition to Barkley.
Emmy-award winning reporter Chris Connelly brings these stories to life for the 14th consecutive year through insightful and compelling interviews with the wish kids and their families.
"It's beyond inspiring to help tell the stories of these kids who have endured incredible hardships, and yet have the biggest smiles on their faces on the day their wish comes true," said Connelly. "When you see a child's eyes light up when they actually see and meet their favorite athletes, you understand the importance of these wishes and the positivity and healing that they provide."
"The 'My Wish' series gives viewers the opportunity to experience the transformational impact a wish has on a child, their family and their community," said William C. Trigg, III, chief executive officer of Make-A-Wish® Northeast New York. "You can see the difference in George as he replaces fear with confidence, anxiety with hope, and sadness with joy through the excitement of having his wish granted to meet Saquon Barkley."
Make-A-Wish Northeast New York extends its thanks to Disney and ESPN for their support of the "My Wish" series as part of The Walt Disney Company's philanthropic and outreach initiative, Disney Team of Heroes, delivering comfort and inspiration to families with children facing serious illness. Beyond assisting with this year's series, Disney – which owns ESPN – has been a steadfast friend of Make-A-Wish for 39 years and has helped the organization grant more than 130,000 Disney-related wishes, including the first official wish in 1980.
For more information about Make-A-Wish and the ESPN "My Wish" series, visitwish.org/mywish.
Make-A-Wish grants life-changing wishes for children with critical illnesses. Make-A-Wish Northeast New York serves the 15 counties comprising the 518 and 838 area codes. The chapter grants 90-100 100 wishes each year, and has granted more than 1,870 wishes since 1987. For more information about Make-A-Wish, visitwww.neny.wish.org and discover how you can share the power of a wish®.