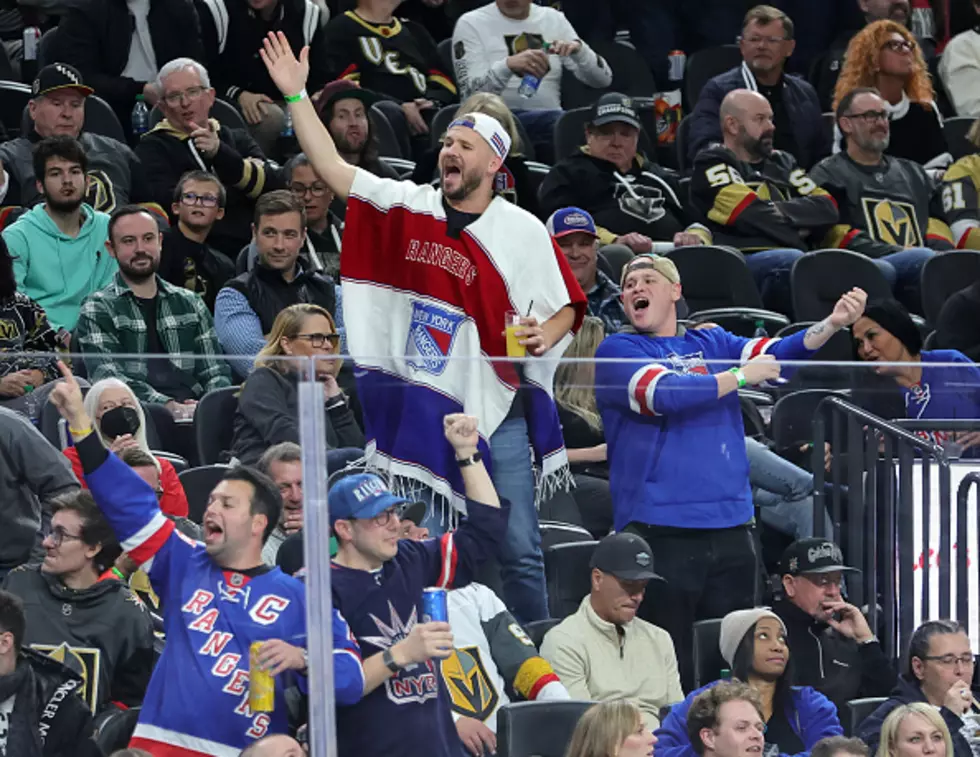 New York Rangers Fans Face James Dolan "Booze Ban" At MSG
Getty Images
James Dolan always seems to have a beef with someone. Now the owner of Madison Square Garden, the New York Rangers and the New York Knicks is in the midst of a fight with the New York State Liquor Authority and Blue Shirt fans may get their beers knocked out of their hands in the melee.
As reported by Justin Tasch of nypost.com, Dolan was on "Good Day New York" on Fox 5 on Thursday when he took aim at the liquor authority. Under Dolan's direction, Madison Square Garden security has used facial recognition technology to enforce bans from MSG properties against lawyers suing James Dolan.
The article said that the New York State Liquor Authority sent a letter to Madison Square Garden warning that it could be operating as a "non bona fide" premises, as a result of his banned list. "All retail liquor licensees, excluding non-for-profit club licensees, must allow the general public access to their premises. Otherwise they are considered "non bona fide" and therefore would have their licenses revoked. James Dolan doesn't like to be threatened. Just ask former Knicks star, Charles Oakley.
"They're being extremely aggressive and they're saying, 'We're gonna take away your liquor license.' So I have a little surprise for 'em. They're basically doing this for publicity, so we're gonna give 'em some publicity. What we're gonna do, right, is we're gonna pick a night, maybe a Rangers game, and we're gonna shut down all the liquor and alcohol in the building. This isn't gonna bother me because I've been sober 29 years. I don't need the liquor." It sounds like Dolan is absolutely fine curtailing Rangers fan's enjoyment to prove a point or to throw a punch. No date for the proposed alcohol ban has been announced.
Rent Ace Frehley's Former Mansion
Have you ever been inside of a rockstar's home? Now you can Rock and Roll All Night when you rent one of Ace Frehley's former mansions via
Airbnb
. You don't need to know how to play guitar, you just need around $800 each night and the place, just over the New York border, is yours. Let's take a look around.
Dinner In A Dungeon? This is New York's Beardslee Castle
Beardslee Castle in Little Falls is one of the most magical dining experiences you will have in New York State.
Every Country Artist Performing In Upstate NY In 2023
We are set for a big year of Country shows in 2023, and here is a complete list of artists already scheduled to perform in the year ahead in the Capital Region and all over Upstate New York. Don't miss your favorite Country stars - keep checking back here as we will be adding lots of shows in the weeks and months ahead.