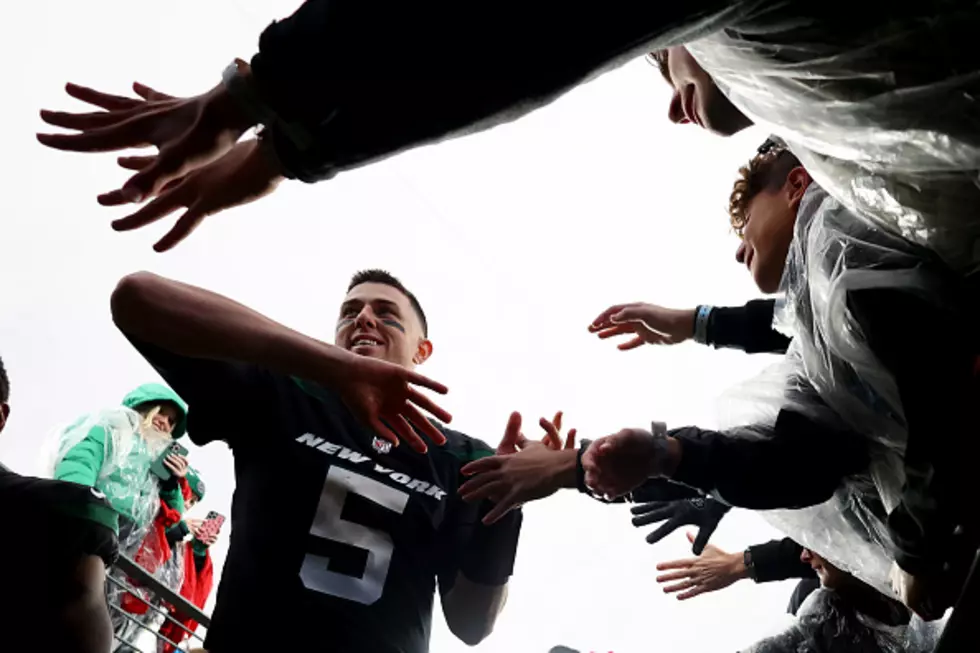 Perspective May Ease A Rough Playoff Road For New York Jets
Getty Images
The NFL can be unforgiving. Opportunities given can slip away as quickly as they came. There is always another player eager to take your job. New York Jets quarterback, Mike White is well aware that Zac Wilson is eagerly waiting in the wings to snatch his old job back. However, White is 27-years-old. He's been around the block a little in the NFL. The cult-hero, starting QB for Gang Green thinks that experience will help him lead the Jets on Sunday and hopefully beyond.
White fully took advantage of his new opportunity against the Chicago Bears last Sunday in a pouring rainstorm, going 22-for-28 for 315-yards and, oh yeah, 3-touchdowns. Not too shabby for a fifth-round draft pick by the Cowboys in 2018. On Thursday, White talked about his perspective on learning from the mistakes he made early in his career with Dallas, as well as his four-interception, nightmare performance against Buffalo last year, that promptly put him back on the Jets bench.
"I can play every play from that game in my head over again way more than the Cincinnati game (where White threw 3 TD's) or even last game," White told Ethan Sears of nypost.com. "Just cause I think that's when you learn the most is the games that don't go so well." It certainly didn't go well for Mike White in Dallas while competing for a back-up role in 2019. "I was so consumed and stressed and worried about what was going on. I took it with me outside of the facility and it just consumed me." White lost the competition and was released by the Cowboys and signed by the Jets to their practice squad.
Three seasons and a few bumps and bruises later, Mike White has a new perspective on how he help Gang Green be successful. "You gotta be able to separate work — cause this is our work — work and home. And whether it's your kids, your friends, your family, whatever you got, I think you gotta have something outside because if you let this consume you, it is a stressful job...Whenever I go home, I'm just Milly and Maddox's dad. It's so cool."
Is Mike White worried about the Jets first-round draft pick from 2021 anxiously waiting on the sidelines, for his second chance? It doesn't seem that way. "Whenever you're looking over your shoulder you're not gonna play to your true potential, so the human aspect of it, you're definitely going to. But you gotta find a way, whatever your process is or your mental ability is, to erase that and just go play," White told nypost.com.
Once thing is for sure, the new Jets starting quarterback is well-liked and respected in the locker room. "He's a genuine, real dude," Jets offensive coordinator Mike LaFleur said of White. "And you know that right away." That certainly isn't what was being said about Zac Wilson. Jets fans are eager to see if this new perspective leads them to the playoffs for the first time in twelve years.
Here are the Capital Region Store Hours for Christmas Eve and Christmas Day
Let this be your guide to last minute holiday shopping!
2974 LAKE SHORE DRIVE
Every Country Artist Performing In Upstate NY In 2023
We are set for a big year of Country shows in 2023, and here is a complete list of artists already scheduled to perform in the year ahead in the Capital Region and all over Upstate New York. Don't miss your favorite Country stars - keep checking back here as we will be adding lots of shows in the weeks and months ahead.