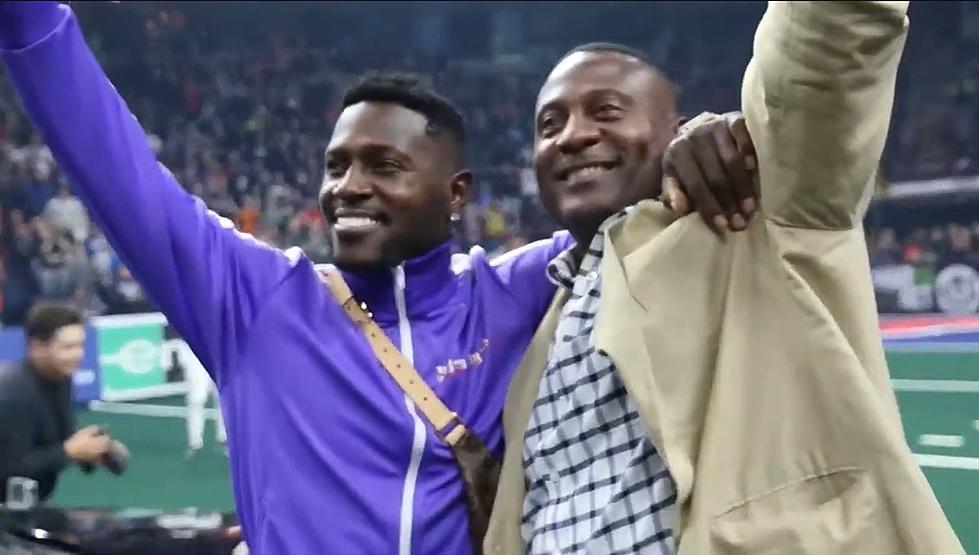 Super Bowl Champ Brown Set to Join Albany Empire Ownership Group
YouTube / Two Buttons Deep
Seven Pro Bowls. Four First-Team All-Pro nominations. Two seasons as the NFL's receiving yards leader.
As you can see, Antonio Brown has a lot of accolades that adorn his resume. Brown also is the son of "Touchdown" Eddie Brown, a long-time wide receiver for the Albany Firebirds, and a player who is widely regarded as the best wideout in indoor football history.
If there are two things that a young Antonio Brown might've learned from his father, it's winning in indoor football, and winning in Albany. Brown is set to put those lessons to the test, and is putting his money where his mouth-guard is in order to do it.
---
Antonio Brown Set to Join Ownership Group of Albany Empire Football Team
A story from WNYT Channel 13 shared news that long-time NFL wide receiver, Antonio Brown, is joining the ownership group of the National Arena League's Albany Empire. Brown and his father, Eddie, will both be involved with the team's operations, with the NAL season kicking off in early April.
The deal has yet to be finalized, with a press conference reportedly scheduled for Thursday morning to cross the t's and dot the i's on the agreement.
Antonio Brown took to Twitter earlier this evening, to post the following video:
He followed up the video with this photo, showing him in the stands at a Firebirds' game:
Eddie and Antonio Brown are no strangers to fanfare in the Capital Region. Check out this video from Two Buttons Deep, which captured the two being unveiled in-front of a packed house before the inaugural game of the original Albany Empire franchise.
Eddie Brown played for the Albany Firebirds from 1994 until 2001, and remained with the franchise after their relocation until 2003. He was subsequently voted the best player in AFL history as part of the league's 20th anniversary in 2006. Antonio, meanwhile, was a 6th-round draft pick out of Central Michigan in 2010, but ended up being arguably the best wide receiver of the 2010's in the NFL. He played in 146 games in the league between 2010 and 2021, recording 12,291 receiving yards.
The Empire open up the 2023 season against Orlando on Sunday, April 16th at 2:30PM at MVP Arena.
Ten Times Capital Region Sports Teams Won Their League's Title
Sports fans in the Capital Region have been lucky enough to see a few championships over the years. Do you remember these ten stories of teams winning titles?
Watching Football Tonight? Head to These Five Best Capital Region Bars
The 2022 football season is finally here, and if you're looking for a place to watch the game, these five Capital Region bars have been ranked among the best.